Visual Arts
High-school Artists at UB Center for the Arts
by
/ Mar. 3, 2015 11pm EST
Some precociously accomplished-looking artworks by area secondary school students are currently on view at the UB Center for the Arts. Such as some wonderful graphite drawings—head and shoulders portraits, and apparently self-portraits—by Jenna Pecky and Lauren Bauer, both of Lancaster High School. Excellent work. 
Or a little balsa foam material—but that looks like soft stone—relief sculptural piece by Joey Lo of Williamsville East, with close-packed array of wheels and floral forms, morphing to buttons, gears. A little reminiscent of the filigree ceramic skin of the Prudential Building.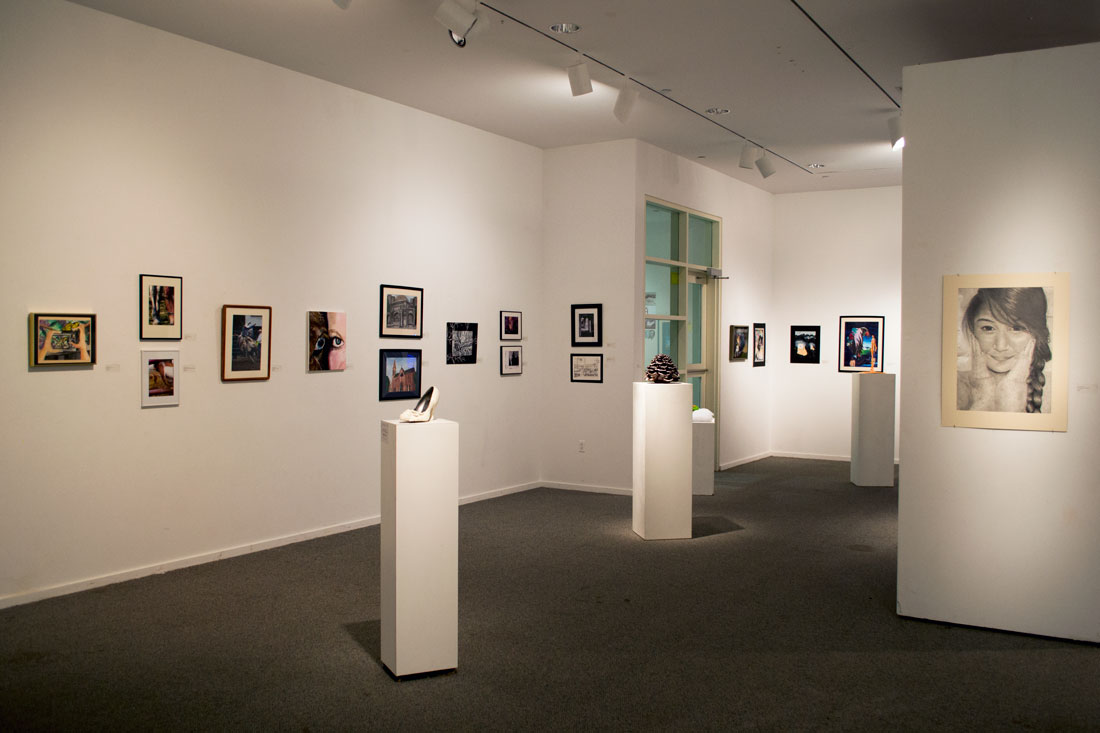 Or Gina Boccolucci's delightful ceramic cookie jar in the form of a New York City brownstone, complete with street art mural on one side of the building. A hippie-looking beggar figure with beggar's cup and a sign with the enigmatic message: "Keep your coins, I want change." Political change, it sounds like he wants. Change the system. Good. 
Works in a wide variety of styles and subject matters. Anatomy, architecture, animals, allegory, to name just some of the A's. 
Anatomy often with an X-ray character, like Canisius High School student Mike Ye's odd but interesting pencil drawing portrait that simultaneously depicts surface features and bony structures below. Mandible and teeth, neck spinal column, eyes and eye sockets. Or Charter School for Applied Technologies student Iyanna Taylor's digital photo collage of hands on a keyboard. X-rays and multiple images. 
Among architecture, pastel and ink drawings/paintings by two John F. Kennedy School students, Amber Keith, a work called Gold Dome, the Roman architecture downtown M&T Bank—dome and classical columns and broad arch windows—at ease as it were, slumping a little, and Shelby Ciaudella's gothic architecture church in watery browns—St. Paul's Cathedral, it must be, but stripped to edifice essentials—against a soft blue sky, entitled Pearl Street.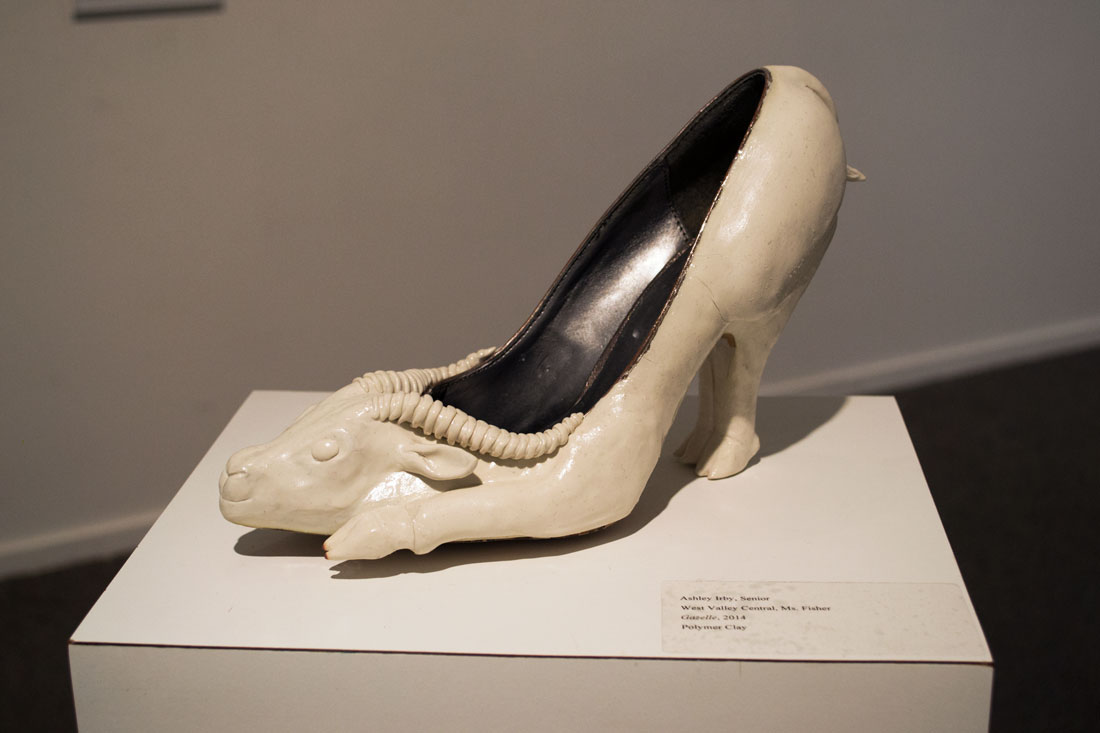 Lots of animal art, including Lancaster High School student Katelyn Cefali's fine close-up partial view photo of a horse grazing, and Charter School for Applied Technologies student José Cordovez's horse poking his nose through the bars of the fence, wanting something from the photographer. An apple, a carrot, maybe. Something more than just to get his picture taken. Lawrence DiVito, Kendall High School, has an apprentice-Audubon colored pencil drawing of a marsh bird and suggestions of habitat. Kaitlyn Gernatt, Immaculata Academy, a fauvist-flavor acrylics bovine of some exotic sort with thick hair covering its eyes—like an Old English Sheepdog—but peering apparently straight at the artist/observer. And Brianna Kraus, John F. Kennedy School, a digital photo of a cat looking straight at—or possibly right through—the observer, called The Eye of the Tiger. And Chelsea Ardillo, Dunkirk High School, a giraffe in ink and colored pencil and paint and fantastical decorative patterns. 
Among allegorical works, Amherst High School student Almisah McAllister's Algea—a Greek word meaning pains, sorrows—of two figures—an angel type and a devil type—at a tomb strewn with flowers, the angel collapsed in grief, the devil figure either supporting her from behind or possibly trying to take advantage somehow of the mourner in her distraught state. Allegories by nature not always crystal clear as to meaning. As also in a drawing by Ellicottville High School student Aiden Wilson, called Nature teaches beasts, showing a human figure surrounded by collage-like array of totemic-looking beasts or beast parts, including a tortoise, a hippo, a tiger, an armadillo, even an aardvark (I think). 
Among other fine and imaginative work is Attica Central High School student Bailey Mallon's little sculptural take-off on Alberto Giacometti Walking Man often on display at the Albright-Knox. It's called Elementary Giacometti and shows a walking man figure—complete with long neck scarf— and carrying—or losing, dropping—some cut-out numbers, 1, 2, and 3. Also, Pembroke High student Emily Dyson's exquisite scanned and digitized photographic image of a dandelion gone to seed, seeds flying from it in the breeze, called Evanescent. And Nichols student Wilson Alex Fischer's excellent photo collage and linoleum print abstraction arrangement, called Border Crossing. And nature works by two Kendall High School students. Jacob Weed's forest scene in a Monet-impressionism barrage of color specks and daubs, called Out the window, and Jenna Gideon's mysterious dark-hued collocation of a circle of rocks campfire ready to fire up, and square sticks and leaves item—maybe a mat to sit on to watch the fire—in fern-décor dark paper frame, entitled Forest Solitude. 
The high-schoolers art show continues through March 13.
UB Center for the Arts
103 Center for the Arts / 646-6259 / UBCFA.org