Performing Arts
by
/ Mar. 1, 2016 11am EST
Dancehall instructor Rishone Todd is a man of many talents who receives no bigger joy than sharing them with the community of Buffalo.
From a young age, Todd was taken with the arts of dancing, cooking, and writing. Growing up in Barrett Town, a small town 30 minutes outside of Montego Bay, Jamaica, he spent the majority of his time honing the skills necessary to carry out his three labors of love. His surroundings as a child shaped him as a person, and throughout his life he has maintained love and pride for the culture and area from which he came. Now, after years of focusing on earning a degree and finding a good job, he has realized it's time to get back to pursuing his passions, which has resulted in him graciously sharing his heritage with the public in more ways than one.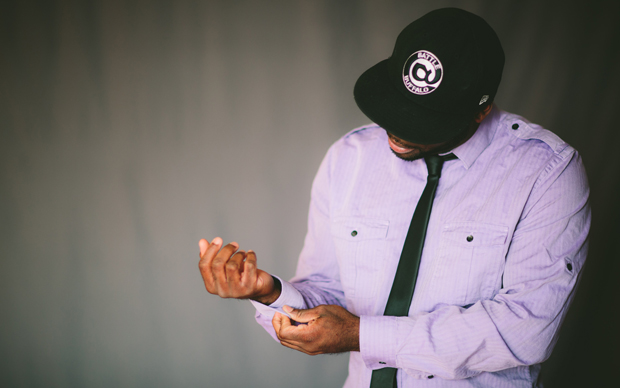 Photo by Hayley Ellen Day
"Jamaica is a whole different feeling than living in the States," Todd said. "We're more of a community. Everybody knows and helps each other around the community. Everybody calls my grandmother Mama J because she's just a genuine person and is always about helping people. It doesn't matter who it is, if it's a stranger; she's always feeding everybody."
Todd's grandmother was a big influence in his life and was the one who first introduced him to dancing, specifically dancehall, and cooking. She also taught him about the ska movement, also known as skanking, which originated in Jamaica in the late 1950s and combines elements of Caribbean mento and calypso with American jazz and R&B.
"Ska has like a really catchy 'ch-ch, ch-ch, ch-ch' sound, and she would teach me how to move to that, and we both would dance together to those old songs," Todd said. "From there it turned into reggae music and then reggae music turned into dancehall."
His first memory of dancing dancehall was at the age of six when he went to his first sound clash, essentially a battle between two sound systems, where he noticed all the women on the dance floor and the men off on the sidelines.
"There were a lot of girls dancing," Todd said. "There weren't a lot of guys, so for me I was just like, 'Okay, I want to learn.' I was like, 'Why aren't the guys dancing? What's wrong with the guys dancing?' So I kind of learned how to dance dancehall from women because I danced with them."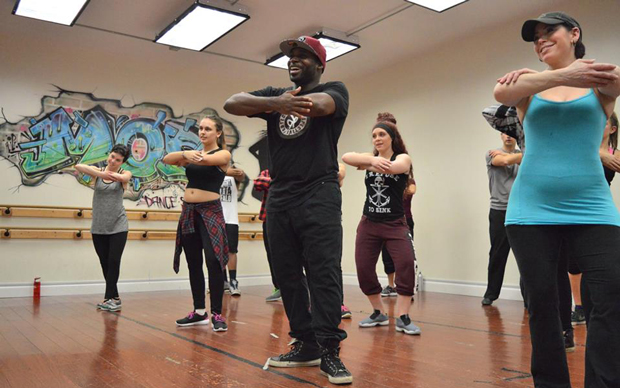 Photo by Susie Kushner
The music played during sound clashes consists mostly of reggae and dancehall, which are both used for dancing dancehall but have notable differences.
"Dancehall has a more upbeat rhythm and reggae is just relaxed and chill," Todd explains. "Reggae sometimes has more of a conscious message and sometimes dancehall doesn't. Dancehall is comparable to rap music and reggae is comparable to R&B."
Later on, when he began learning from other male dancers, he started to incorporate the elements of "groove" and "whining" into his style of dancehall, which he's been teaching at occasional workshops at various dance studios in the Buffalo area.
Todd says the main skill dancers of all backgrounds can learn from taking his class is staying connected in their bodies while dancing to the specific beats and rhythms present in the music.
Todd also teaches hip hop dance. He says dancehall and hip hop have obvious similarities, and the roots of dancehall are apparent in hip hop. The major difference between them is dancehall is much more relaxed, yet requires more focus.
"Hip hop you definitely are there, but sometimes there's not really a connection, and you're just going off," Todd said. "With dancehall you are capturing the rhythm of the song with your movement."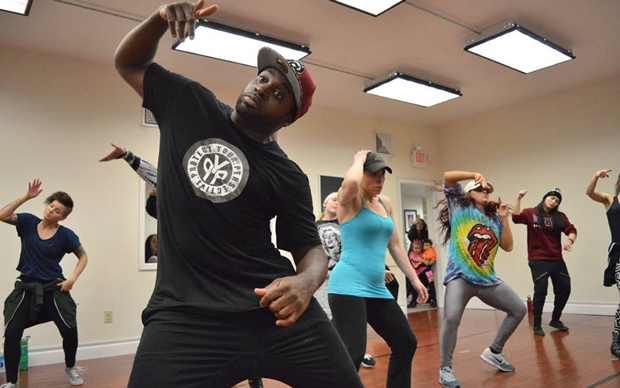 Photo by Susie Kushner
Todd first moved to the US from Jamaica in 1994 at 12 years old. At first he lived in Fort Lauderdale, Florida. He graduated from high school and began college at Nova Southeastern University, but withdrew and moved to Staten Island for a bit to live with his mother in 2000. In 2004 he came to the Western New York area, where his father lives, and attended Niagara University. In 2007, he received his degree in biology and a minor in engineering.
Susie Kushner first met Todd six years ago while taking his hip hop aerobics class at NU's Kiernan Center.
"He has a passion for dance that is undeniable," Kushner said. "With that, he puts so much into it to make sure his classes are challenging yet fun. And he's great at providing visuals or metaphors for the movement, which helps students to connect to the routine more. He also has a smile that's contagious. His classes are always a blast. You can tell he loves what he does."
Eventually Todd moved on to teaching a regular hip hop class at Kara Mann's Free Soul Dance Studio in Blasdell in 2013 after five years of taking hip hop classes at the studio.
"Based on his enthusiasm for spreading his love of dance and his style, I hired him to teach hip hop classes for adults at Free Soul," Mann said. "Starting out as an adult that hadn't taken much class, Rishone understands and can relate well to how it feels to come in to a class loving dance, but new to the process of learning choreography."
Todd says his favorite part about teaching is witnessing his students' progress throughout their time in class, especially when they think they have "two left feet" and then accomplish moves thought impossible. Now, being the only dancehall instructor in the area, he's teaching a lot of dancers something they have never done before, but are excited to tackle.  
"I enjoy teaching because I like sharing with people the things that I'm passionate about," Todd says. "Movement, whether it's hip hop, dancehall, salsa, or ballroom. I just love that process and to teach something that is actually from my culture is an even bigger thing, At first I was scared to do it because I didn't know how people were going to react to it because it wasn't hip hop. It was just different. Now everybody loves it."
Dancers who seek to learn a variety of dance styles outside their preferred genres and comfort zones always have the advantage in the professional world of dance, Todd says. When entering auditions he says it's important for any dancer to appear versatile so they can stand out from the crowd.
Outside of dancing, Todd enjoys cooking and building up his clientele, as he's drawing up the plans to open a restaurant in the future. Along with cooking for specific clients, he also teaches private cooking classes. His authentic Caribbean cuisine is often fused with hints of French, Italian, Spanish, and Egyptian.
"I used to go with my grandma when she worked at the Half Moon Hotel in Montego Bay," Todd said. "She used to cook for all the guests and celebrities that came. I used to be with her helping her around the lodges that the celebrities lived in. Her personality and her food—the people would just eat that up."
His third love, writing, is something he tries to do on a daily basis, whether it's writing down recipes, choreography, or observations of everyday life.
"For me they sort of work off of each other," Todd says. "A lot of people are like, 'You have to pick one' and I'm like, 'No, I want all three of them and I'm going to do all three of them.'"
Before diving full force into his three passions, Todd worked as a validation engineer for three and a half years at Fresenius Kabi, formerly known as APP Pharmaceuticals. Each day he had to gown up from head to toe and was forced to make minimal movements, cautious not to spread particles or bacteria inside the facility. In October 2014 he made the tough decision to quit, but ultimately recognized it was the right choice, as his job had been stifling him from what he feels is his true path.
While Todd is thankful he had the opportunity to earn his degree and go to college, he's now a firm believer in doing what makes him eager to get out of bed in the morning.
"I'm finding out that going to school doesn't necessarily teach you how to handle business, and how to take the things you love and make it into business," Todd said. "I'm learning as I go and I'm loving it. Right now I can't imagine waking up and doing anything else."
Todd is teaching a six-week workshop series called "Dancehall Roots" on Thursdays at 6pm from March 3 to April 14 (there will be no class on March 24) at Verve Dance Studio at 910 Main Street in Buffalo. Single classes are $15 and the full session is $48. 
 RISHONE TODD 
@plated_soul / @rish1todd 
 DANCEHALL ROOTS 
Thursdays @  6pm  / March 3 — April 14 
 VERVE DANCE STUDIO 
910 Main St, Buffalo / VerveDanceStudio.com
Rock The Mic | Mickey J & The UK Female Allstars | Choreography by Rishone Todd from Cory Martin on Vimeo.