Sports
Bleeders and Beaters at Buffalo Golden Gloves
by
/ Mar. 2, 2015 10am EST
UB Boxing takes 'em to school
The Tralf Music Hall was treated to a showcase of Upstate boxing talents on Saturday. The 17 bout card featured no fewer than seven solid contests. And of those seven, five of them included fighters from UB Boxing.
The UB Boxing Club was the star of the show, finishing the night with a 4-1 record. It wasn't just that they won but also the manner in which they fought that made them stand-out. Each one had a knack of couragouesly battling through punches in order to inflict heavier damage than what they were sustaining.
"Fundamentals," an exuberant coach Dean Eoannou tried to explain, "no one was fighting out there, our guys were all boxing." Eoannou's lone losing fighter was 16-year-old Tyler Cruz, who lost a majority decision to Victory Gym's (North Tonawanda) 22-year-old Mitch Geles.
The fight was marked by a strong first round from Cruz, who crouched under the taller Geles's reach to land jumping peek-a-boo hooks over the top, staying unpredictable with his movement, landing to the body and head and mixing his punches including an effective uppercut. But his legs lacked the same juice in the second, and walked into Geles's punching he had previously slipped beneath. The final round was even closer, but Geles kept the edge.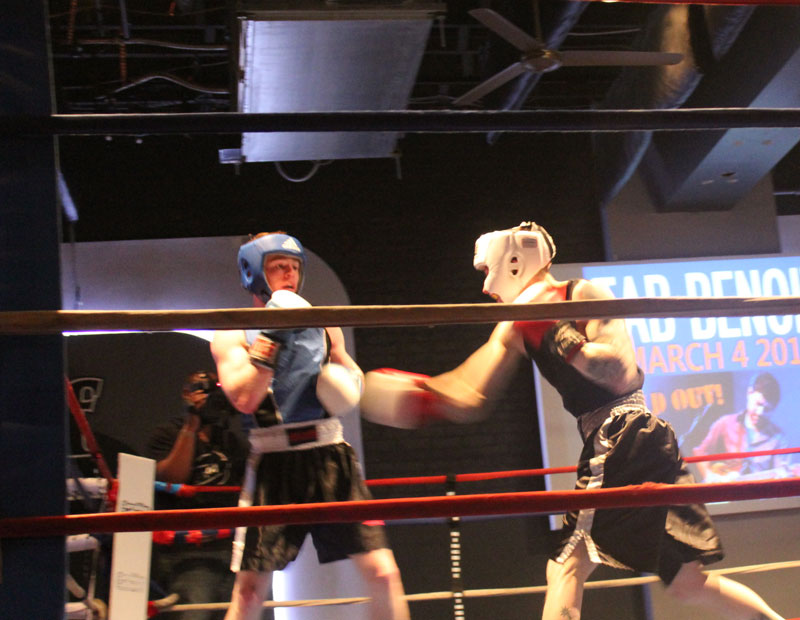 Tyler Cruz and Mitch Geles (Kevin Thurston).  
Kristen McMurtree defeated another Victory Gym boxer in her 120 pound tilt against Emily Oaks. The rangier McMurtree was able to keep the fight out of reach of the shorter Oaks, forcing Oaks to expend more energy bulldogging McMurtree into the ropes. Oaks gave her a run, coming on stronger in the third over the tiring UB boxer, who got stung by a right on the button in the fight's final moments. But it wasn't enough. McMurtree prevailed in an unanimous decision.
Another female fighter from the UB stable, Wendy Casey, a 28-year-old Buffalo math teacher and three-time Golden Glove champion, surprised Casal's Boxing's (Niagara Falls, NY) Casey Costanzo with her spry inside game.
Later in the evening, UB's Timi Akeradoulou and Mike Christopher strung together two similarly rugged fights filled with power punches and at times go-for-broke trading that paid dividends.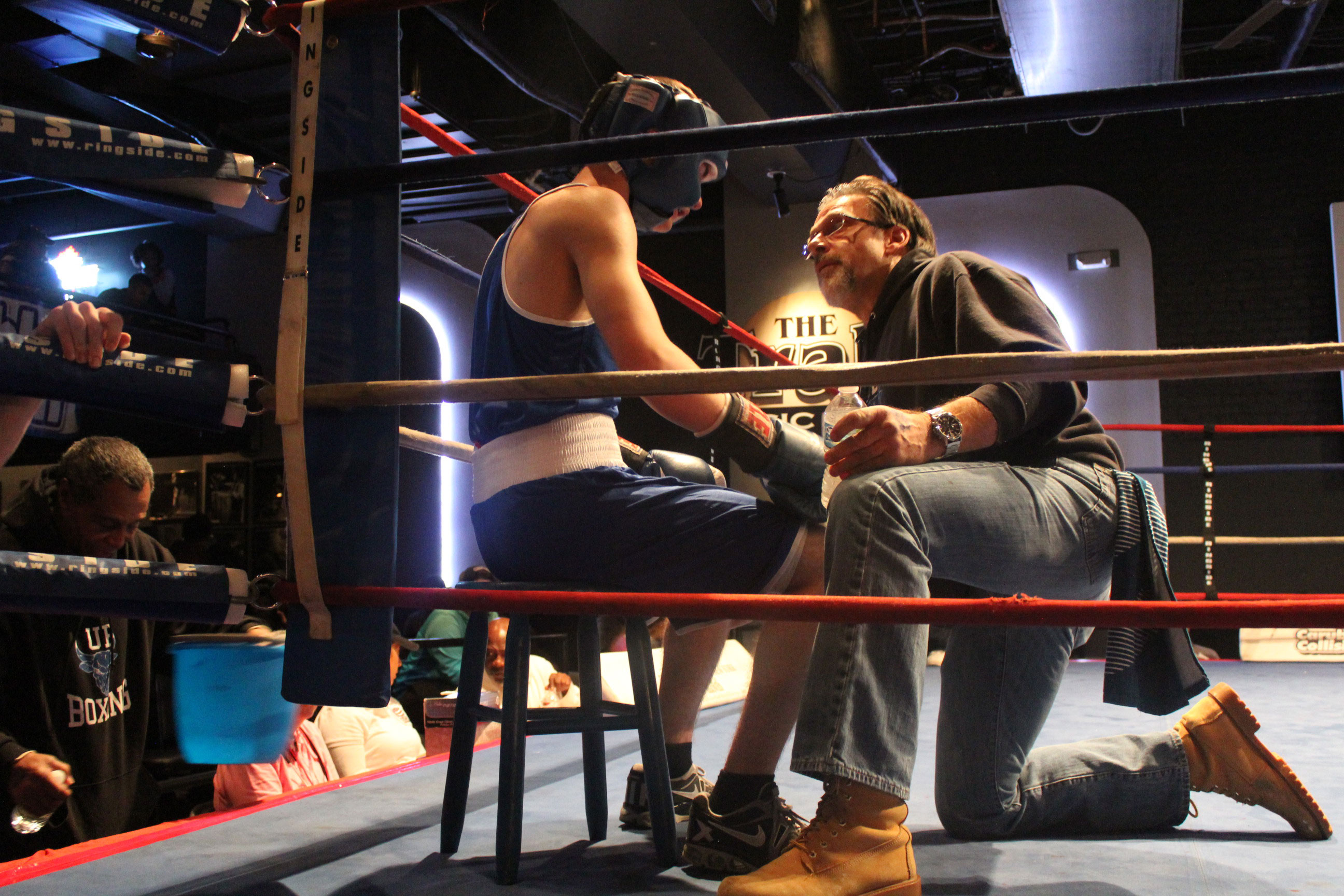 Dean Eoannou talks with Tyler Cruz between rounds (Kevin Thurston).
The good doctor
Dr. Margaret Libby has been working as a ring doctor ever since one of her patients in Barker, NY, a Jordanian kickboxer, asked her to attend a fight. She's been hooked on the fight game ever since and greatly admire its adherents. Her professors at Princeton included Lockport's Joyce Carol Oates, author of the definitive collection of boxing essays On Boxing. Oates herself came to the sport attending Golden Gloves events with her father in (you guessed it) Buffalo.
When fighters exit the ring, Dr. Libby gives them a quick examination: "Where are you?" and "count backwards" are favorite concussion protocol questions. When an amateur fighter suffers a nose bleed, she's called up to the apron to assess for a break. A broken nose can disrupt breathing and also create complications that are unnecessary for an unpaid fighter.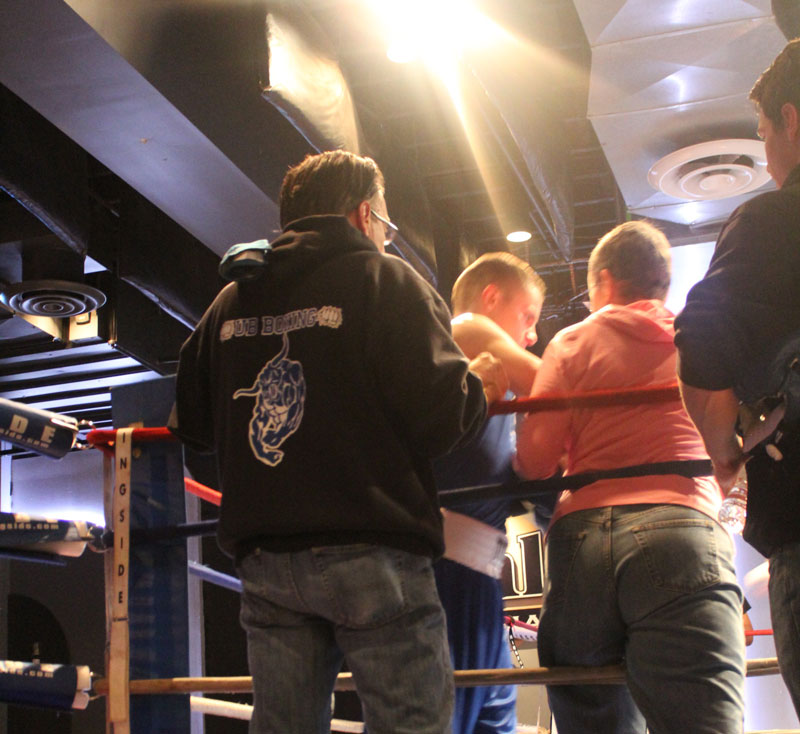 Dr. Libby examines a boxer after a fight (Kevin Thurston). 
"I ask them if they're a bleeder. A lot of them I already know, I've been doing this for fifteen years," she explained.
After heavyweight Chris Adams impressively defeated Charles Marino, ring doctor Margaret Libby cradled the sides of his face before exclaiming, "I remember you. Your trainer is Muslim and you're a born-again Christian and I remember you saying to him, 'I love Jesus, you love Allah, I love you.'" Adams nodded uneasily, either surprised or otherwise unable to remember such a thing. A pet phrase of in his corner is indeed, "I love you, too!"
"You don't forget stuff like that."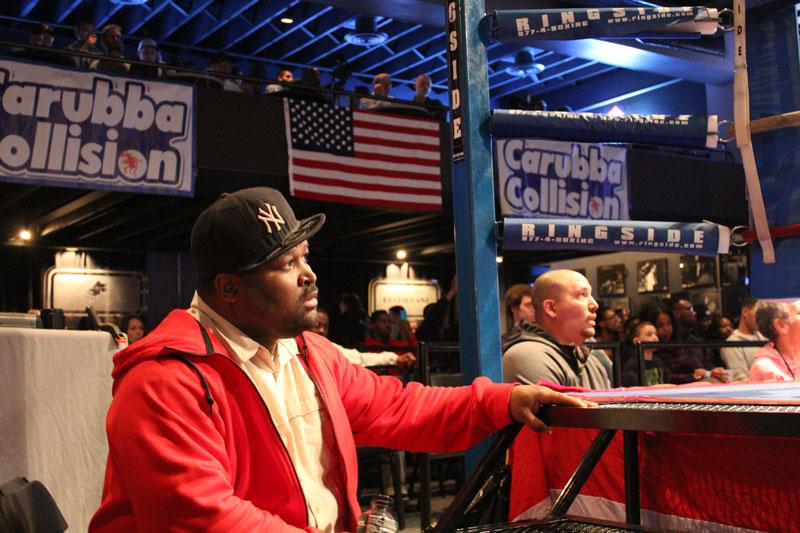 Ross Thompson of Buffalo PAL gym mans the corner (Kevin Thurston).
Also of note
Former Gloves 165 pound champ Wilmont Wood of St. Martin's Boxing (Rochester) was the night's most sterling fighter. He dismantled a good fighter in Israel Heyward and looked the part of a legitimate pro prospect. Wood was very deliberate inside the ring, wasting no movement and picking Heyward's offense to pieces, countering with blistering head and body shots that sapped Heyward of air.
The best fight of the night was saved for last. UB's Mike Christopher edged Westside Boxing's (Buffalo) Anthony Woodruff in a narrow 3-2 majority decision. It was a see-saw war of attrition and while amateur boxers rarely betray much emotion upon a decision out of respect for their opponents and the judges, Woodruff was bitterly disappointed upon hearing the bad news, perhaps because he worked his ass off for 9 minutes and got punched everywhere but received nothing to show for it but his pride.  
Desmond Webster of Buffalo PAL, Chris Adams of Team Ultimate Fitness (Syracuse), and Lawrence King also of St. Martin's receive honorary glove taps as well for dominant and solid performances. Webster forced a third round stoppage only moments after trainer Ross Thompson yelled, "We ain't satisfied by just winning! Come on, let's dominate!"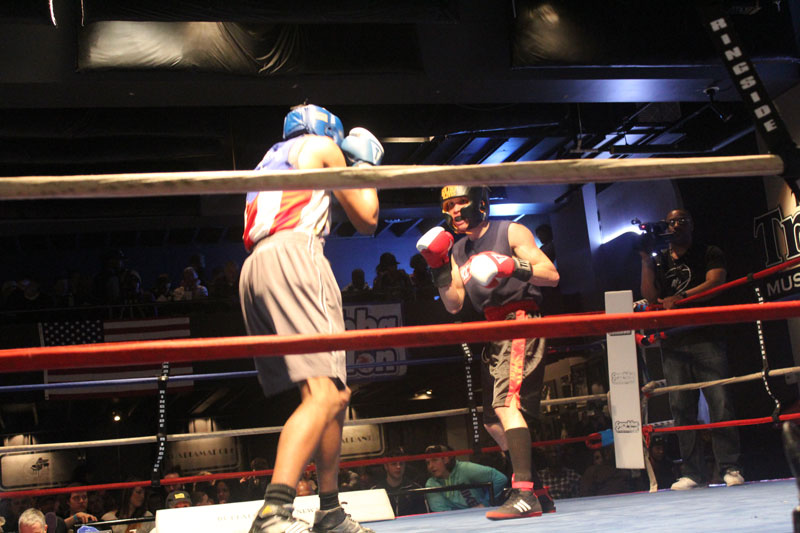 Jeremy "X Games" Gonzalez in against Rochester's Frank Price (Kevin Thurston).
Also overheard at ringside:
Showtime! (36x)
Make him miss!
Cross hook to the body!
Back him up!
Jab with him; He jabs low you jab high!
Straight down the middle!
Hands up!
Right back over the top!
Double jab!
Body work!
Over hand, line it up!
Gotta step it up…
Push him back!
Catch and shoot!
Let your hands go!
Follow him on everything, don't let him breathe!
Get on your toes and jab!
Settle down, don't be jumping around!
Straighten it out, now!
Get busy!
2-3-2!
Stop running your mouth!
That's right he's holding!
I need it!
I love you!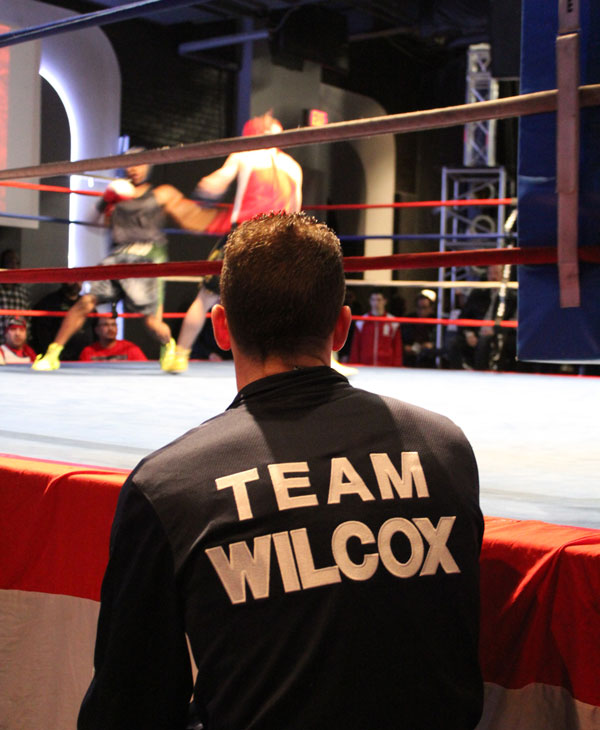 Team Wilcox brought two fighters in from Burlington, Ontario. 
Upcoming
The FLARE center will host an afternoon of afternoon boxing on March 14th from 2 to 5 pm, and the next Golden Gloves event returns to the Tralf on March 28th at 5pm.