Visual Arts
Spotlight: Jonathan Casey
by
/ Feb. 25, 2015 11am EST
Jonathan Casey was that kid who wanted to rearrange your room when he came over to play. You know the one: he had some big ideas about better utilizing the space, a different spot where the bed should go, and a suggestion for a new paint color.
Your mom probably didn't warm to his helpful ideas, but eventually his did, allowing him to preside over interior changes to his family's West Seneca home. And so, an interior designer was born. One that was named Buffalo Magazine's "Hottest New Designer to Watch" in 2013.
"I insisted on having the carpet pulled and getting the hardwood floors underneath sanded and stained in my room," Casey, now 37, recalled during a recent chat, noting that at another point he had mirrored blinds and mirrored closet doors. Suffice to say, his personal space has always been an experiment.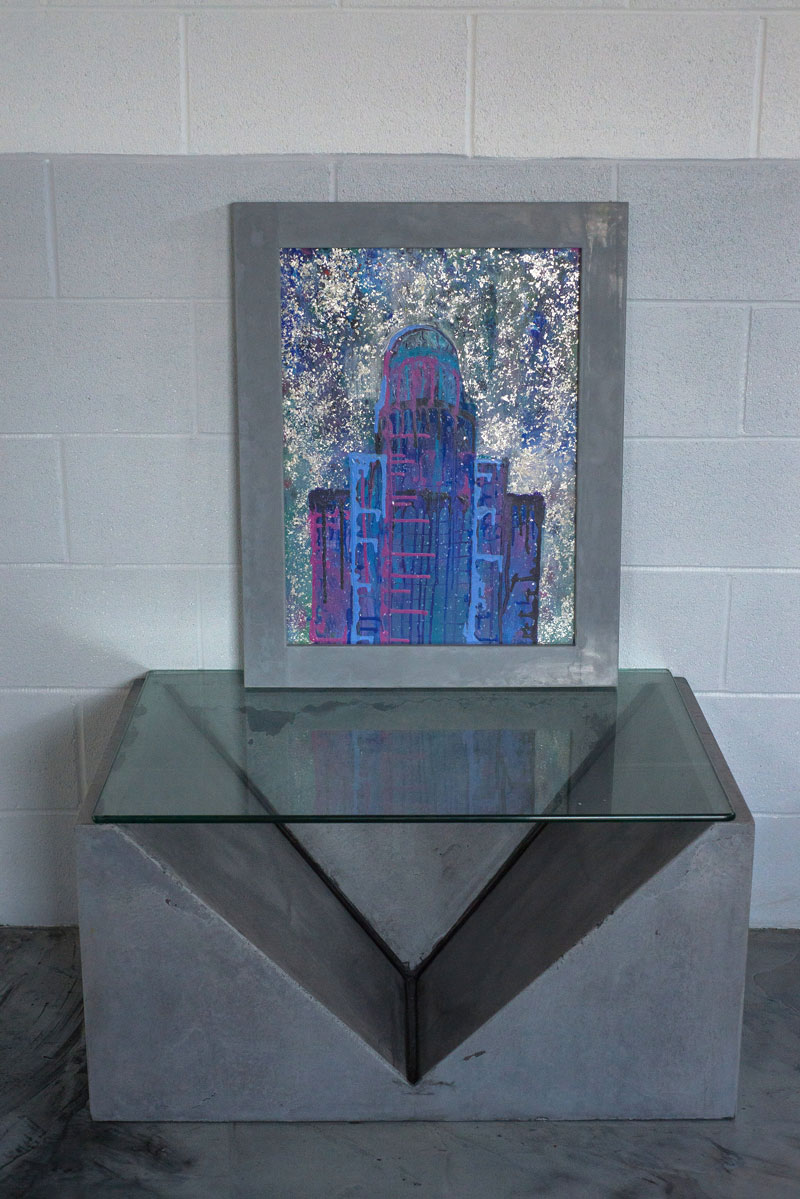 Photos by Shawna Stanley
With Design Engineer Connor Crimmen and Business Manager Jim House as partners, Casey is now the Creative Director for Solid716, a burgeoning design firm specializing in the production of concrete furniture. His interior design consulting is a separate endeavor, as is his ongoing passion for painting, though they sometimes overlap. The operations are now linked together under one roof at the new Solid716 headquarters on Chandler Street.
While some artists have a discernible stamp running through all their work that transcends specific mediums, Casey's various pursuits each play into different aspects of his creativity; it's as if each one allows the others to exist.
"The painting is where I go a little crazy," he admitted. "In order for something to get finished, someone has to take it away from me—or I have to remove it from my studio. I can paint literal images no problem, but I end up playing with the shadow and the light, adding color…next thing you know, the original image is buried. Most of the abstract paintings that I do have something realistic underneath that I ended up painting over."
If the painting allows him freedom, it also helps keep his design work more reined in. His home space still feels experimental, functioning as a workshop of rotating items and temporary arrangements. But certainly when he's working with a client, Casey has learned how to yield.
"When I'm working on an interior, I try to envision the space with nothing in it and then build from there," he explained. "I lay out my plan schematically, and by sticking to it, that's how I know when a design project is done. I'm not big on over-ornamentation, and I've learned how to apply restraint in order to avoid organized chaos."
Casey's fascination with concrete stems from the way it merges infinite possibilities (like his painting) with the fixed dimensions of a specific form, not unlike working with interior space. While less creatively-minded folks might assume that concrete is a dead-end medium (industrial gray slabs…and then what?), Casey's mind is on fire with the possibilities.
"Concrete is extremely versatile, you can shape it into any form, add ingredients for texture, add color. It's endless," he said. "It can polish up like marble, or you can make it look surprisingly delicate—sculptures, furniture, countertops, fountains, fire pits, wall panels, abstract objects. It's wide open. And we're going to great lengths to do it as greenly as possible."
After a storefront stint on Hertel Avenue, the new Chandler Street location feels like a giant leap forward, housing a showroom, gallery and manufacturing area with room to expand. There's space for Casey to toil on his independent art projects and, having once been a grease factory, it seems like an appropriate nod toward the popular concept of utilizing Buffalo's empty industrial spaces rather than tearing them down.
With recent concrete furniture orders for Marriott properties, Canalside, and City of Buffalo under its belt, the trio is now looking to expand well beyond Western New York. But there's no denying that Buffalo is the perfect place for them to have gotten started.
"Ours is an unusual urban culture, in that we like to see decay and place value on areas that aren't modernized," he said. "Especially here in the Rust Belt with its industrial feel, concrete fits in beautifully—it complements what's already in place. It's an exciting time to have a local business that's in step with Buffalo's positive changes."
Casey is one among many converging preservationists and young urbanists trying to inspire positive change in Buffalo, making an effort to preserve the city's architecture and history while infusing what he refers to as, "a sustainable, culturally diverse and aware new urban sphere." He says he believes that collaboration and clear communication between all parties is the key to success.
"By having preservationists working directly with architects and developers, as well as city government officials, hopefully we achieve a cohesive sense of direction. It's a tricky line. If you don't move forward, you'll get stuck or left behind. There's only so much you can keep, and only so much you can throw away. There is a tipping point."