Local
Ups and Downs, Week of February 21
by
/ Feb. 21, 2018 1am EST
UPS:
Black Panther: There's been a tremendous glut of comic books translated into big-budget Hollywood films and regurgitated ad nauseam, Black Panther somehow transcends this pattern while existing within it. The film posits a kind of pan-African mythology that has been wholly absent from popular culture, and it's received a rapturous response at the box office, smashing records. When we viewed the film in a sold out theater, it received applause and exclamations at the final scene, and we've seen account after account on social media of people crying through extended periods of the film. Even if it doesn't have that effect on you, it's a damn good time wrapped up in a Hollywood movie that feels like much more.
Buffalo Theater: After two years of planning, five of Buffalo's biggest theaters are combining resources and talents to co-produce a large show every year, beginning with the The Three Musketeers. In an atmosphere of increased competition for audiences and public resources, the directors of Shea's, Irish Classical Theatre Company, Theatre of Youth, MusicalFare Theatre, and Road Less Travelled have decided to pursue something greater than maybe even the sum of their parts. A big Buffalo pride story in the making.
DOWNS: 
The NFTA management: Top officials at the Niagara Frontier Transportation Authority were rebuffed by the state in their efforts to give themselves raises of nearly 30 percent, a year after a protracted labor dispute with its drivers resulted in a 6.25 percent raise over three years (workers also received an 11 percent raise to cover their nine years without a contract). There are dozens of quality areas the NFTA could invest in to improve ridership, some of which would probably cost less than the proposed raises. The NFTA still lacks a smart phone app that could allow riders to build schedules and make payments with their phone, and still relies on riders to have exact change for fares.
Buffalo's Preservation Board: In an utterly bizarre episode on Thursday, February 8, the City of Buffalo Preservation Board voted six to two to approve a motion allowing the demolition of a lovely, if dilapidated, old house at 295-297 Linwood, whose owner wishes to tear it down and build an apartment building on the site. Trouble is, the house contributes to a designated historic district, and making it eligible for demolition requires a clear legal process: The applicant must apply to the Preservation Board for a certificate of exception, which removes the legal protections afforded the structure by its presence in a historic district. As of Thursday's meeting, the applicant had not provided the information such an application requires, but the board didn't want to wait, so they voted to strip the building of its contributing status to the historic district and okay the demolition. They can't do that: They can recommend that the Common Council do it, but they can't do it themselves. But they did it, and the city's Department of Permits and Inspections dutifully issued the demolitions permit, and the building was demolished on Valentine's Day. Here's an appeal letter from the law firm of Drew & Drew, located down the street on Linwood, seeking to prevent the demolition:
Linwood Appeal by Geoff Kelly on Scribd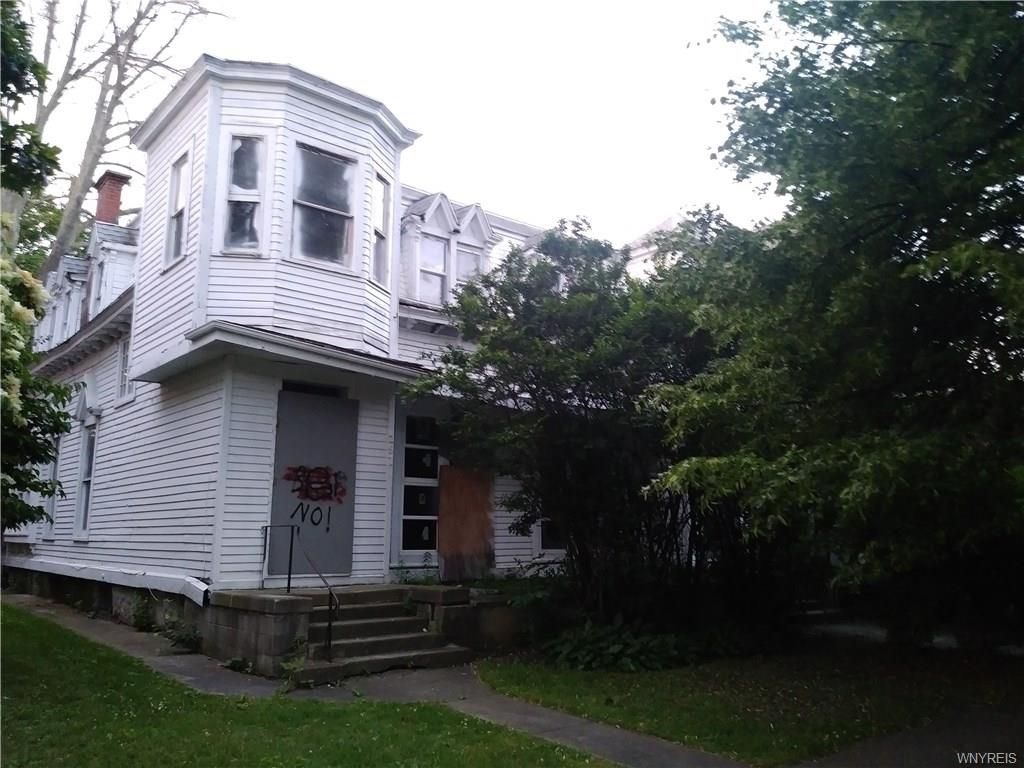 The house at 295 Linwood in May 2017.