Etc.
This Week's Agenda from Loop Magazine
by
/ Feb. 20, 2018 2pm EST
Stay in the Loop with this this week's LGBT happenings in Western New York, brought to you by Loop Magazine!
FRIDAY, FEBRUARY 23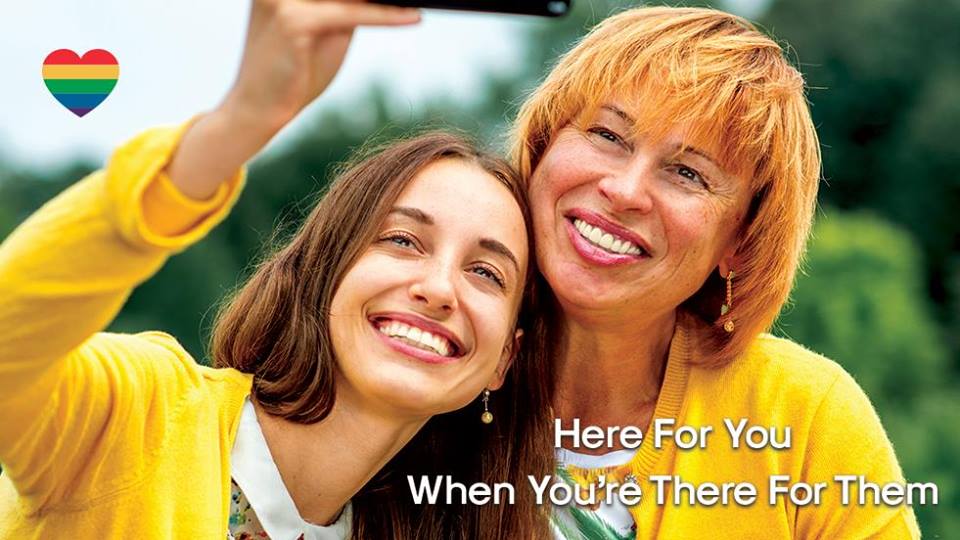 LGBTQ Memory Loss Caregivers Class at PCWNY
1pm — 3pm, 200 S. Elmwood Ave.
You're invited to join the Alzheimer's Association WNY and the Pride Center of WNY for two great classes:
‌• Know the 10 Warning Signs: Early Detection Matters
‌• Healthy Living for your Brain and Body: Tips from the Latest Research
RSVP to Rachel Parrino at rparrino@pridecenterwny.org with any special dietary requirements 24 hours before the class and there will be food. For more information visit pridecenterofwny.org or call Deanna Bednarz at 716-852-7743.
---
SATURDAY, FEBRUARY 24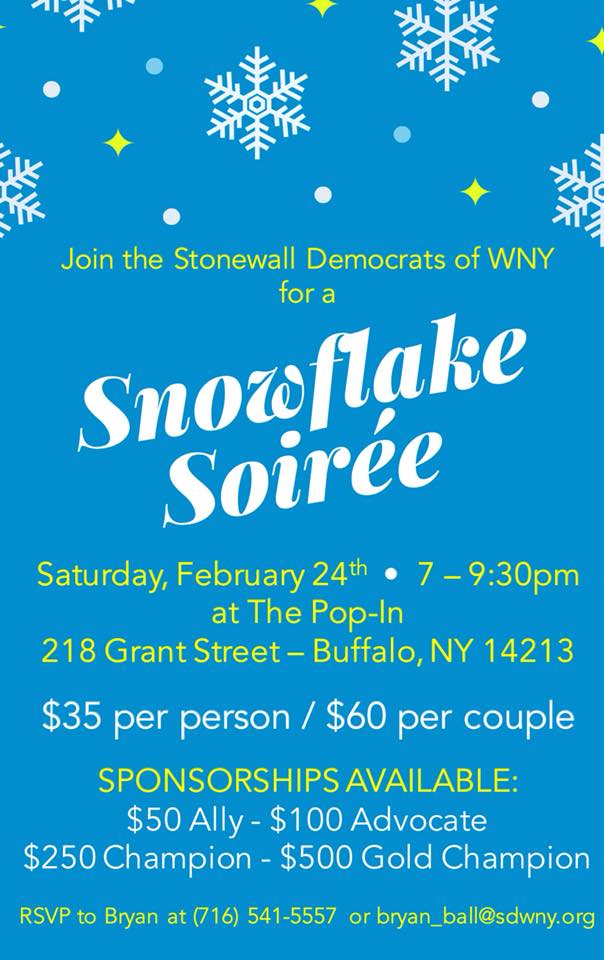 Stonewall Democrats Snowflake Soiree at The Pop In
7pm  – 9:30pm at 218 Grant St (next to Sweetness 7)
Join the Stonewall Democrats for our annual winter fundraiser and membership drive. This is a great opportunity to get involved with one of our cities most active political groups! It's $35 per person or $60 per couple. RSVP to Bryan: 716-541-5557 or bryan_ball@sdwny.org
---
SATURDAY, FEBRUARY 24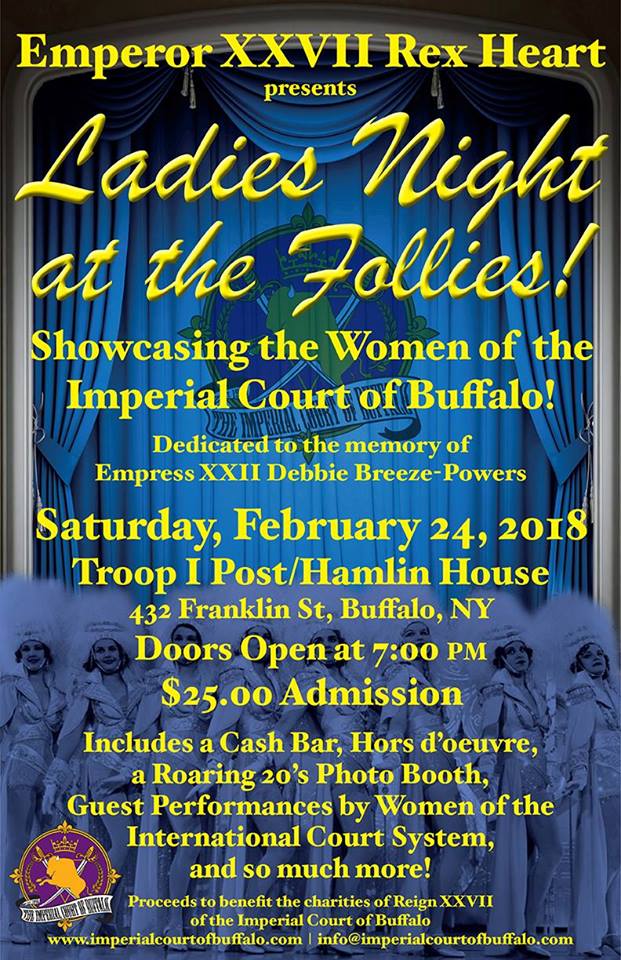 Ladies Night at the Follies at Troop I Hamlin House
7pm to 11pm at 432 Franklin St.
Emperor XXVII Rex Heart presents LADIES NIGHT AT THE FOLLIES, showcasing the Women of the Imperial Court of Buffalo. This event is dedicated to the memory of Empress XXII Debbie Breeze-Powers. Doors Open @ 7:00pm with a $25 admission which includes a cash bar, hors d'oeuvres, a 'roaring 20's' photo booth, guest performances by Women of the International Court System, and so much more. ICOB has secured a room block for this wonderful event at the famous Adam's Mark Hotel. The room block is $79 for standard room and $99 for executive Room. This includes parking and a inclusive breakfast coupon. All you have to do is call the hotel @ (716) 845-5100 and mention the Imperial Court of Buffalo Ladies Night at the Follies room block when you make your reservation.  Proceeds to benefit the charities of Reign XXVII of the Imperial Court of Buffalo.
---
SUNDAY, FEBRUARY 25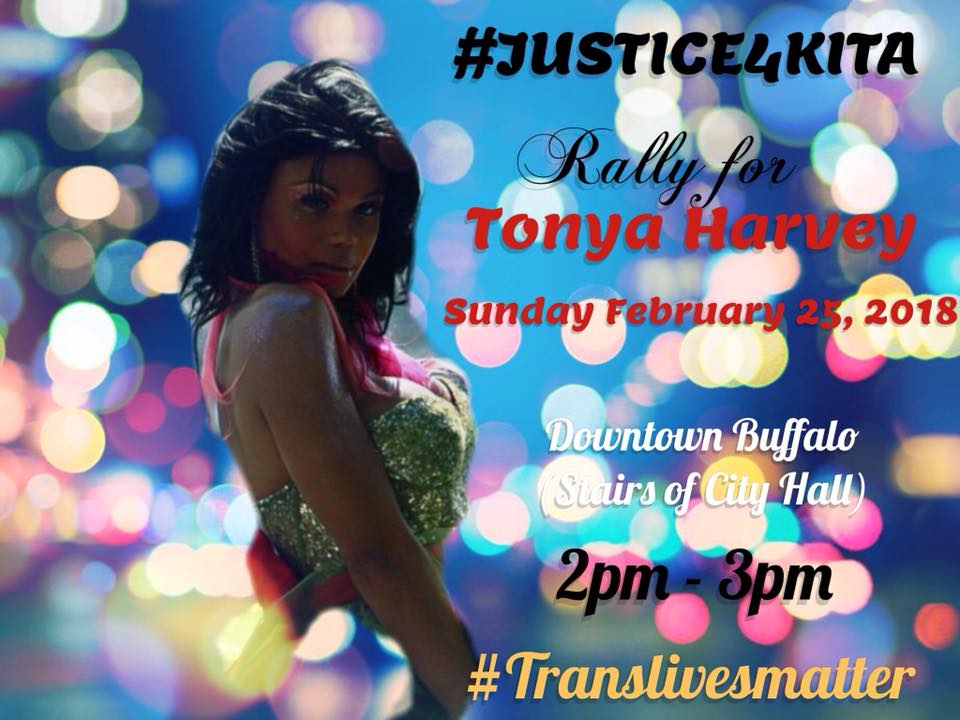 Rally for Kita/Tonya Harvey at Niagara Square
2pm — 3pm at the stairs to City Hall
Please attend the rally in honor of Kita (Tonya Harvey) in front of City Hall on Sunday, 2/25! We MUST show up for each other and for transwomen of color, we must speak out against hate, we must connect with each other to get through these difficult times. Please help spread the word.