Music
by
/ Feb. 18, 2015 8am EST
Most fans in Buffalo probably know them as DJ Dstar and Biacco, but to the rest of the country Don Skotnicki and Matt McGurn are known as Solidisco. After DJing on the local circuit for some time as solo acts, the two musicians paired up to form a production duo two years ago. Since then, they've released records on labels like Fool's Gold, Get Right, Mixmash, and Ultra Records.
Now, the disco-house duo will return to Buffalo for their hometown debut on Thursday, February 26 at the Waiting Room as part of a North American tour that'll also take them from Texas to Los Angeles and finally Ultra Music Festival in Miami. On the 26th, their longtime friends Eyes Everywhere will play in support.
Brian Doyle, half of of Eyes Everywhere, recalls collaborating on tracks with the Solidisco guys years ago.
"We were all around the same position as far as skill and time we had been producing [when we met]," says Doyle. "Donny [Skotnicki] has always had a great technical skill set and he has produced everything from big room house to hip hop and now disco, which I think he really got into as a result of Matt [McGurn] being such a big disco fan. I think that creates a really strong dynamic."
Solidisco began recording music after Skotnicki invited McGurn over to his apartment studio to collaborate on some tracks a few years ago.
"The first year we were just doing this to fuck around and have fun but then we started to do well and we started to take it more seriously," says Skotnicki.
The duo really connected after they discovered their mutual appreciation for vintage and classic house and disco music; especially modern acts like Dimitri From Paris, and classic groups like Chic; the disco band led by guitarist Nile Rodgers.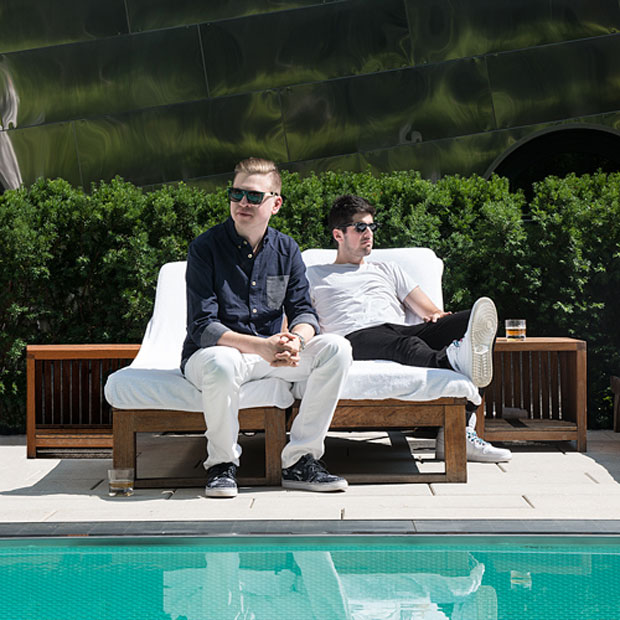 "His guitars are just unbelievable. He was one of the first guys to take the whole orchestral thing and bring it to disco, which is something we really like to use in our sound too," says McGurn.
In 2013, Solidisco was invited by one of the biggest dance music record labels in the world, Ultra Records—a label that has released tracks by artists like AraabMuzik, Deadmau5, Steve Aoki, and Calvin Harris—to rework some of their back catalog of classic disco and house tracks. Ultra owns an extensive library of old disco records, which Solidisco was given access to—even down to the studio multi-track versions of the songs.
"That was crazy for us," says Skotnicki. "They gave us all the of the studio sessions for like a hundred old disco songs. It was fucking sick."
The Ultra Records sessions produced some impressive results, including Solidisco's first single for the label: "Top of the World." The song features vocals from the legendary New York-based 1980s disco group Skyy; the group's first contribution to an original track in over 20 years. Most people will remember Skyy for their funky, Michael Jackson-esque 1981 hit, "Call Me."
Sifting through the library of classic disco multi-tracks to find the right sample was not necessarily easy. "It was a lot of shit," says McGurn. "The lyrics in the 1970s were kind of cheesey. We like that old disco music but you have to find the right stuff."
Both Solidisco and Eyes Everywhere have released singles on some pretty major dance music record labels, including Fool's Gold. Both groups have benefited from the explosion of electronic dance music in the last five years, which Doyle attributes to the accessibility of production software.
"The great thing about producing in 2015 that most people turn their noses at is that you don't need anything. It levels the playing field," he says.
"Even like 15 years ago music producers were either loaded or backed by loaded labels. It was a rich man's game. Mike Skinner [The Streets] was so successful in the UK because he was the first guy to make it huge producing shit in his mom's house with minimal gear and a strong work ethic and love for the music."
Both groups produce with mostly just laptops equipped with Ableton Live. Though Solidisco works mainly with computer software to create their music—software that emulates hardware that they'd otherwise not be able to afford to use—they do work with real instrumentation when possible, which helps them fit into the dance music scene in a unique way.
"A lot of people critize dance music for being very similar, so I think we stand alone in that sense. I think we pay respect to old disco music. We want to do this in a way that respects the classics," says Skotnicki
Doyle also appreciates Solidisco's positioning in the music scene in Buffalo and nationally
"I think they've cornered in on a niche market of disco house that was lacking in big names beyond Treasure Fingers," he says. "It's smart. We are up in this tech-house game where there are hundreds of thousands of producers and a lot of them are very skilled. The disco-house scene wasn't as big and was dying for a great act to take it over. Matt and Donny are definitely that act and Buffalonian's should champion that more."
The next step for Solidisco is to take the stage at what's become one of the biggest most well known outdoor electronic music festivals in the world: Ultra Music Festival in Miami. They'll share the stage with acts ranging from superstars like Skrillex to veterans like Röyksopp, and fellow newcomers like Hot Since 82. Says Skotnicki: "Could we possibly say anything less than it'll be amazing? It'll be amazing."
---