Local
Wardel Davis: Accountability
by
/ Feb. 15, 2017 12am EST
At the corner of Hoyt and Arnold streets on Buffalo's West Side stands a memorial to Wardel "Meech" Davis, who died during an encounter with police somewhere between 11pm and midnight last Tuesday night, February 7. Empty Hennessy bottles, red hearts pasted on paper boards bearing memoriams from friends: "Rest up" and "See you soon."  
We know that Davis was unarmed and we know there was no 911 call. We know he was handcuffed. We know the arresting officers had a history with Davis—they had arrested him before on drug charges.
What we know is still dwarfed by what we don't: How did Davis die? Perhaps more crucially, why did the officers stop him at all that night?
Thanks to a state law passed in the wake of Eric Garner's choking death at police hands, state Attorney General Eric Schneiderman's office will investigate the what happened last week on Hoyt Street. Meantime, elected officials, police, and a complicit media haven't offered answers or comfort to the family members or protesters who have taken to the streets in near-daily actions since Davis's death.
The Buffalo News has repeated the official police account—that Meech engaged the officers in a "scuffle." The paper's headline reads that Davis died "after battling with Buffalo police," without saying how that narrative—which must have come from a police source—had been verified.
There is reason for News reporters and editors to be wary: Last week the News released video of Richard Metcalf's near lifeless body being carried out of the Erie County Holding Center in 2012, clearly contradicting the Erie County Sheriff's previous claim that Metcalf was resisting and had to be restrained. Yet when it came to Davis's death in handcuffs, the News chose to transcribe police claims as fact.
A report about a protest was filed by a News reporter who didn't even bother to show up on a frigid Thursday night, instead choosing to take police spokesperson Michael DeGeorge's word as gospel, though DeGeorge wasn't there, either.  
And while a cavalcade of elected officials showed up at Saturday's hearing about ride-sharing coming to Western New York, only one bothered to show up to any of the protests or make a meaningful remark about Davis's death. That includes city comptroller Mark J. F. Schroeder, who is expected to announce his challenge for the mayor's office soon.
Masten District Councilman Ulysses Wingo attended Thursday night's demonstration outside B-District headquarters at Main and Tupper, but came under fire from some protesters. Wingo received national attention last fall for raising his fist in solidarity against institutional racism during the Pledge of Allegiance, but then later stated that police brutality was not an issue in Buffalo, that current low levels of de-escalation training were adequate.
"My position is that because we haven't had incidents like we've had in the rest of the country, I do believe that whatever [the police has] been doing has been working," he told Investigative Post reporter Daniela Porat in December.
When Wingo showed up at the protest, one demonstrator expressed her doubt: "He may look like me, but he ain't with me," she said, loud enough for him to hear.
When asked why he came down to show his support, a restrained Wingo said that an unarmed black man had died in police custody, and that was reason enough.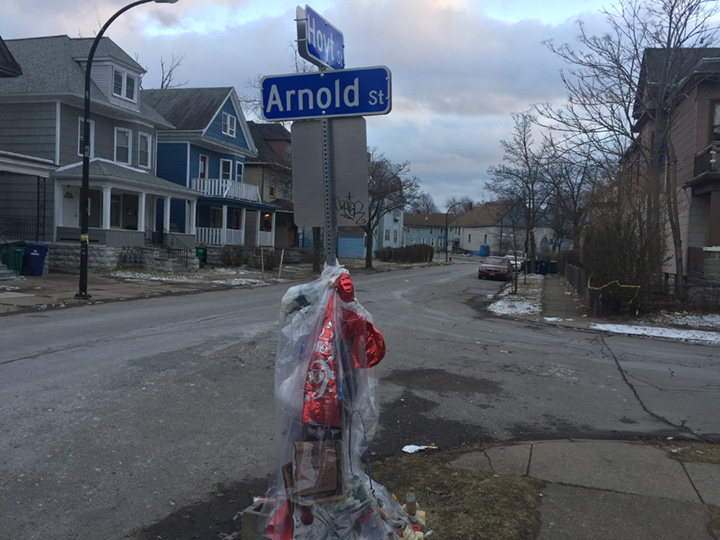 Photo by Aaron Lowinger
"This is what happens when you run in Buffalo"
A key question in the state attorney general investigation will certainly be whether police had cause to stop Davis in the first place.
According to constitutional law, an officer only has the right to detain or arrest a suspect if the officer has "reasonable suspicion that criminal activity is afoot." In the Davis case, the only evidence offered by police so far is that Davis was seen in a "known drug area" and that he put his hand in his pocket.  
Former Buffalo police officer Cariol Horne, who lost her job and has been denied her full pension after stopping a fellow officer from choking a handcuffed suspect in 2008, told The Public, "Anywhere you go around the East or West Side is a drug area, so there's a reason right there." Criminal defense attorney Paul G. Dell agreed with this assessment in a recent conversation with The Public: "They do treat the East Side and West Side differently that the north or south."
While Legal Aid attorney Rebecca Town has no knowledge of any details concerning Wardel Davis's personal legal matters, she has seen similar practices defined by police in court testimony. "During a recent probable cause hearing a Buffalo Police officer explained that they investigate a suspected drug house by stopping anyone they simply see near the property to ask their name and reason for being there," Town recalls. "During the course of the stop they may try to verify the person's identity by checking a computerized database. After the encounter, they add the person's name and explanation to a list they maintain."
The police say they stopped Davis for questioning. But if they did not tell Davis he was under arrest, then Davis had the right not to comply with police questioning. He had the right to walk away. Such circumstances are at the heart of many police interactions in Buffalo that straddle a blurred line along the Fourth Amendment, and that some say betray a racial bias.
"Police and prosecutors know, or ought to know, that the young black men of Buffalo don't actually feel free to exercise their right to walk away from a common law inquiry, without suffering consequences," says Legal Aid attorney Benjamin Nelson, who handles appeals in criminal cases but also has no knowledge of any details regarding Davis's legal matters. In Nelson's view, recent judicial decisions have upheld a person's right to walk away, or even run away, from police questioning. 
Federal judge H. Kenneth Schroeder made a similar observation during a recent suppression hearing involving Buffalo Police, defending an African American man's right to not comply with police requests. He explained from the bench anecdotally that an African American living in this country interacting regularly with police in their neighborhood could be expected to have much different response than a "white person in Williamsville." 
Meech may have fought with the police, but there's plenty of evidence that he didn't need to fight to have received rough treatment.
A 2014 incident caught on video may shine some light on what could have happened if Davis had run or even ignored the officers and walked away. John Willet was beaten by Buffalo police officer John Cirulli in Riverside after a brief chase, long after officers had subdued and handcuffed him.
"'This is what happens when you run in Buffalo,'" Willet told WIVB he remembered officers telling him as they beat him. "'If you run in Buffalo, you're going to get beat. I bet you won't run anymore.'"
Willet said that after he was handcuffed and placed in the car, the violence continued. "After I was put in the vehicle, after I had handcuffs on me, I continued to be hit."
At a federal court suppression hearing in December, The Public watched a video of the arrest of Arthur Jordan, Jr. After being placed in handcuffs, he was punched in the face.
And in 2015, yet another video surfaced of an officer striking a handcuffed suspect.
Horne says that, in her 19 years as a cop, she has seen suspects hit by police after being handcuffed. "Hit in the head with a flashlight, kicking them, punching them, using nightsticks…I have seen it, but it isn't typical."
Cirulli resigned his position with the BPD as part of a federal plea deal in 2014, but another officer involved in the beating, Lieutenant Jeffrey Rinaldo, remains with the department. Allegations that he took part in the beating and failed to intervene to stop the assault on Willet were later dismissed.
It was Rinaldo who briefed the media on the Davis case last Wednesday.
Asthma
Jashalyn Washington, Meech Davis's girlfriend, confirmed to Investigative Post's Daniela Porat on Monday that he suffered from mild asthma since childhood. He's suffered no severe incidents, to her knowledge, and did not use an inhaler.
Davis was a lifelong resident of the West Side, an area long known to have elevated rates of asthma, possibly due to aging housing stock and the Peace Bridge toll plaza, from which the exhaust of 3,500 tractor trailers and 13,000 cars rises into the air and wafts over the West Side daily.
Studies have shown that around 37 percent of West Side households have someone with asthma, and in 2013 Dan Telvock with Investigative Post reported that at the D'Youville Porter Buffalo Public School a few blocks from the bridge, a quarter of the students were diagnosed with asthma.
Being frightened or panicked could have certainly worked against someone suffering from asthma, according to Denver Health Medical Center emergency physician Dr. Kerryann Broderick. If Davis was subdued face down on the ground, the weight of an officer's knee could certainly have critically restricted his ability to breathe, she said.
"Part of it depends on their baseline asthma—if they're a high-risk patient or if they just need an inhaler here and there," said Broderick, a former doctor at ECMC with more than 25 years of experience in emergency rooms. "It's very unpredictable, but it would depend on how much weight they're putting on them and how bad their asthma is."
While easily treatable in an ER, an asthma attack can become fatal without access to emergency intubation, something only some paramedics are able to do, Broderick added. Performing CPR isn't likely to be effective.
The only information police have released about Davis's autopsy is that it was inconclusive.

Photo by Aaron Lowinger
The officers' view
For Cariol Horne, last Tuesday's incident underscores the lack of training done in the BPD to handle such situations. Police receive only a week of training in hand-to-hand combat, and very little in de-escalation skills, according to Horne, who attended Thursday's demonstration outside B-District.
"They teach you holds and stuff, but after a while you're just doing whatever you have to do to get the cuffs on people. You don't remember what you learned from a week of training," Horne said.
"I could give them the benefit of the doubt," she said, asked to consider the officers' actions. "The guy ran, he was having an asthma attack, they should have gotten help. Let's just say he was having asthma attack and they did CPR, as they said. Then why did he die? Let's say they tried CPR and did their best and they couldn't?"
Donna Berry, who retied as chief of B-District after 25 years with the BPD in 2010, says she feels sorry for everyone involved.
"I think the fact this guy was sick, he had asthma," she said. "I didn't research what asthma does, but in an excited state I think your airways can just close off. I don't know what I would do. And on the street, if someone's fighting with you, it's horrible. It could be an accident. It's hard being a cop, I can say that."
Horne takes a more cynical view when asked why she believed Davis was stopped. "They used to call it collars for dollars. They go out on a hunt, and this is why I'm so against stop-and-frisk. You go out and look for people to lock up. A known drug area, so then you stop that person because he looks suspicious. I need to pay my mortgage, so I'll get some court time from this one.
"It's a side hustle, a side job, especially if you're working nights," she said. "One arrest creates so many jobs that no one tries to stop the systemic problem that's going on. Probation, courts—it's a money-maker."
---
Editor's note: Dr. Kerryann Broderick is related to the author, and the author resides on Hoyt Street.