Film
Film Stars Don't Die In Liverpool, Double Lover
by
/ Feb. 13, 2018 6pm EST
It was a long, downward spiral for actress Gloria Grahame, who was once a Movie Star. The blonde with the distinctive unhappy pout won an Oscar for her supporting role in The Bad and the Beautiful, but you're more likely to remember her small turns in other films: as the local girl gone bad in It's a Wonderful Life, a shocking encounter with a pot of boiling coffee in Fritz Lang's The Big Heat, getting on the wrong side of Bogart in another noir masterpiece, In a Lonely Place, or atypically as Ado Annie, just a girl who can't say no, in Oklahoma!. Personal difficulties sidelined her after the mid-1950s, and when she died of cancer in 1981, a lot of people reading the news probably thought, "Gee, I hadn't heard of her in years!"
But don't expect Film Stars Don't Die In Liverpool, about the final years of Grahame's life, to wallow in personal tragedy. For one thing, it's based on the memoir by her lover Peter Turner, an actor who was a hair more than half her age. They met when she was appearing in a Liverpool stage production of Rain (and it's not hard to see that the role of Sadie Thompson would suit her to a T). Grahame is played by Annette Bening, Turner by Jamie Bell, and the two have enough chemistry to get you past any queasiness about the age difference.
If anything, you may be reminded of a scandal that didn't help the real Grahame's career, one that linked her with the underaged son of her second husband, Nicolas Ray. (That son later became her fourth husband, a marriage that lasted 14 years, longer than her other three marriages combined.) That scandal is referred to but not dwelt on, which in Turner's telling is how the woman he knew lived her life, with no regrets.
Bening is the same age, give or take a year, as Grahame was at this point in her life, but she makes as much as she does of the role because it's not tied to biography. She is carrying on, not afraid to go after what she wants, if unwilling to face reality head on. (She tells her doctor that she didn't get the chemotherapy that might have saved her life because losing her hair would have kept her from getting parts.)
This isn't to say that a biography covering Grahame's post-star years wouldn't be interesting, but for the most part that's not what this movie is. Looking back on her relationship with her young lover from the vantage point of her final days, it's a May-December romance that could as easily have been about fictional characters, in the kind of working-class British environment that I sometimes suspect only exists in the movies. Do people like Turner's parents really cover every inch of their houses in wallpaper? And is a "bacon butty with jammy sauce" actually something that people eat? The things you learn at the movies .
***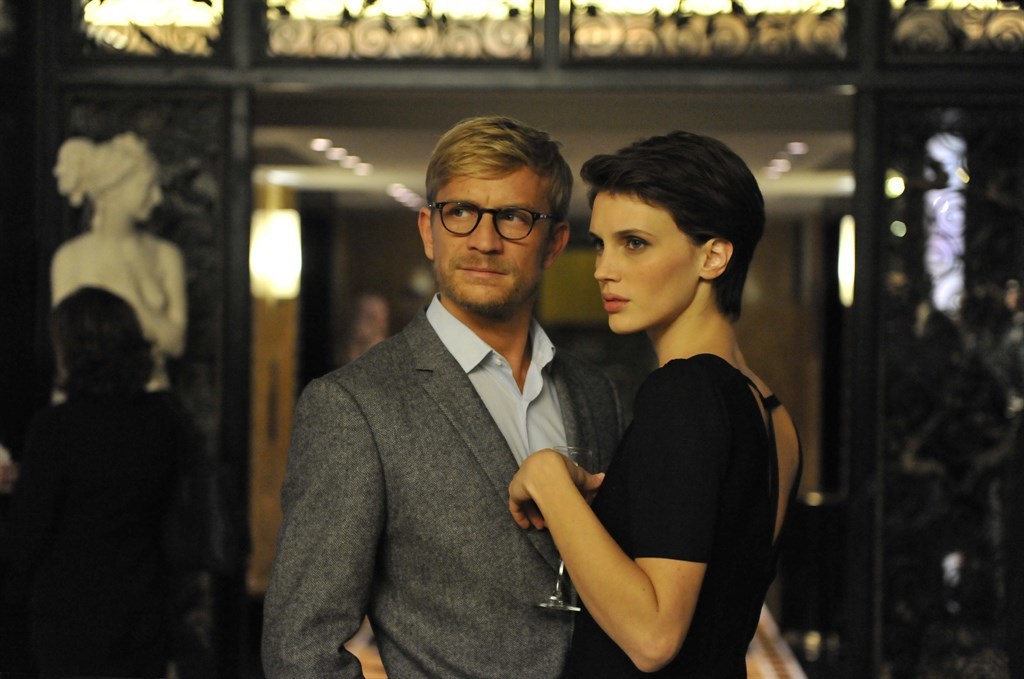 To say that the French film Double Lover is based on a novel by Joyce Carol Oates would be to do you a disservice, even if it is true. The novel was called Lives of the Twins, and if you don't remember it, that may be because Oates published it in 1987 under a pseudonym, as authors of high literary esteem sometimes do when they want to do something different than what their readers are used to expecting from them.
I haven't read the book, but I can't imagine that anyone who comes to see this new film expecting anything Oatesian will be anything less than horrified. The target audience is people who say to themselves, "Why doesn't anyone ever make movies like Brian DePalma did in his heyday?" You folks are in for a treat.
An opening sequence which demonstrates that the French care naught for American standards, or at least not our movie rating systems, introduces us to Chloe (Marine Vacth), who is young and beset by stomach pains. Because her doctor can find no physical cause, she visits Paul (Jérémie Renier), a psychotherapist. She discusses her troubles, they fall in love and move in together. When Paul tells her that he has a twin brother, Louis, whom he never sees, and who is also a psychotherapist, Chloe is intrigued and makes an appointment with him.
Think this is going to go well? Guess again.
As directed by François Ozon, who rarely goes more than 18 months without at least one film in American theaters (his last was Frantz; you may also recall Swimming Pool and 8 Women), Double Lover starts out sedately enough, but don't let that fool you. References to films like David Cronenberg's Dead Ringers, Psycho (of course), and the Paul Schrader remake of Cat People (Vacth is the image of Nastassja Kinski), among other classics of unsettling cinema, should be warning enough. The fun of a movie like this, of course, is trying to second-guess it: We watch events unfold knowing that things aren't the way they appear to be. But of course Ozon knows that we know that. And we know that he knows that we know that. But does he know that—well, you get the idea.
If this all sounds familiar, you may (against all odds) remember Lies of the Twins, an adaptation of the Oates book that was made for the USA Network in the early 1990s, starring Isabella Rossellini and Aidan Quinn. Oates felt that the script changed too much from her book and refused to watch it. What she thinks of this version, I'd love to know.