Local
County's CPS Still Reeling from Brooks Case
by
/ Feb. 12, 2015 8am EST
The 2013 death of Eain Clayton Brooks rocked the Erie County's Department of Social Services' Child Welfare Division. Eighteen months later, the aftershocks of the resulting state audit are still being felt in a staggering backlog of 2500 overdue Child Protective Services investigations. 
The Brooks murder was perhaps the worst crisis to affect the DSS since Gail Trait mutilated her four children who had just been returned to her from foster care in 1978. I know because I worked there for over eight years before starting to work for The Public. The county, which had been in the habit of spreading out an average of 9,500 annual reports of children maltreatment across fewer than 80 investigators actually on the line to receive them, suddenly found their case processing slow to a grinding halt under the scrutiny of an audit from OCFS. It became de rigeur for child protective workers to have more than 100 cases—comprised of households with often multiple children in each—and for long gaps to occur between risk assessment contacts.
Warm bodies from probation, parole, and adult protection were offered bounties of overtime to assist with contacts. When that wasn't enough, workers were ordered to stop their work in their home departments to make contacts for CPS. It became routine to drop by a home six months after the last worker had seen the children and even more routine to absorb resistance, anger, and confusion from families who had no idea they still had an active case and who now were being asked to to submit their children to re-interviews and examinations, a practice which has grown increasingly invasive over the years: It often involves unclothing young children to look for injuries.
Imagine a government official knocking on your door and asking permission to document the condition your child's backside, months after the original report and contact were made. Keep in mind that generally 75% of all cases are "unfounded," meaning no "credible evidence" of child maltreatment was found. And it doesn't take much for a report to be substantiated, any bruise, mark, or welt of any size or seriousness for which there is a shred of evidence that says it was inflicted by a parent will almost always lead to an substantiated, or "indicated" CPS report.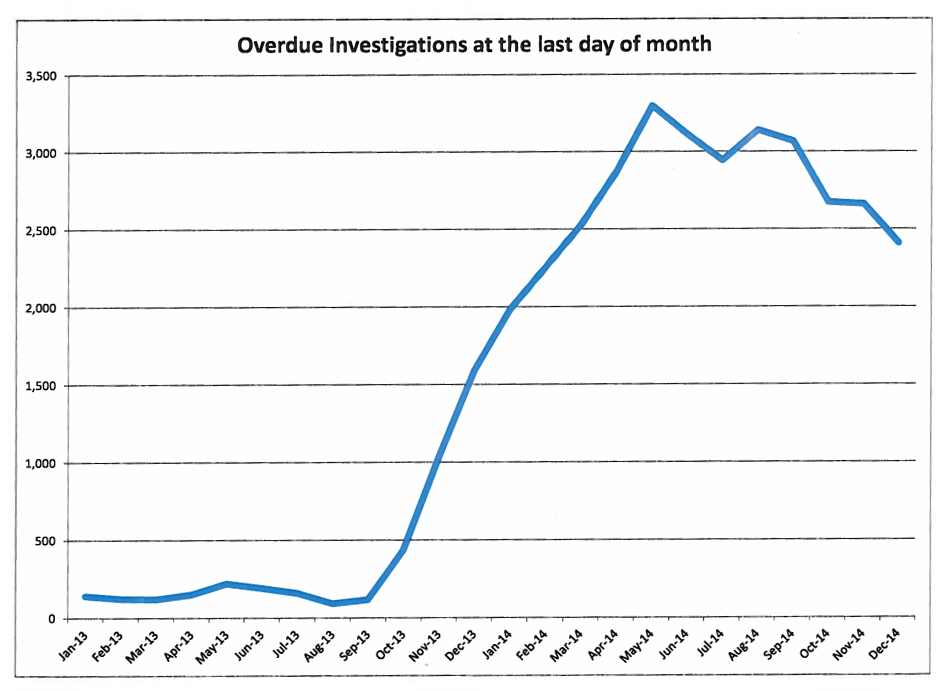 Eighteen months in, the data around the CPS backlog is staggering and reflects that although DSS has increased their CPS staffing by a greater than a third, they're are still grossly behind. A review of the most recent monthly report that DSS is required to submit to the legislature indicates some disturbing data:
When it rains it pours. Erie County had a record intake of 10,900 in 2014 to contend with in addition with being charged with cleanup duty on the extensive backlog.
The number of timely determinations (cases closed within 60 days) took a nosedive in November 2013, plummeting 97% from its July 2013 figure of 475 to 14, and has not recovered.
Likewise, the number of cases closed dropped precipitously
While the inverse overdue investigations rose and plateaued around 2500. 
In the meantime, there has been some progress in capping the number of cases a CPS worker is expected to service at 15. In November we reported that most substantial element of State Senator Tim Kennedy's child welfare reform bill—that would introduce a mechanism to track workers with caseloads over 15—was left to languish on the governor's desk. On December 29, Cuomo finally vetoed the bill, implying in his message that OCFS in concert with local counties should be doing this anyway. Obviously, they haven't been.
But Kennedy has again teamed with Brooklyn Republican State Senator Martin Golden to reintroduce an even meatier version of the bill that would instill a hard cap of 15 for CPS workers statewide. In the bill's justification, they write: "It has been shown that smaller caseloads are important to the success of child protective services. New York City's Administration for Children's Services has taken this approach and has substantially lowered their caseload ratios to the benefit of the children."
In a statement to The Public, Kennedy offered that he's "pushing legislation to limit caseloads to 15 cases per caseworker, so that these dedicated, front-line workers are able to more thoroughly investigate each case that crosses their desk. Fighting for resources for caseworkers has always been a priority of mine as we push for reforms that improve our CPS system and keep our children safe."