Theater
The Public Questionnaire: Adam Yellen
by
/ Feb. 11, 2015 1am EST
Adam Yellen is a naturalistic actor with boyish good looks who excels in character roles. The SUNY New Paltz theater graduate is currently playing Joel, the cynical and insightful brother of the main character in Beau Jest at Jewish Repertory Theatre of WNY. It's a sweet comedy about a Jewish girl who hires an actor to pretend to be her boyfriend, so her parents won't know she's dating a gentile.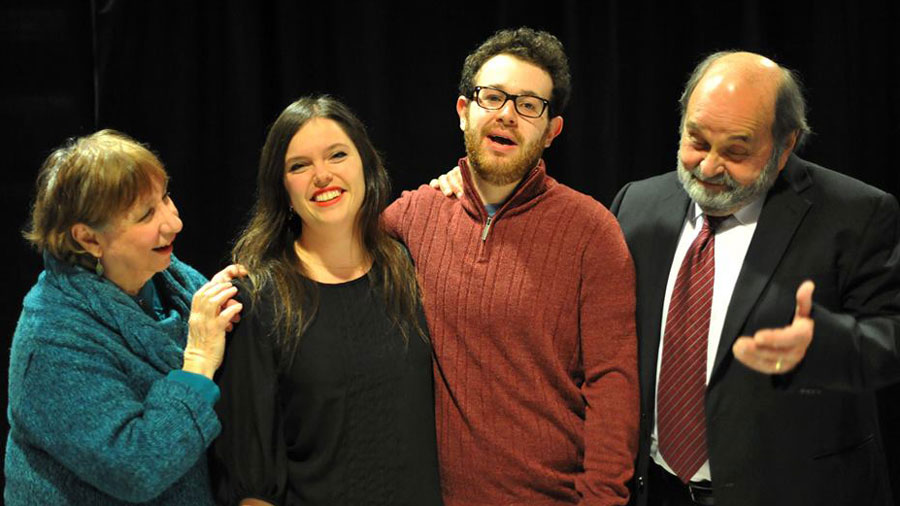 In the recent past, he's played the evil Sheriff in Robin Hood at TOY; he's played one of the gangster pastry chefs in The Drowsy Chaperone at MusicalFare; he appeared in Bounty: the Mutiny at the New Phoenix. Last season he appeared in Body Awareness at JRT. Yellen's characters often take on a bit of the endearing quality he exudes in real life—even when he's playing a villain or a cynic. This lends, even his most comic roles a note of humanity and reality.
Here, Adam submits to The Public Questionnaire. 
What word would your friends use to describe you?
Jocular.
What quality in your current character is most unlike your own personality?
I'd like to think that Joel is a lot more pretentious than I am. He also has a pretty strained relationship with his mother, which is very much the opposite in my own life.
What quality in your current role is most like your own personality?
His skepticism.
When and where were you the happiest?
The summer of 2013 doing Hamlet in Shakespeare In Delaware Park. I had a blast with that cast, it almost felt like summer camp for adults. I also started dating my lovely girlfriend Arin that summer, so there is that as well.
What is your idea of hell on earth?
The Wegmans parking lot on a Sunday afternoon.
What is your greatest fear?
Losing my passion for theater.
Which talent do you most wish you had?
Improvisation. I have a massive respect for actors and comedians who can think of exactly the right thing to say right in the moment. That has never come very naturally for me.
What superpower do you most wish you had?
I am gonna go with reading people's minds. Growing up as an only child I spent a lot of time eavesdropping on other people's conversations, so I'm naturally a pretty curious person. Having that power would make things a lot easier.
What would you change about your appearance?
One day I wish to have some semblance of a jaw line. 
What trait do you most dislike in others?
Lack of self-awareness. 
What do you most value in your friends?
Their humor and open-mindedness.
What quality do you most value in a good director?
The ability to distill a complicated thought or concept into a simple and clear idea or image. I also tend to fall into patterns early on in the rehearsal process so I have a great respect for any director who can make me look at the character in a myriad of ways.
What is your guilty pleasure?
Eating large amounts of unhealthy food late at night and bad Arnold Schwarzenegger films.
Who is your favorite fictional hero?
The Dude from The Big Lebowski.
Who are your real-life heroes?
Bill Maher, P. T. Anderson, Philip Seymour Hoffman, Paul Giamatti, Walter Matthau, Michael Stuhlbarg, James Murphy, Cormac McCarthy, Richard Dawkins, Saul Elkin, and my Grandfather Phil, to name a few.
What do you consider to be the most overrated virtue?
Sobriety.
On what occasion do you lie?
When my mother is mad at me. Sorry, Mom.
What was the subject of your last Google search?
I believe it was "Peaky Blinders." It's an awesome Netflix series about gangs in Birmingham during the World War I era. I binge-watched it in like a week and was looking into the history of English gangs around that time period. Cool stuff.
If you come back in another life, what person or thing would you like to be?
A film director.
What role, in which you will never be cast, is perfect for you?
I would really love to play the character of Peter in Bug by Tracy Letts, but I just don't see my self ever being cast in that role.
What is your motto?
"The most wasted of days is one without laughter" —e .e. cummings.