Visual Arts
Facing Janus: Vena DiBernardo and Robert Then
by
/ Feb. 10, 2016 3am EST
The current exhibit at the Carnegie Art Center, North Tonawanda, is about past, present, and future. A new body of work by veteran area artist and teacher Vena DiBernardo—now 82 years old and for whom the ill-understood anomaly physical condition called essential tremor is an issue—and sculptor and metalworker Robert Then, whose recent work has involved excavating artifacts of the area industrial past and remaking them into artworks.
In addition, the exhibit introduces a joint project and proposal of the artists to construct a monumental public sculpture that harks back to Roman mythology in epitomizing the widely noted economic renaissance now occurring in Buffalo and the region.
Last Saturday, both artists talked briefly at the gallery about the proposed project and their work in general on exhibit.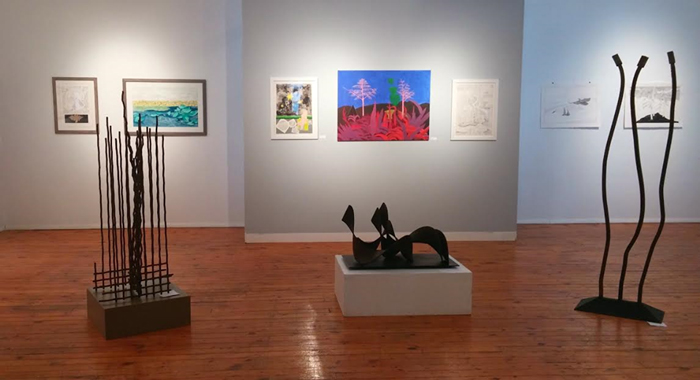 The proposed sculpture is an abstract representation of the Roman god Janus. The god with two faces, looking in two directions, toward the past and toward the future. And in that way, "how relevant to what's going on now in Buffalo," DiBernardo's daughter Luanne said in introducing her father at the Saturday event. A city with a past, and now it seems—it hadn't always seemed—with a future.
The completed version of the DiBernardo sculpture would be in stainless steel and stand about fourteen feet high. A smaller maquette version of the work and slide show on the project are part of the current show.
Someone in the audience asked Then how he got involved in the project. "Simple," he said. "Vena called me and said, 'Come on over, I want to show you something.'" Then would oversee construction of the sculpture.
He talked about some of the hurdles to be surmounted to make the project a reality. Above all, he said, financing and site selection. Not necessarily in that order. "Getting everybody to agree on where to put it, that's the biggest challenge of all," he said.
There seemed something of a consensus that the work should be located in or near the new medical corridor. But another suggestion was the waterfront.
When someone asked about the financing—how best to go about securing it—DiBernardo said, "Talk to all the doctors in the medical complex. The doctors have the money."
DiBernardo's other work in the show consists of paintings and drawings—or often paintings/drawings—on a wide variety of subject matters, from still lifes to nature studies to vaguely mythological reference works evoking a variety of ancient cultures, from Near Eastern and Egyptian to Mesoamerican. A work called Night of the Bull shows two aspects of such a creature with precisely lunar crescent set of horns. While one called Graffiti has a distinctly Mesoamerican Indian look. In Praise of Wisdom features an owl and an Egyptian figure. A work called Dante looks not so much like the poet as one of the sufferers he happens upon in his journey through Hell. On his back, on coils of yellow fire.  
One of Then's works on show is his whimsical Art Bench conversational piece in several senses. "For conversations about art," he explains.
Other works are found iron or steel or brass, refurbished and reworked to a greater or lesser extent as required by eye and sensibility of the artist and mounted as sculptural pieces. Such as World Lab, an arc portion of heavy iron casting handsomely embossed with that enigmatic legend—word and part of a word, it looks like. Or Damage, an inch-thick segment of sheet iron betokening violence in the demolition of whatever structure or apparatus it was originally part of. Or The Whisper, consisting of two conglomerate masses of remnant dollops of what was molten iron at the time of discard, mounted in a way suggesting an intimate conversation. All in all a little analogous in spirit and sense to the spirit and sense of the Art Bench.
Nor does this artist disdain puns or other playfulness in titling his works. A work called Basic Kneeds suggests two lower leg portions, ankles to just below the knees.
The Vena DiBernardo and Robert Then exhibit runs until February 20.
 FACING JANUS 
 240 Goundry St, North Tonawanda 
 CarnegieArtCenter.org