Food
Coming Soon: Marble + Rye
by
/ Feb. 18, 2015 8am EST
At 112 Genesee Street, across from the Genesee Gateway development, the long-dormant first floor of a 19th-century brownstone is once again buzzing with activity. It's here that construction crews are working hard to bring to life Marble + Rye, the latest business venture of intrepid restauranteurs and childhood friends Michael Dimmer and Christian Willmott.
On the fourth floor of the Larkin Center for Commerce, in another of Buffalo's quickly rebounding neighborhoods, more friends-cum-colleagues—Rob Dimmer (Michael's brother), Robbie Grabowski, Chrissy Pyne, Collin Wittman, and Mike Driscoll—gather around a conference table at Mr. Smith Agency to brainstorm ideas for Marble + Rye's marketing collateral.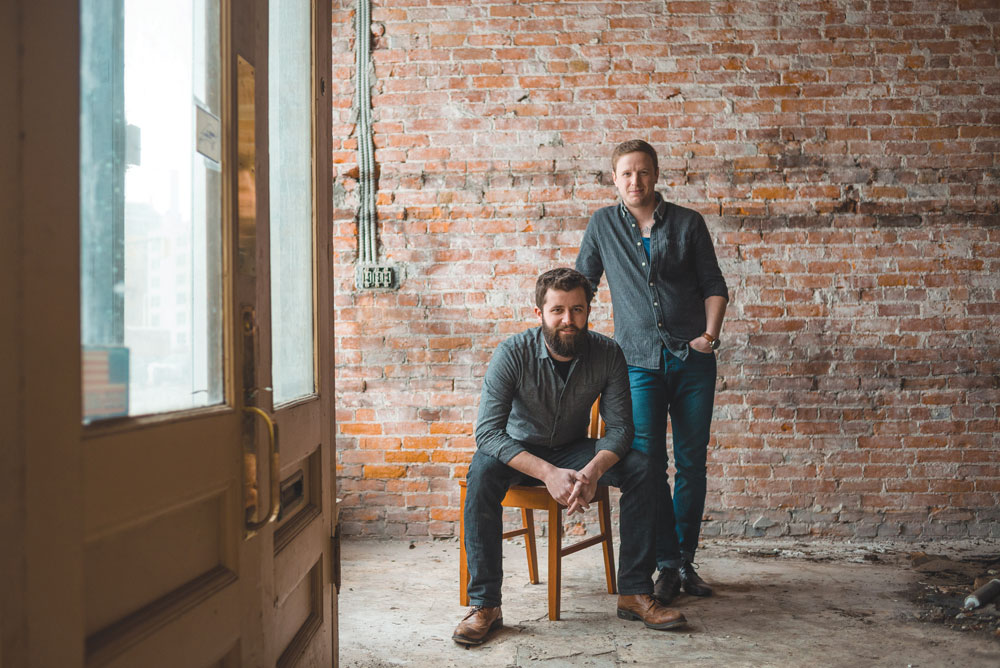 Photo by Shawna Stanley
At both locations, the energy and excitement is palpable. Intoxicating. Enviable.
These disparate but intersecting scenes are part of a larger story of young entrepreneurship unfolding in renovated derelicts and converted industrial spaces across our fair city. Spaces that, until recently, stood as sad reminders of a lost prosperous Buffalo. 
The city's changing fortune has largely been credited to flashy incentive programs like the Buffalo Billion Investment Development Plan and its 43North competition—and for good reason. But there is quieter, grassroots change occurring everywhere from the Cobblestone District to Black Rock, thanks in large part to the ingenuity and gumption of the increasing number of millennials that call Buffalo home. 
Despite having grown up in the downtrodden Buffalo of the 1980s and 90s, Michael and Christian's love for their hometown has never wavered. And although their decision to open Marble + Rye was a natural outgrowth of their successful mobile operation, Black Mark Food Truck, it also stemmed from a desire to be part of the city's resurgence and to secure a piece of downtown real estate before demand priced them out of the market.
"We wanted to strike while the iron was hot," said Christian.
They're quick to admit that Genesee Street has some way to go before it reaches its full potential; foot traffic can be light at night and on weekends. But they are banking on a booming weekday lunch business from the start and will have mechanisms in place to ensure speedy service, takeout, and eventually delivery to area workers. And as more residential space infiltrates the area—like the 50-unit complex Ciminelli Real Estate Corporation is planning at 465 Washington—Michael and Christian expect the neighborhood to change quickly.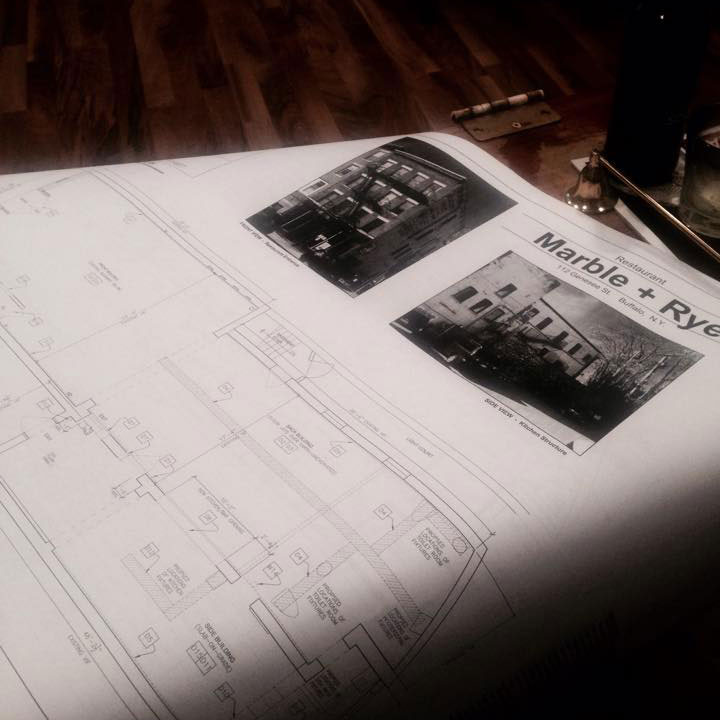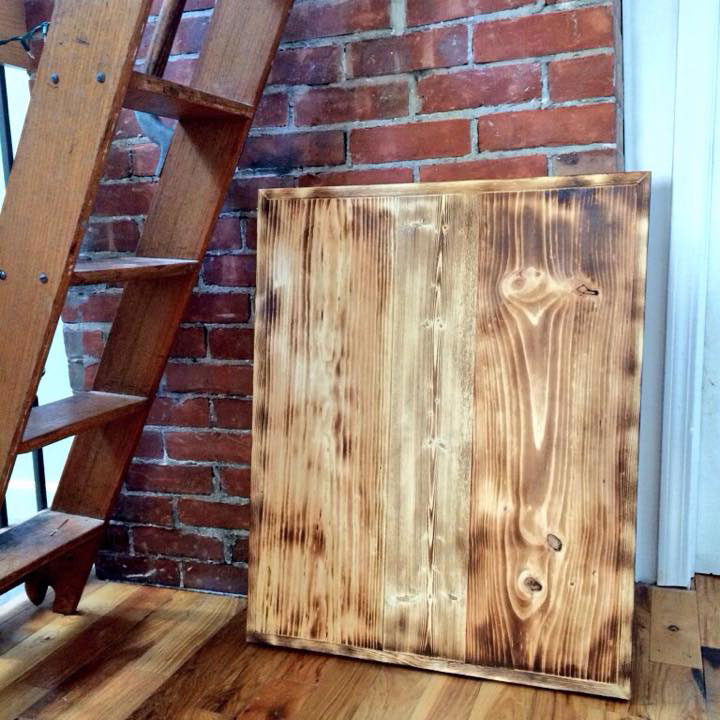 Photos courtesy of Mike Dimmer
"A year from now, we won't have any problem with foot traffic," Michael predicted.
Their optimism together with their appetite for hard work and willingness to take on risk is what makes millennials such a staggering entrepreneurial force. They are old enough to know they desperately want more out of life than pushing pencils at nine-to-five desk jobs, and they are still young enough to work the backbreaking hours required to make their chosen alternatives a reality.
That's as true for Rob and his cohorts at Mr. Smith as it is for the Marble + Rye crew. Before launching the digital marketing agency in 2013, Rob was running corporate marketing departments and dallying in freelance design work on the side. The latter allowed him to scratch a creative itch and build a sizeable client base, which he parlayed into a business.
Now five people strong, the folks at Mr. Smith like to think of themselves as the Swiss army knife of marketing agencies; their team is small but nimble and composed of complementary players, who each bring something unique to the table. They will dutifully fulfill any standard marketing request, but they pride themselves on their ability to provide all-encompassing, legendary brand experiences for their clients, including Marble + Rye. 
To call Mr. Smith's services all-encompassing is no exaggeration. For Marble + Rye, they not only handle logo, website, and menu design; public relations; and signage; they also planned the interior and will have a hand in service attire and training to ensure brand consistency and maintenance of the brand's exacting standards. Mr. Smith is the creative juggernaut polishing and safeguarding the restaurant's identity at every turn and on every level. 
That's not to say Michael and Christian aren't at the helm. Mr. Smith's identity-crafting process is truly a collaborative one, and both teams are in constant communication to ensure Michael and Christian's artistry, ideas, and preferences are captured in the final product—from the dimensions of the subway tile to the finish of the flatware. 
"Every single detail is a conscious decision," Rob stressed.
As a result of the collaborative process, Marble + Rye will be more modern than Michael and Christian originally envisioned, but in a really good way, they say. According to Rob, the space will exude a certain freshness and the energy of a New York City beer garden. Exterior and natural elements will be brought indoors, brick will be exposed, and textures and finishes will speak to the architecture of the building and surrounding neighborhood. 

The mood created by the interior design will align with the food and drink programs, which, as the name Marble + Rye implies, will focus on meat, including a fixture burger component, and American rye whisky. Beyond that, Michael and Christian want to remain tight-lipped about the food, except to say that the kitchen will take full advantage of the unique equipment at its disposal: a wood-fired oven and a cast-iron flattop grill called a plancha. Slyly, they also indicated that they plan to introduce a few "gamechangers" to the local food scene.
From the perspective of anyone who has sampled Black Market Food Truck's fare, it is that dedication to innovation and a clear passion for food that launched Michael's and Christian's careers. But according to them, they wouldn't be where they are today without the marketing acumen of the folks at Mr. Smith, who taught them the importance of social media, which they consider the lifeblood of their food truck success. 
In exchange, Mr. Smith's team members capitalize on the leeway afforded them by their close relationships with Michael and Christian to push boundaries and test new strategies and ideas. They also leverage locally the success and popularity of Black Market Food Truck and the excitement surrounding the opening of Marble + Rye to promote the Mr. Smith brand. In fact, whenever the agency posts about either business on social media, it elicits a huge response—especially from the hometown crowd. It seems that after decades of letdown and being surrounded by unrealized potential, no one likes a local success story more than Western New Yorkers, and it is that rousing and practically unconditional support that makes opening a business here especially appealing to first-time and young business owners. 
No one would suggest launching a business in Buffalo is easy, however. According to the teams at Marble + Rye and Mr. Smith, there are drastic ups and downs. But they also stress that if you know you can make money doing what you love, if you know owning a business is in the cards for you, don't put it off any longer. Get your ducks in a row, line up your contacts, and put your support network in place.
"The time is now," Rob advises.
---
Keep up to date with the progress at Marble + Rye on Facebook, Twitter, & Instagram.