Visual Arts
Spotlight: Blue Sky Design and DIY BFLO
by
/ Feb. 8, 2017 12am EST
Every February you're flooded by Valentine's Day and its ridiculous expectations. The store shelves are lined with chocolates, roses, jewelry, cards, and numerous shades of red that scream, "Pick me!" You agonize over what to buy or plan for your significant other and wonder if they're taking this holiday as seriously as you. Or you think maybe you're not taking it seriously enough. Or maybe you're single and just want to drown out the fact you'll most likely be eating leftover pizza alone over your kitchen sink on February 14. Either way, why don't we all try something different this year? Let's take a different approach, focus on being thankful for all the love we experience on a daily basis in our lives, express that gratitude, and let the stress melt away.
There's a better holiday, and it comes the day before Valentine's Day. It's called Galentine's Day.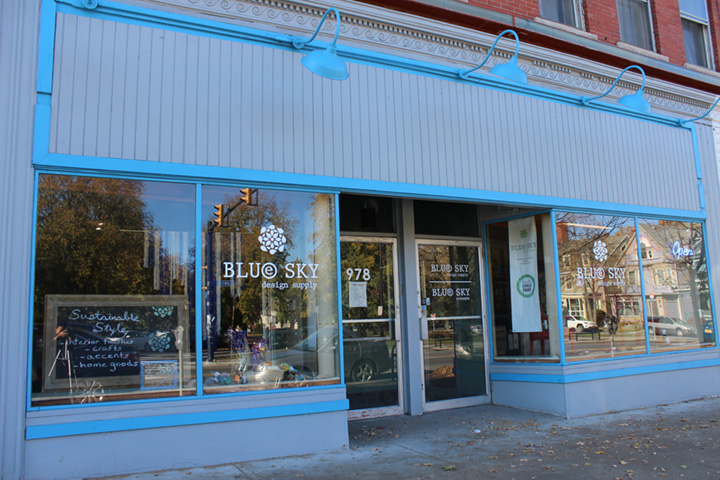 Blue Sky Design Supply
This year Blue Sky Design Supply is teaming up with DIY BFLO to offer a special class celebrating Galentine's Day. This holiday, seen by many as an add-on to Valentine's Day, was made popular by Amy Poehler's character Leslie Knope from the TV comedy series Parks and Recreation. This special day, deserving to stand on its own, takes place on February 13 and is devoted to celebrating the love you have for your best friends, your family, and even yourself.
Halley Marie Shaw, who works at Blue Sky, and Melissa Swiatek-Odien, owner of DIY BFLO, will be teaching a Galentine's Day card-making workshop on Sunday, February 12, 1-3pm.
Most of the classes offered at Blue Sky, which specializes in selling eco-friendly home décor and craft products, focus on specific home improvement techniques, like paint methods for upcycling furniture or painting cabinetry.
"This class is a bit of a human interest course rather than home improvement," Shaw says. "We are doing something for anyone who has wanted to try crafting, but hasn't felt comfortable yet. We want to provide a positive space where students walk away with a new skill set that can be applied to making use of one's craft stash."
While teaching class participants card-making skills and chalk paint techniques, Shaw and Swiatek-Odien will also share some creativity prompts.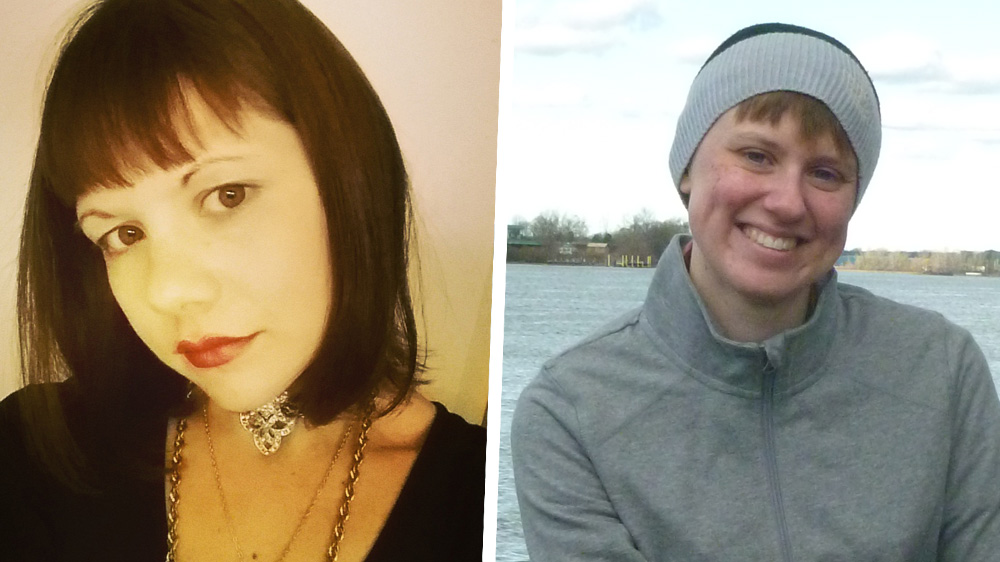 Hallie Marie Shaw of Blue Sky Design Supply / Melissa Swiatek-Oden of DIY BFLO
"It will be a great outlet not only to find a creative way to express gratitude without feeling bombarded by the societal pressure that focuses on romantic love, but will also be a way to tap into self-care by allowing oneself to play and get curious," Shaw said.
Both instructors want to emphasize that love comes in many forms and that it's beneficial to recognize all the people who bring joy to your life. And what better way to show them than with a personalized card or collage made of recycled products? Not only can you express your love and gratitude with a one-of-a-kind piece of art, but you can lessen your carbon footprint while doing it.
Participants will receive their own materials pack at the start of the class, which includes a variety of traditional and non-traditional reclaimed or recycled papers. (Past issues of The Public will also be on hand for people to add to their creations.) Stencils will be available for tracing shapes and making envelopes, as well as chalk paint, adhesives, scissors, and more.
While you don't have to show up to the class with any materials, the instructors encourage participants to bring their own odds and ends and found items to spice up their Galentine's Day cards if they wish to give their projects an extra personal touch.
"Things like unique papers, fabric, rubber stamps, ink pads, dried flowers, and copies of photos would work well for this type of project," Swiatek-Odien said.
Owner Tyra Johnson, who opened Blue Sky in 2010, is excited to offer the community a class that exposes people to her eco-friendly products and allows them to tap into their creative sides.
"Antecdotal evidence suggests people want to have learning opportunities in a fun and relaxing way," Johnson said. "We want to encourage people to be creative and lessen their impact on the environment. It's a win for the individual and our greater community."
Blue Sky sells several alternatives to conventional products that can be harmful to the environment. Some of the most popular items are interior finishes like paints, stains, sealants, and removable wallpaper. They also have crafty items like Washi Tape and recycled yarns. There are home and lifestyle products like cleaners, furniture polish, handmade dryer balls, and food wraps. A selection of decorative and gift items are available as well.
"Many of these products aren't available at big-box hardware stores," Swiatek-Odien said. "They offer shoppers eco-friendly options that they would not otherwise have or would have had to seek out online. I also love how knowledgeable they are about the products. That's something that online reviews and product descriptions just can't duplicate."
Blue Sky Design Supply is located at 978 Elmwood Avenue. The workshop is $25. Snacks and juice will be provided. Those 21 and over can bring their own alcoholic beverages if they wish.
Spend this Galentine's Day with friends, family, loved ones, pets, or by yourself, if that's your jam. Make it a point to remember all the people in your life who send their love to you on the regular and without expecting anything in return. And don't worry about Valentine's Day, whether you're with a significant other or not, because your Galentine's Day crew has your back.
---
  BLUE SKY DESIGN SUPPLY + DIY BUFFALO'S 
 A GALENTINE'S DAY CARD MAKING WORKSHOP 
 Sunday,  February  12, 2017  /  1-3pm  /  $25 
 Blue Sky Design Supply  /  978 Elmwood Ave, Buffalo 
---
 Blue Sky Design Supply  /  978 Elmwood Ave, Buffalo 
 facebook / twitter 
Blue Sky Design Supply sells eco-friendly products for home décor and crafts. Owner Tyra Johnson started the business because she wanted to provide attractive and environmentally responsible products. Their products are for those who want to decrease their environmental impact on the planet as well as choose healthier options for themselves and others. While Blue Sky is a retail store, it's also an education center, as they have many informative classes on living more eco-conscious lives and using their products to do so. Johnson would like to remind her customers and community that everyday choices we make about the spaces we live, work, and play can help lighten the load we place on the Earth. Visit them Tuesday through Sunday (varied hours).
 DIY BUFFALO 
 facebook / instagram 
DIY BFLO is an eco-conscious and economic alternative to big-box hobby stores and costly new art supplies. Just like options exist for second-hand clothing and furniture, owner Melissa Swiatek-Odien wanted to create a convenient way to shop for second-hand, reclaimed art, craft and other creative supplies. Her inventory includes everything from traditional craft supplies like knitting, fiber, and scrapbooking materials to fine art supplies like oil pastels and matte board, and even vintage items and small furniture that is "ready to flip." Her goal is to encourage creativity and reuse by keeping useful items out of landfills and to be a resource for artists in Buffalo. DIY BFLO is located at 980 Northampton Street in Buffalo. They are set up in the first-floor gallery of the Reuse Action warehouse. Visit them Tuesday, Friday, and Saturday, 9-4pm.