Local
Police Report: Two AG Reports, Zero Accountability
by
/ Feb. 7, 2018 5am EST
Last Thursday, New York State Attorney General Eric T. Schneiderman was in Buffalo to meet with the family of Jose Hernandez-Rossy and explain to them why the investigation into his death uncovered no basis for criminal charges against the Buffalo police officer who shot him in the back from a distance as he fled from officers last May.
Under state law, an officer is able to use deadly force if he reasonably believes that a civilian has committed a felony and is armed with a deadly weapon. And as the family and concerned community members discovered, "reasonably" apparently includes a situation where an officer makes the fatal mistake of suspecting that person is armed, even if he is not.
The events of that picturesque Sunday afternoon on a quiet side street in Black Rock will remain in question for the family and form the basis of a pending federal suit alleging "wrongful death, excessive use of force, and a violation of civil rights, among other actions," according to the family's attorney, Nelson Torre.
For the family and Torre, the facts of the case don't add up. Torre believes Buffalo Police Department officers violated standard procedure in several manners during the incident, from the initial car stop to the shooting.
"Everyone knows that police officers have a tough job," Torre said during an impromptu press conference in his office on Thursday. "Everyone also knows you don't shoot an unarmed man in the back from a half a block away."  
Torre remains concerned with the nature of the car stop, what transpired after the stop, and what he characterized as the tampering of evidence that occurred after the fact, when the police moved the car that Housing Unit officers Justin Tedesco and Joseph Acquino were operating.
Officers Tedesco and Acquino were riding behind Hernandez-Rossy when they claimed they smelled burning marijuana and decided to pull over Hernandez-Rossy's car. According to both officers' statements in the attorney general's report, Hernandez-Rossy did not pull over when the officers activated their lights and siren, and the officers decided to cut him off at an intersection.
According to Tedesco's account, Acquino approached Hernandez-Rossy's car and opened his car door after Hernandez-Rossy did not respond to officers' question of "What the fuck are you doing?" Acquino's report said he initiated contact when Hernandez-Rossy reached for a jacket pocket, and Acquino felt something hard in the jacket pocket that he assumed was a gun.
According to the BPD and the AG report, Tedesco and Acquino never radioed the stop into dispatch. Backup only arrived after subsequent civilian 911 calls. And one officer responded to the scene after hearing gunshots from a few blocks away. "That is a direct violation of standard police procedure and raises a serious red flag in terms of conducting such a car stop without notifying the dispatcher at headquarters," Torre noted.
What happened in the next few fateful moments, according to the AG report based on the officers' accounts and eight civilian witnesses, was pure chaos. Hernandez-Rossy hit the gas with Acquino halfway in the car and drove it into a nearby home, causing a collision and inflation of the car's airbag, one of which Acquino mistook for a gunshot. During the ensuing struggle, with Acquino's ear "hanging by just the lobe" according to the report, Acquino was yelling he had been shot and implored Tedesco to shoot Hernandez-Rossy. As Tedesco wrestled with Hernandez-Rossy, Hernandez-Rossy was able to wriggle out of his sweatshirt and flee shirtless down the street. Tedesco took a knee and fired, fatally wounding Hernandez-Rossy with a bullet in his shoulder.
Torre also questioned the police's explanation of Acquino's ear injury as due to the car's airbag deployment. It was Acquino's right ear that was nearly detached, though the left of his head would have been facing the front of the car, and Acquino's blood was found all over the interior and exterior door frames. Torre finds it much more likely that Acquino's ear was severed by an impact with the car door. "The physical proof speaks much more forcefully to me than what people say they thought after the fact," he said.
Torre, showing reporters images of the cars involved in the incident captured by the Buffalo News, took issue with the BPD's coverup of whatever impact was made between the police car and Hernandez-Rossy's vehicle. There was no proper accident reconstruction performed by the BPD until the AG requested it, even though images clearly showed damage to both vehicles. Torre claimed the police car was moved and the BPD has not yet explained who moved the car and why. "No one has come forward to explain this," he said.
When asked whether he was concerned with Fourth Amendment issues at the beginning of the car stop, Torre pointed to ongoing litigation in federal court. "If all of this was engendered and started because of an improper car stop and violation of Jose's rights, and it all spiraled out of control—this so-called 'calamitous confluence of events' referred to in the AG's report—then there should be a reconciliation of those facts."
The "hard object" Acquino mistook for a "small caliber gun" was apparently a bag of drugs that Acquino found on his person after he regained consciousness. It was not otherwise explained how a bag of drugs could have felt like a gun through the fabric of Hernandez-Rossy's jacket, or when Acquino came into possession of the drugs during the conflict.  
In the wake of the shooting, BPD spent early two days combing the neighborhood for the weapon they believed Hernandez-Rossy had at the time.
Community response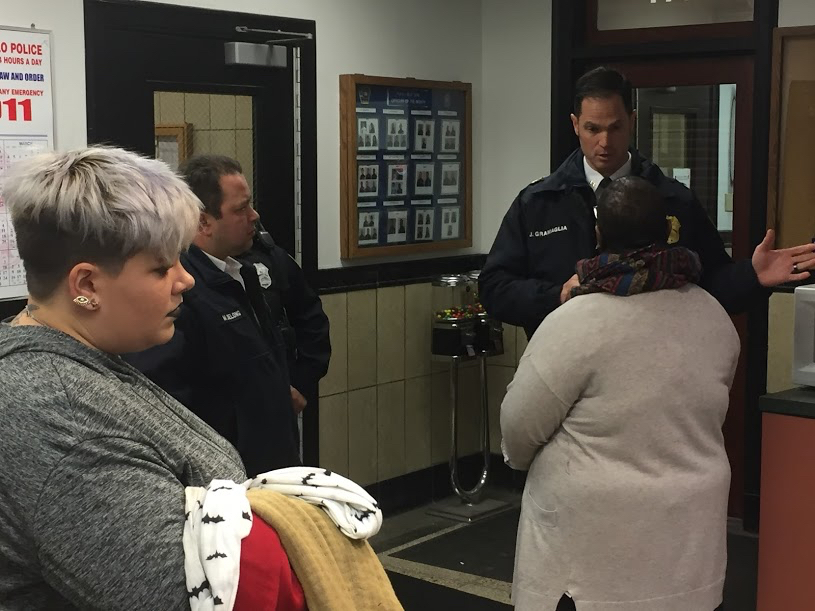 B-District Chief Joseph Gramaglia speaking with Shaketa Redden
For the second time in three months, the AG has issued a report on an investigation into a police-involved homicide of an unarmed man of color. Both investigations have concluded with material suggestions for the BPD to begin utilizing better tools (Tasers, dashboard and body cameras) and more training, as well as to seek state certification as a department. Neither report resulted in charges against any of the four officers involved in the two deaths, and neither report has addressed the Fourth Amendment issues raised by each incident's official narrative.
"It's difficult to see how Buffalo residents can have faith in the system at this point: The failure of New York State Attorney General Eric Schneiderman to indict or even identify and correct the constitutional errors in BPD officers' fatal encounters with Wardel Davis and Jose Hernandez-Rossy, both unarmed men of color, is disappointing and dangerous," civil rights attorney and former SUNY at Buffalo law professor Anjana Malhotra told The Public.
Separately, the AG is investigating a complaint filed last August that the BPD engages in a pattern of unconstitutional policing that disproportionately affects minorities that hinges on Fourth and Fourteenth Amendment protections.  
"To ensure that that Black and Brown lives matter in Buffalo and Buffalo Police officers do not take the AG's findings as open season on Buffalo residents, the AG must go further and take swift and immediate legal action in response to our complaint to end the BPD's systematic illegal, discriminatory suspicionless policing policies that target, and have now killed, people of color in Buffalo," said Malhotra, a principal author of the report and complaint that formed the basis for the ongoing AG investigation.
Wardel Davis died after an asthma attack last year that was exacerbated by a beating he sustained from police who suspected him of dealing drugs. No drugs were found on his person.
The police reform-minded outfit Just Resisting is calling on the city to fire all four officers involved in the two incidents, one of whom—Todd McAlister—recently received a promotion.
As the AG's decision was being discussed with the Hernandez-Rossy family in real time, Just Resisting (JR), along with members of Standing Up For Racial Justice (SURJ), camped out in police headquarters and demanded a meeting with interim commissioner Byron Lockwood. They ate pizza, strategized, and stayed in communication with another member who was with the family.
"It scares me to see what has been done in our neighborhoods. What happens if these officers keep getting away with their actions?" JR member Marielle Smith asked. "What message does this send to us?"   
Commissioner Lockwood did not meet with activists on Thursday and, as of this writing, has not committed to a meeting, even as SURJ members organized over the weekend to make phone calls to Lockwood and demand such a meeting take place. Shaketa Redden of JR told The Public they had also attempted a similar meeting with the recently retired commissioner Daniel Derenda, and was hopeful that the new commissioner would give them a chance.
In addition to the firing of the four officers involved in the two deaths, JR is seeking an abolition of the city's Strike Force and Housing Units.
At a community speak-out event held over the weekend at Just Buffalo Literary Center, JR hosted a forum of police experiences and passed out advice and cards from the ACLU that detailed citizens' civil rights during police interactions.
Heron Simmons-Price recounted an experience getting arrested under false pretenses during a Critical Mass event on Elmwood Avenue in 2003. "You want to believe that people in authority will have your back when you've done nothing wrong, and when they don't, it hurts. It hurts."
Hernandez-Rossy's brother-in-law, Willie Bullock, was on hand to describe another side of Jose's life. "I'm here to let you know, this 26-year-old man was all heart," he said. "I have a three-year-old daughter, which is his niece. I moved up here from Maryland, so it was hard finding work around here with my background and everything. He practically did everything for my niece. He didn't have to do that. I'm talking car seats, clothes, everything.
"I don't condone some of the things he did, but him as a person, all he did was show love. It's hard for me, knowing how great of a person he was, to be able to look at his three little girls. His oldest is here. It's hard for me to look at her and have all of these people who don't know her father say all these bad things to her. And now I have to explain to her that no one's going to be held accountable for that?"
The Police Accountability Coalition, which includes JR, SURJ, and other groups, is rallying for exactly this purpose on Wednesday afternoon at BPD headquarters on the anniversary of Wardel Davis's death.
Advocates are also calling for an end to checkpoints and stop and frisk policing, the decriminalization of marijuana and other minor drug offenses, and a transparent process with community input in the selection of a permanent police commissioner.