Local
Story: Larkinville On Sun-Drenched Ice
by
/ Feb. 4, 2015 6am EST
Buffalo loves festivals. And with extant festivals already feting local gardens, far-flung chicken wings (regional and national), virtually every ethnic group, the arts, and music (to give but a sweeping survey), it was time for one ultra-elementally-named and focused festival. This new event means jotting one more onto an already-rich public events calendar: It's a worthy celebration of wintry hardiness.
The premier Ice Festival, a celebration of snow and its slippery underpinnings, happened at three sites in Larkinville on Saturday, January 31. It was an afternoon event and the sun shone that day, resulting in a vivid azure sky and deep shadows around snowmen and the ad hoc "sledding hill."
The Ice Festival was created by community activists Seamus Gallivan and Leslie Zemsky, founder of The Good Neighborhood community network/billboard and the Larkin Group's director of special events and projects, respectively. Both spoke of the quick manner that the event came together.
"Two or three weeks ago we realized that there was a buzz about this so we added more fun to it, the snow lounge that Leslie and I made last night, kids crafts, and the sledding hill. My criteria for a good event is that parents can have a beer while their kids are having fun." Seamus, walking around with a mug in hand containing "nothing scandalous," would later point out a dad, "two beers in," watching his kids flying down the hill shrieking with joy–or fear.
Leslie says the event was a "way to welcome Flying Bison to the neighborhood, and BFLO Distilling Company, the next Larkinville resident." Frank Weber of BFLO Distilling and Carl Schmitter of Chateau Buffalo served tastes of their wares in the appropriately-named Filling Station. Chateau Buffalo had three choices on table, including Perry, a pear cider, named for illustrious Battle of Lake Erie hero Commodore Perry who stands guard over Front Park.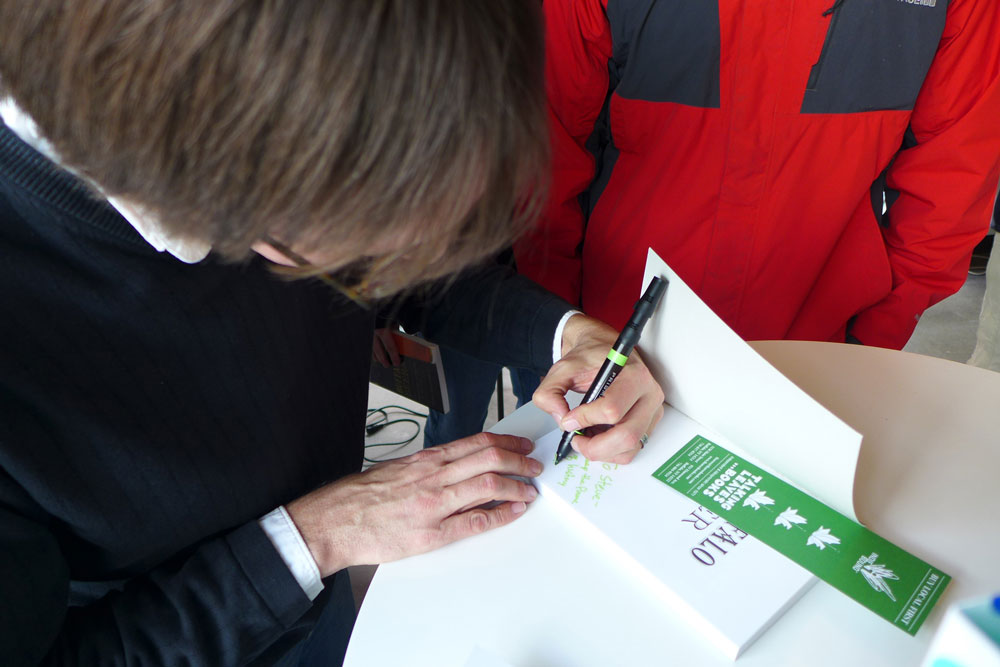 Community Beer Works co-founder Ethan Cox, "talking about history and having fun" throughout the day, signed copies of his book Buffalo Beer: The History of Brewing in the Nickel City. His fans lined up after a brief talk. Nearby, Talking Leaves Books sold several Buffalo-centric books that would appeal to history enthusiasts and hopheads alike, including Cox's.
Flying Bison, a short walk along Seneca Street, was busy pouring all day long and a full-sized bar made of carved ice was created for the occasion. Mid-festival, standing outside and wearing a hat resembling an igloo, Leslie pointed out that "for the first time there is foot traffic going down the street" since Larkinville's inception. The 15A Southgate city bus, the sip-and-work-out Buffalo Pedal Tours' contraption, and light car traffic all crept by.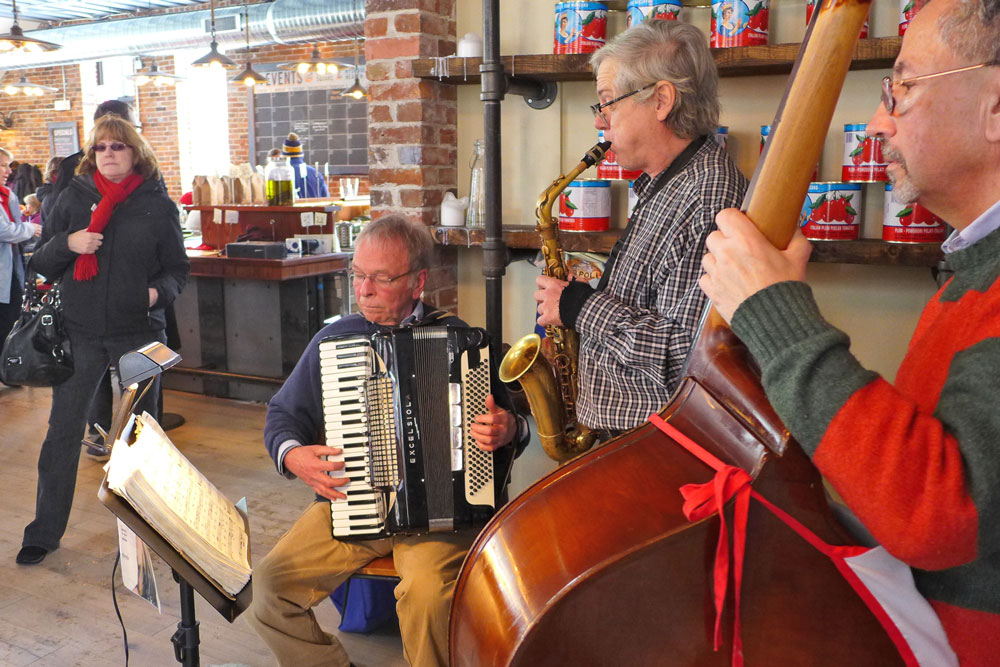 The Bill Fenzel Trio (Bill on accordion, Paul Schmid on stand-up bass, and John Allen on sax) played Dixie jazz in Hydraulic Hearth during the restaurant's standing Saturday brunch. Artist and illustrator Mickey Harmon (The Public's centerfold artist last issue) was having a fest-within-a-fest: the opening for the (716) GAL-LERY micro-show A Pie-Eyed Night With Peggy O'Neil, on view through April 30 in a converted phone booth. The chapbook of same name, with text by Margaret Finan, was available throughout the sunny festival for keeps.