Local
Looking Backward: Kensington Expressway
by
/ Feb. 2, 2016 11pm EST
The construction of the Kensington Expressway, displacing hundreds of homes and a Frederick Law Olmsted-designed parkway, is regarded as one of Buffalo's great blunders. Before construction began in 1957, however, the expressway was pushed by business, labor, and even military interests as necessary to the region's progress.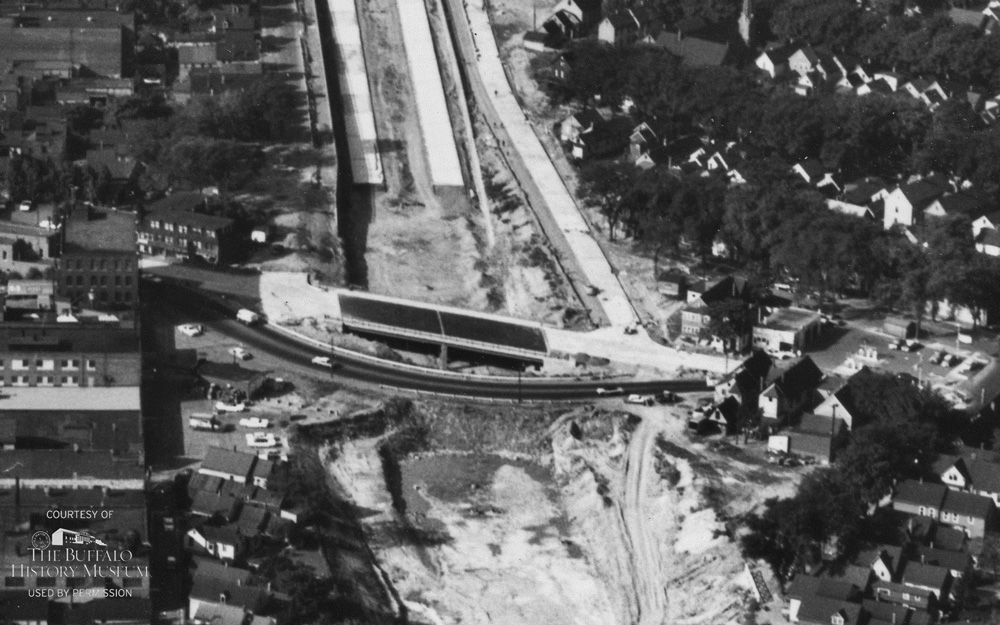 At a 1954 Common Council hearing, Chamber of Commerce president Charles Fichtner asserted that the Kensington Expressway is a "golden opportunity" and that failure of the city to accept the project would be "a little short of civic treason." Ralph Peo, chairman of the Buffalo Civic Full Employment Committee, urged action, warning that "there are many thousands of breadwinners among us who are now unemployed." Major General Edwin Ziegler cited the need for high-speed highways to move people out of Buffalo in the event of enemy attack from the air. Resident objections were dismissed, as Erie County Savings Bank president Dexter Rumsey pleaded, "Let's not study any more. Let's move." The Common Council voted unanimously, in a 15-0 vote, to approve a resolution endorsing the state-sponsored project. This photograph, taken for the New York State Department of Public Works, shows its first phase of construction from Michigan Avenue to Landon Street, completed in 1962.
---
Image courtesy of The Buffalo History Museum. Used by permission.