Drink
by
/ Feb. 1, 2017 12am EST
You're out with your friends looking to blow off some steam after a horrible day of work. You've been looking forward all day to a well-earned draught and you place your order. The bartender replies, "Oh, you don't want that one, sweetie. How about a Blue Moon or a shandy?" You blink twice, making sure this is what is happening. 
"No, I'd like the double rye IPA," you repeat.
"Are you sure? It's really strong," the bartender asks.
If this sounds frustrating to you, you've never experienced it. If you rolled your eyes will reading it, you can unfortunately relate. 
Enter Cassie Czuprynski, Tessa Lowe, Syrie Roman, and Angela Schroeder. Or, simply, Girls Drink Beer. While not an organization that is seeking to overthrow the brewing patriarchy, they have certainly seen the best and worst of the craft beer world. And they are focusing on the best.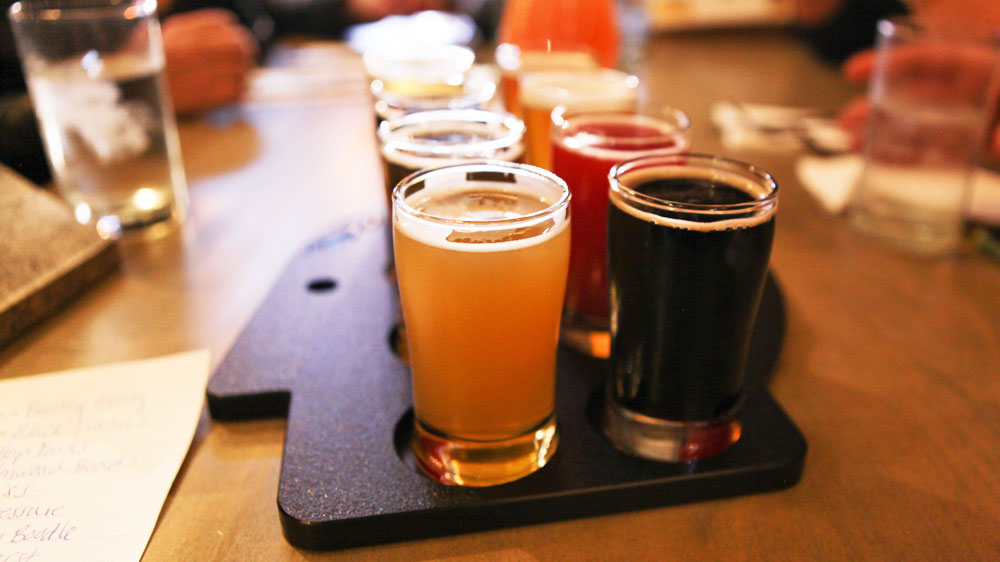 Thin Man Brewery
The idea for the group was hatched on September 14, 2014, Roman quickly tells me with the assistance of her phone. In 2004 the extension .beer was released and Lowe registered a few domain names with the hopes of selling them down the road. Then, on that fateful day, she shared the domain names with Roman. Lowe explains, "But then there was the issue of what do we do? We didn't want to be another blog reviewing beers, so we had to formulate what we wanted to do before launching something we weren't prepared for. We started with just creating a social media presence, but that didn't really get going either until this last year where we are making an effort to really populate our Instagram account." 
Fortunately for them, all four travel quite a bit which offers a variety of locales and beers to document. Just in the last year at least one of the women could be found at a beer event in London, Oktoberfest in Tampa Bay, amongst others.
"While currently we are documenting what is happening at these places outside of Buffalo, we want it to be a catalyst for the Buffalo beer scene to expand. We have a lot to offer here and we want to help spread the word," said Schroeder.
To that end they are growing their social media presence and it isn't just Buffalo beer geek types, it is people from all over. One way they do it is to constantly try new beers and tag the breweries. "How could we limit ourselves to just one kind of beer?" asked Roman with a mischievous smirk. 
They widen their knowledge be continuing something they began quite innocently enough years ago when they wanted to learn more about beer: a bottle share. Think of it as a beer potluck. They would go to Premier or Village Beer Merchant and other similar bottle shops and buy a bunch of assorted bottles and taste them and talk about them and learn about their styles. From there, their knowledge as well as tastes became more refined. This communal approach to learning allowed them to try things they wouldn't have otherwise. They didn't have to commit to a 6-pack or a 750ml bomber that they might despise.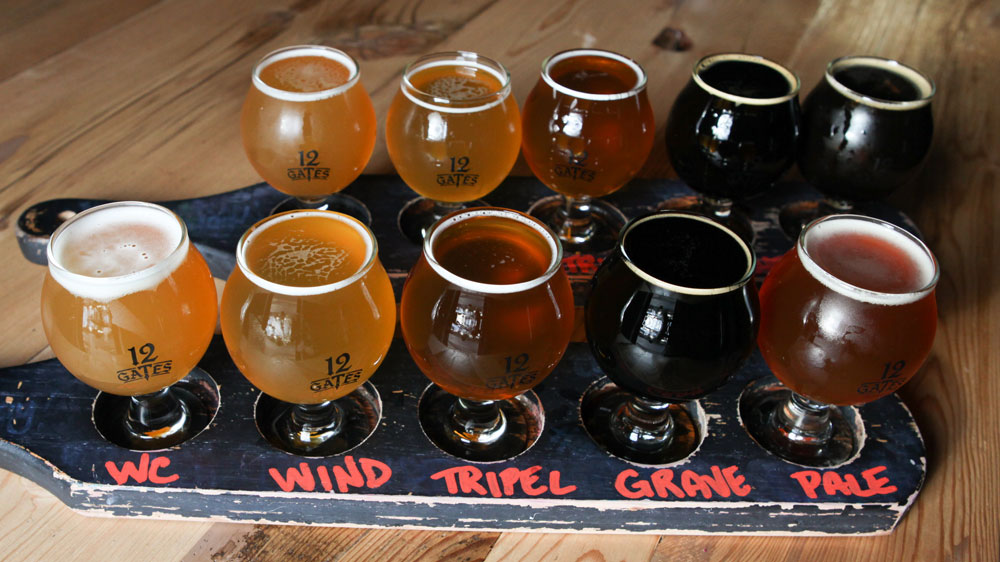 12 Gates Brewery
Now that they have a solid bedrock of knowledge, it is less about trying new styles (though they would be happy to) and more about trying breweries that are new to them. "Since one of us is always traveling, we'll bring back bottles and cans that are exclusive to that area and so you never get to try. So then we sit around, try them, talk about them and they we'll post about them. Sometimes we get re-posted from breweries like Stone (Brewing Company) and that certainly helps," said Lowe. 
As their reputation grows, and as they become influencers themselves, they are expanding into promotional events and consulting, starting with the first stop on our tour, 12 Gates in Amherst. "We want to work with other breweries, taprooms, and bottle shops, not just for promotional purposes, or to get a gig, but to bring a female perspective to things." Lowe continues, "A lot of people in the industry are realizing that there is a female market and we don't want to alienate them. How do they do that? At 12 Gates they have an intern (Cory) who is studying at ECC for her Brewing Certificate."
As our flights arrived, Schroeder shifted the conversation to the members of the team, "We all bring something different to the table, which is one of our greatest strengths. Cass (Cassie Czuprynski) is super knowledgeable about brewing beer." 
"And I also opened up and ran a bottle shop in East Aurora [ed. Aurora Brew Works]," said Czuprynski. "Tessa has a marketing background, with a little bit of photography. And Syrie—"
"Event planning and food and beverage," said Roman.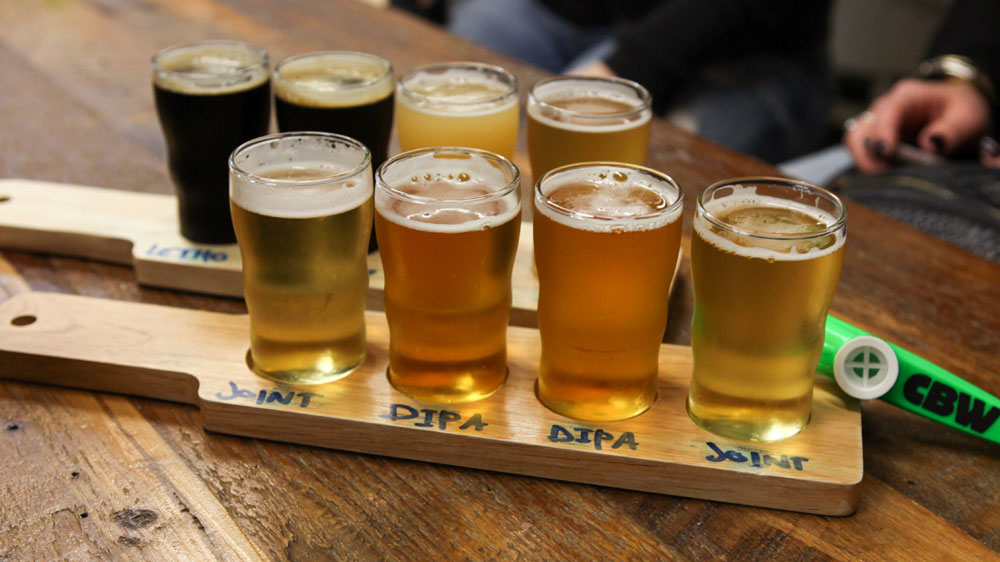 Community Beer Works
Angela Schroeder's story was a bit more personal, "I actually got into all of this from bartending. I bartended to put myself through college. It was in Erie, Pennsylvania, at a craft beer bar just when craft beer was beginning to take off. They had over 160 bottles and I just couldn't understand why. Why would you have this many? Who would come in for this? And then I started trying a new beer each time my shift ended and before you know it, I'm in. It's fun."
"That is a big part about craft beer. Having fun while learning," echoed Roman.
"Right now, sours are in the forefront and some people are like, 'I can't get into a sour.'" said Lowe. "My parents, for example, were anti-IPA for a long time. Then, each time we were out, I made them try a little bit of mine and now they are texting me pictures of bottles and cans."
"We want people to have fun drinking beer. We want to bring together breweries and people. We want to bring Buffalo breweries to other places," said Schroeder.
"Our personalities are extremely different, our talents are different, and this is what brings us together," said Czuprynski.
Cheers, ladies.
---
Our Stops
We want on a tour of three breweries that were selected because they all have strong links to women in craft beer.
12 Gates Brewery
80 Earhart Drive, Williamsville

Tucked away inside of a business park is 12 Gates. Highlights include: West Coast Style IPA and the Buffalo Tripel.
---
Thin Man Brewery
492 Elmwood Avenue, Buffalo

Multi-floor brewery (which features an excellent eponymous burger and roasted veggie plate!) on Elmwood. Highlights include: Hop Pants and Burning Monkey. Minkey Boodle gets an honorable mention as the most unique brew from any of the spots.

 
---
Community Beer Works
15 Lafayette Avenue, Buffalo

This tiny spot offers a bare-bones tap room. This is Buffalo's most unique and quirky spot to taste what's fresh. Highlights include: Interrobang IPA and the Joint Venture (with Rochester's 3 Heads) Sour Ale.

 
---
 GIRLS WHO DRINK BEER 
 girlsdrink.beer  /  instagram