Sports
"The Precision Jack-Hammer Attack": A Hunter S. Thompson Super Bowl Reader
by
/ Jan. 31, 2018 7am EST
Thanks to the wonder of modern technology, you can learn more about Sunday's Super Bowl matchup between widely loathed New England and the scrappy underdogs from Philadelphia whom the Patriots will disembowel Sunday night in Minneapolis.
(NOTE: Since a prediction is required of every media type even mentioning the contest, We Want Marangi's analytics department has crunched the numbers and come up with New England 41, Philadelphia 23. And not just because we have squares one and three in a pool.)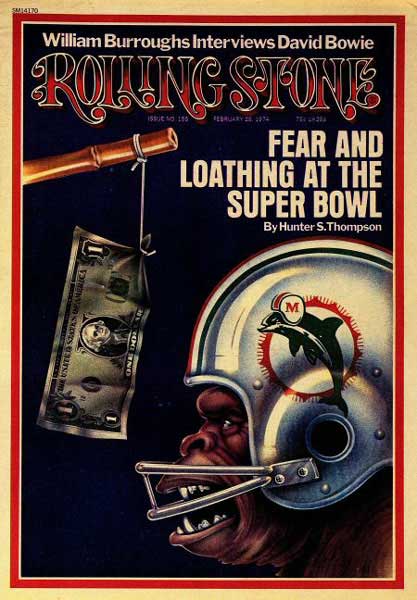 If you care to, you can watch former NFL players discuss the positional matchups involved, analyze every conceivable statistical comparison, or listen to radio hosts conduct probing interviews with players and retirees about whatever product they happen to be hawking. You can also read scores of columns about why Boston loves Tom Brady while most of the rest of the country does not.
It's pretty safe to say, though, that you will not run across anything resembling Hunter S. Thompson's musing on The Big Game and the country where it has become a secular holiday.
Thompson wrote about a lot of things—bikers, bluegrass, police corruption, high-powered weaponry, and horse racing, to name a few.
Most successfully, though, he wrote about politics and football. At his best, both at the same time.
In particular, presidential elections and Super Bowls were his twin inspirations, regularly scheduled events that embodied what he hated and loved about America and Americans. Even his suicide note was entitled "Football Season is Over."
I'm not going to try to explain his brilliance here, because doing so would be an exercise in ego and pointlessness, other than to introduce a few of my favorite passages so you can see for yourself.
As a recovering sportswriter, I've never read an analysis that captures the profession's spirit, or lack thereof, as this bit from Fear and Loathing on the Campaign Trail '72, a collection of Thompson's Rolling Stone articles on Richard M. Nixon's final run for office:
There is a dangerous kind of simple-minded Power/Precision worship at the root of the massive fascination with pro football in this country, and sportswriters are mainly responsible for it. With a few rare exceptions like Bob Lypstye of The New York Times and Tom Quinn of the (now-defunct) Washington Daily News, sportswriters are a kind of rude and brainless subculture of fascist drunks whose only real function is to publicize & sell whatever the sports editor sends them out to cover…

Which is a nice way to make a living, because it keeps a man busy and requires no thought at all. The two keys to success as a sportswriter are: (1) A blind willingness to believe anything you're told by the coaches, flacks, hustlers, and other "official spokesmen" for the team-owners who provide the free booze… and: (2) A Roget's Thesaurus, in order to avoid using the same verbs and adjectives twice in the same paragraph.

Even a sports editor, for instance, might notice something wrong with a lead that said: "The precision-jackhammer attack of the Miami Dolphins stomped the balls off the Washington Redskins today by stomping and hammering with one precise jackthrust after another up the middle, mixed with pinpoint precision passes into the flat and numerous hammer-jack stomps around both ends…"

Right. And there was the genius of Grantland Rice. He carried a pocket thesaurus, so that "The thundering hoofbeats of the Four Horsemen" never echoed more than once in the same paragraph, and the "Granite-grey sky" in his lead was a "cold dark dusk" in the last lonely line of his heart-rending, nerve-ripping stories…

There was a time, about ten years ago, when I could write like Grantland Rice. Not necessarily because I believed all that sporty bullshit, but because sportswriting was the only thing I could do that anybody was willing to pay for.
A few paragraphs earlier, Thompson served up a brutal parody of every hack who ever filed a game story (present company included):
They came together on a hot afternoon in Los Angeles, howling and clawing at each other like wild beasts in heat. Under a brown California sky, the fierceness of their struggle brought tears to the eyes of 90,000 God-fearing fans.

They were twenty-two men who were somehow more than men.

They were giants, idols, titans…

Behemoths.

They stood for everything Good and True and Right in the American Spirit.

Because they had guts.

And they yearned for the Ultimate Glory, the Great Prize, the Final Fruits of a long and vicious campaign.

Victory in the Super Bowl: $15,000 each.

They were hungry for it. They were thirsty. For twenty long weeks, from August through December, they had struggled to reach this Pinnacle… and when dawn lit the beaches of Southern California on that fateful Sunday morning in January, they were ready.

To seize the Final Fruit.

They could almost taste it. The smell was stronger than a ton of rotten mangoes.

Their nerves burned like open sores on a dog's neck. White knuckles. Wild eyes. Strange fluid welled up in their throats, with a taste far sharper than bile.

Behemoths.

Those who went early said the pre-game tension was almost unbearable. By noon, many fans were weeping openly, for no apparent reason. Others wrung their hands or gnawed on the necks of pop bottles, trying to stay calm. Many fist-fights were reported in the public urinals. Nervous ushers roamed up and down the aisles, confiscating alcoholic beverages and occasionally grappling with drunkards. Gangs of Seconal-crazed teenagers prowled through the parking lot outside the stadium, beating the mortal shit out of luckless stragglers…
A year later, Thompson referred back to the "The precision-jackhamer attack of the Miami Dolphins" lede in a lengthy Rolling Stone piece entitled "Fear and Loathing at the Super Bowl: No Rest for the Wretched." Gonzo journalism at its finest, Thompson blends his thoughts on Watergate, labor relations, and fortune-telling with a mini-profile of Oakland Raiders strongman Al Davis, trademark accounts of substance abuse and a pre-dawn sermon based on Revelations 20:15 from the 20th-floor balcony of his hotel.

As in the best of Thompson's work, he cuts the psychedelia and free-form association with some remarkably precise description of the physical and psychic impact of Miami wide receiver Paul Warfield:

This was what happened in Houston with the Dolphins' Paul Warfield, widely regarded as "the most dangerous pass receiver in pro football." Warfield is a game-breaker, a man who commands double-coverage at all times because of his antelope running style, twin magnets for hands, and a weird kind of adrenaline instinct that feeds on tension and high pressure. There is no more beautiful sight in football than watching Paul Warfield float out of the backfield on a sort of angle-streak pattern right into the heart of a "perfect" zone defense and take a softly thrown pass on his hip, without even seeming to notice the arrival of the ball, and then float another 60 yards into the end zone, with none of the frustrated defensive backs ever touching him.

There is an eerie kind of certainty about Warfield's style that is far more demoralizing than just another six points on the Scoreboard. About half the time he looks bored and lazy—but even the best pass defenders in the league know, in some nervous corner of their hearts, that when the deal goes down Warfield is capable of streaking right past them like they didn't exist…

Unless he's hurt; playing with some kind of injury that might or might not be serious enough to either slow him down or gimp the fiendish concentration that makes him so dangerous… and this was the possibility that Dolphin coach Don Shula raised on Wednesday when he announced that Warfield had pulled a leg muscle in practice that afternoon and might not play on Sunday.

This news caused instant action in gambling circles. Even big-time bookies, whose underground information on these things is usually as good as Pete Rozelle's, took Shula's announcement seriously enough to cut the spread down from seven to six— a decision worth many millions of betting dollars if the game turned out to be close.

Even the rumor of an injury to Warfield was worth one point (and even two, with some bookies I was never able to locate)… and if Shula had announced on Saturday that Paul was definitely not going to play, the spread would probably have dropped to four, or even three… Because the guaranteed absence of Warfield would have taken a great psychological load off the minds of Minnesota's defensive backs.

Without the ever-present likelihood of a game-breaking "bomb" at any moment, they could focus down much tighter on stopping Miami's brutal running game—which eventually destroyed them, just as it had destroyed Oakland's nut-cutting defense two weeks earlier, and one of the main reasons why the Vikings failed to stop the Dolphins on the ground was the constant presence of Paul Warfield in his customary wide-receiver's spot.

He played almost the whole game, never showing any sign of injury; and although he caught only one pass, he neutralized two Minnesota defensive backs on every play… and two extra tacklers on the line of scrimmage might have made a hell of a difference in that embarrassingly decisive first quarter when Miami twice drove what might as well have been the whole length of the field to score 14 quick points and crack the Vikings' confidence just as harshly as they had cracked the Redskins out in Los Angeles a year earlier.
The above represents Thompson at the peak of his powers, the writer who produced Hells Angels, Fear and Loathing in Las Vegas, and "The Kentucky Derby Is Decadent And Depraved." Over the three decades before his suicide (for which I remain pissed at him), his genius unraveled, whether due to fame, wealth, drugs, the internal victory of cynicism over hope for his country, or a swirl of all four.

But the Super Bowl remained his personal Holy Day, and he could still reach back and find the groove when writing about it.

Whoops. Strike that. Leeches are not rodents. They are blood-sucking members of the Hirudinea family, a sub-species of the hermaphroditic sucker-worm that is frequently applied to headache-victims and other human wounds. Leeches used in human treatment range in size from three inches to 13 inches when fully bloated. They have two ugly mouths, one on each end, filled with tiny, razor-sharp teeth by which they attach themselves firmly to the flesh, prior to sucking. The leech has many eyes.

The Oakland Raiders are the only team in football that still routinely uses leeches for treatment of serious injuries. It is an old-timey medicine, deriving no doubt from the team's Bay Area roots, with its powerful Italian community and its many neighborhood grocery stores and exotic foreign delicacies, along with sausage, fresh fish and leeches…I have many fond memories of hanging out in North Beach at elegant Italian restaurants with Raiders players in the good old days of yesteryear, when the silver-and-black dynasty was just getting started, long before they turned into the gigantic, high-powered winning machine that they are today.

Things were different in those years, but they were never dull. Every game was a terrifying adventure, win or lose, and the Raiders of the '70s usually won—except in Pittsburgh, where cruel things happened and many dreams died horribly. You could see the early beginnings of what would evolve into the massive Raider Nation, which is beyond doubt the sleaziest and rudest and most sinister mob of thugs and whackos ever assembled in such numbers under a single "roof," so to speak, anywhere in the English-speaking world. No doubt there are other profoundly disagreeable cults that meet from time to time in most of the 50 states…

But so what? There is nothing more to say. I have obviously made my decision about the Raiders. They are simply a better football team than the Buccaneers, and they will win. A realistic line for this game would be 10 or 11, but right now it is hovering around 5 or 6.
For all Thompson's gifts, football prognostication was not one of them. The Tampa Bay Buccaneers stomped the balls off the Oakland Raiders in Super Bowl XXXVII, 48-21.
---
Dave Staba is a recovering journalist who posts rather infrequently at wewantmarangi.blogspot.com and can be found somewhat more often on Twitter: @DavidStaba.