Film
Short and Sweet: The 2015 Oscar Short Film Nominees
by
/ Jan. 28, 2015 7am EST
If you're among those who try to see as many of the Academy Award nominees as possible prior to the awards telecast, you're in luck this year: With the exception of The Grand Budapest Hotel, which is already on cable, most of the major nominees are still playing in local theaters. Of those that aren't, Two Days One Night, Mr. Turner, Still Alice, and Leviathan are scheduled to open at either the Amherst or Eastern Hills Mall theaters in the next few weeks, while The Tale of the Princess Kaguya, nominated for Best Animated Feature, will have matinee screenings at the North Park on February 7 and 8.
And for those of you who really like to dazzle your friends with the depth of your prognostications, as well as merely annoying know-it-alls like myself, this week brings programs of the nominees for best short live action and animated films to the Eastern Hills Mall theater. Even if you have no interest in the Oscars at all, both packages are rewarding showcases for new work from talented filmmakers whose work might otherwise not reach a wide audience.
The short films nominated by the Academy continue the trend of recent years way from experimental work in favor of mini-movies, films that presumably have been made as calling cards by new filmmakers looking to get a feature deal. Because they need to do as much as possible on a limited budget, they have to hold our attention despite limited settings and minimal casts.

On the other hand, more of them feature well-known actors than in the past. "The Phone Call" stars Sally Hawkins as a crisis center worker on the phone with a suicidal man (Jim Broadbent in a moving performance despite the fact that we never see him.) Fans of Fawlty Towers may recognize Prunella Scales—Mrs. Fawlty—in a cameo near the end. International star Ulrich Tomsen is featured in "Aya," at 40 minutes the longest film in the program. He plays a visitor to Israel who is picked up at the airport by a woman (Sara Adler) who is not the driver he's expecting. Their interaction (almost entirely taking place in her car) perfectly fills the time, and makes you wish that there was a place at the multiplexes for films that don't fill the usual 90 minute slot.
"Boogaloo and Graham" recalls the old Smothers Brothers routine in which Tommy, always sulking that their mother liked brother Dickie best, complains he never got to have a pet dog, only a chicken. When these two boys in this Irish film both get baby chicks from their father, they take to them as lovingly as if they were puppies, which after a while becomes wearing to their mother. It's the most broadly appealing film of the bunch, if you can get through the thick accents.
Were I an Oscar voter, I'd be hard pressed to pick between "Parveneh" and "La Lampe au Beurre de Yak." The former puts us in the company of an Afghani girl working in rural Switzerland to earn money for her ailing father. On a day in the big city (Zurich), she befriends a local girl who shows her some of her own world, which is different in ways that are better and worse. Very simple but very touching.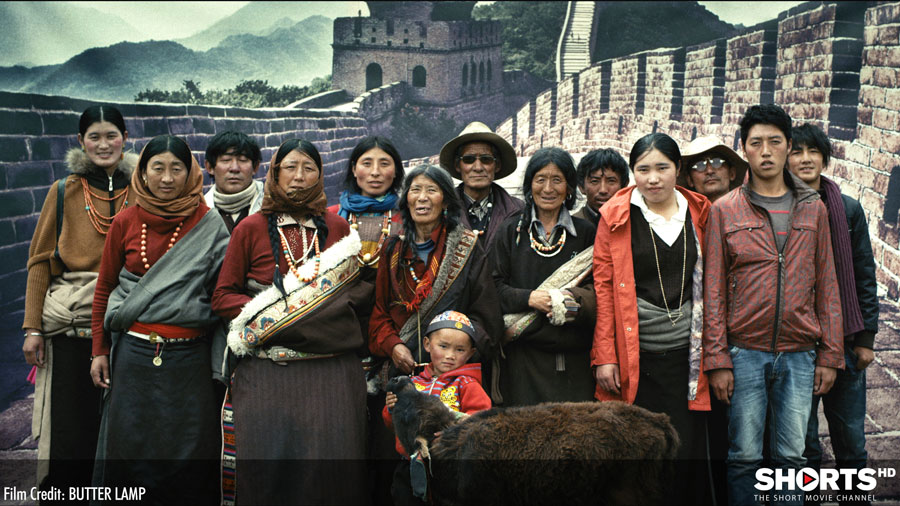 "La Lampe (Butter Lamp), "the shortest film, initially seems to be only humorous. Photographers visit a small Tibetan village to take portraits of the nomads. Our view is limited to what appears in the cameraman's viewfinder, families posing in front of a variety of background screens showing sights like the Great Wall, the Olympics, or Shanghai's Disneyland. It's likeably funny until the final shot, which puts the whole thing into pointedly jarring perspective.
The nominees in the animated short film category continue to balance an appreciation for the varieties of animation styles with story and characterization. Many viewers are more likely to have strong responses to some of these, but they're substantially briefer than the live action shorts—the nominated films average less than 10 minutes each. (And if 50 minutes doesn't sound like good value for your ticket value don't worry: the program includes four "also-rans.")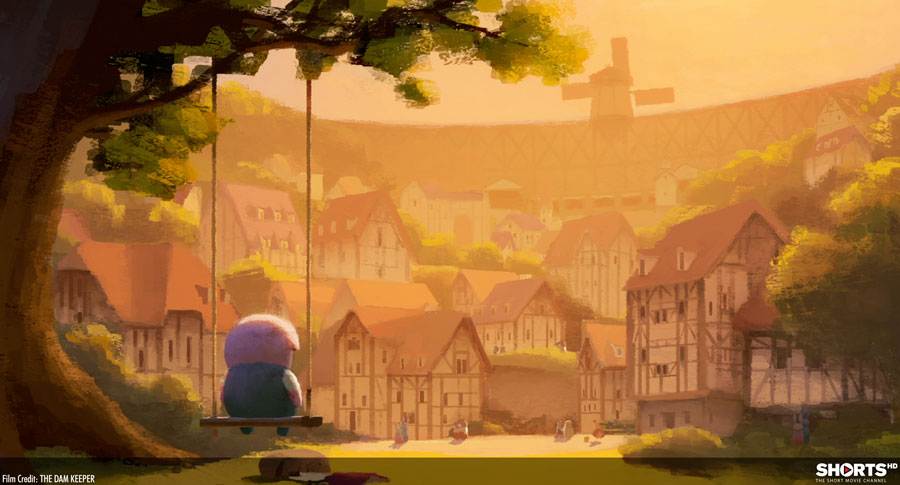 My favorite here is "The Dam Keeper," for both its content and its technique. Made by a pair of former Pixar employees, it looks wholly unlike the style for which that studio became famous, using hand-drawn animation that looks like watercolor. It tells a wordless story of a young boy (well, a pig in a village of anthropomorphized characters) tasked with guarding a dam that holds back not water but poisonous dark clouds. He is friendless at school until the arrival of a new student, a fox with a talent for sketching. But betrayal causes him to neglect his duties toward the dam. It's a mark of the film's success that it is hard to describe: the images evoke emotions that evade rational explanation.
A more light-hearted childhood remembrance is on display in the National Film Board of Canada presentation "Me and My Moulton." Animator Torill Kove (already an Oscar winner for 2006's "The Danish Poet") recalls growing up in Norway in the mid-1960s with parents who were, for their three daughters, embarrassingly non-conformist: Her father's moustache gave her stomachaches. It's the most traditional of the entries, as unsurprising but satisfying as a bowl of macaroni and cheese.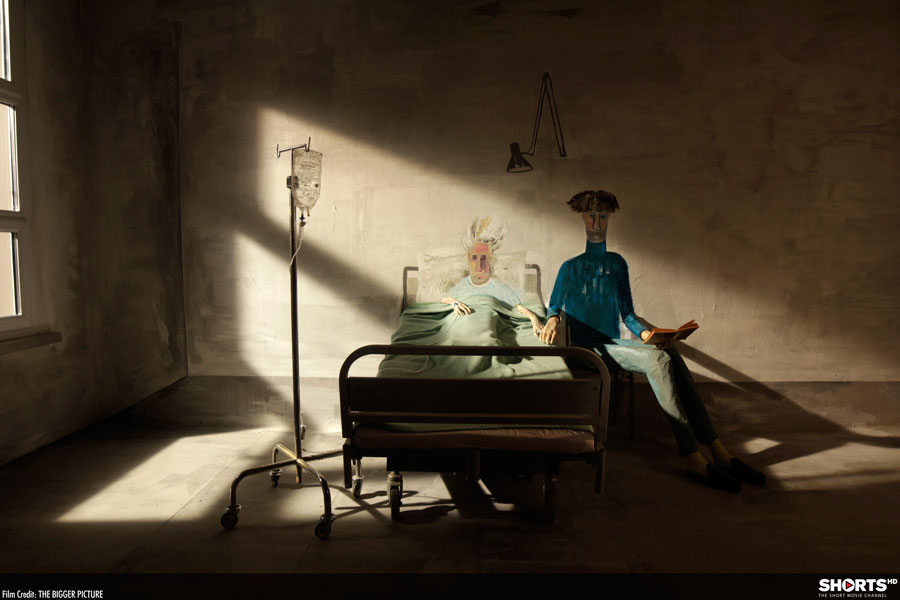 The most unusual style is seen in "The Bigger Picture," about two adult brothers caring for their aged mother. Filmmakers Daisy Jacobs and Christopher Hees assembled various home furnishings in front of a stone wall on which they draw (in chalk, I believe) their characters, which they finish with papier mâché arms and hands. It must have been insanely labor intensive, but the result is inarguably unique.
The shortest film, "A Single Life" concerns a young woman who gets a magical 45rpm record that lets her skip through periods of her own life. Are enough viewers likely to remember record players to get the jokes? 
If you only counted four films there, that's because the fifth nominee is a Disney production, and there's no way in hell Disney is going to put screeners on line for reviewers, even if the film is one that has already played in theaters.