Visual Arts
Studio 464 Past and Present
by
/ Jan. 26, 2016 11am EST
Two sculptures by Marissa Lehner are among the more interesting items in the current 464 Gallery show, featuring works by gallery resident artists from the past six or seven years. 
Both sculptures represent life forms, life processes. One is called Shell and is composed of glued strips and layers of corrugated cardboard in an intriguing open funnel paisley teardrop shape. The other is called Breath and is as delicate and fragile-looking in form and construction—and as to the life process it evokes—as Shell looks sturdy and perduring. Breath is a kind of double-bladder construction of thin strips of printed paper meshwork over two light-wire armatures, connected by a kind of shared appendage, shared tail. So lungs of a sort, but not as components of a larger biological entity, but life forms on their own, otherwise disembodied. Breathing and moving and ingesting nutrient all by means of the same respiratory-type action.
Alicia Malik has a watercolor painting on paper called Dust, in several senses. Depicting a dead hornet, arms—legs—tucked to thorax in what looks like a defensive posture, against a background spatter of gray to blue to green gray.
Tara Sasiadek has a triptych of vertically oriented paintings with an underwater lost in the kelp strands and other seaweed sense. All quite mysterious, each painting featuring a portion of a face and a hand or hands and forearm or forearms, and snaky sea vegetation, or in one case what could be coils of a sea serpent. With mysterious titles for the sections, such as To Labor in the Service of his Daemon, and The Lady is the Tiger.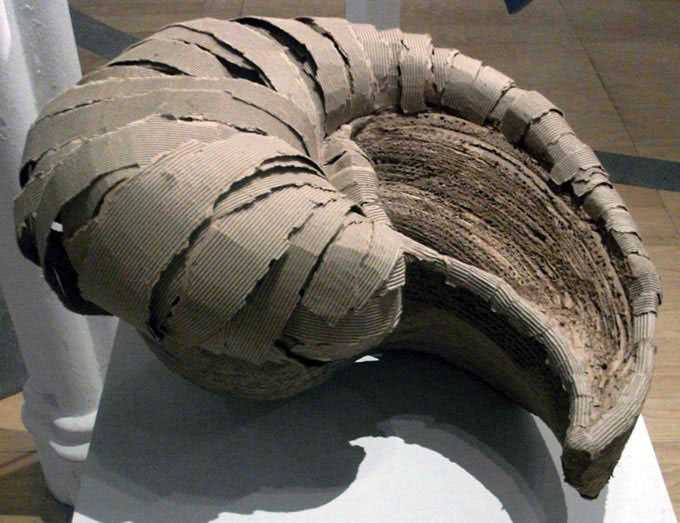 Shell by Marissa Lehner.
Joseph Stanek has an impressive photo of a striking but listless-looking female subject in jeans shorts and possibly shirtless but clutching a teddy bear in such a way as to achieve modesty, in a cluttered garage setting, greasy tools and vehicles and equipment in the background. The enigmatic but ominous-sounding title of the piece is #315 -Death of Heroin Chic. 
Jamie Schmidt has a mixed media sculptural installation in a room corner, consisting of large plaques of some plastery material—one plaque on each corner wall, and one black and one white—and suspended between them a dirty tangle of shredded fabric, loose fiber, string, wire, and rusty metal chain. The piece is entitled Suspended Between. 
Max Collins has a signature large-format photo wheat-pasted on an understructure of what seems to be vertically oriented lath. The further signature distressed photo paper effect extends in this case to vertical slice gaps over interstices between the lath strips. The black and white photo depicts an ice floes jam. Reminiscent of nature spectacle paintings by German Romantic Caspar David Friedrich. The work is called First Thaw (for CMT).
And Christina Laing has a dark-toned photo in shades of gray to black, called Synapse. Showing the hard to decipher ruins interior of a former church or sacristy room, with once elegant chandeliers—the one closest to the viewer hanging perilously from its electrical cord—and an emblem mural depicting a royal crown and Christian cross. 
The exhibit is entitled Generations. It continues till February 12.
 Generations: Studio 464 Past & Present
 464 Gallery / 464 Amherst St, Buffalo
 (716) 983-2112 / 464gallery.com