Music
by
/ Jan. 28, 2015 1pm EST
When Jess Collins returned to Buffalo after a stint in Arizona, it was mainly about music and musical personalities. Some 13 years later, she's become the front-woman for a local post-punk quartet of Buffalo scene staples called Orations, which released a mighty promising EP last year. Now, as the band preps for a gig with Soul Butchers at Mohawk Place this weekend and the EP achieves European distribution, Collins and company have put the finishing touches on a full-length disc that'll arrive sometime in spring.
Looking back, Collins, now 40, never questioned whether she made the right decision to come home. She's skeptical about the city's status as the "next big thing," but confident either way that Buffalo will remain accessible and uncluttered.
"Growing up here, there were always false promises being made about big change and buildings going up… it almost seemed like maybe a higher-up stood something to gain by making sure those projects failed," she said over the phone. "But Buffalo has character coming out of its ears, and I see slow growth in a beautiful way. I came back because I missed playing music with people I knew. Out West, there was an overwhelming amount of transience, and the community aspect of music—the brotherhood—was completely missing. People out there were more about the image of making music rather than the actual craft of it, which seemed really hollow to me."
Collins has been making music pretty steadily since fleeing the desert sun, playing in a Klezmer-ish band called Round Robin with local multi-instrumentalist Pam Swarts, and also recording an album of material she wrote on the bass guitar for the trio The Baby Machines. The latter packs an impressive wallop: a nervy, beguiling stew of idiosyncratic vocal flutters and wails applied to shifting time signatures and thick, coiling bass lines.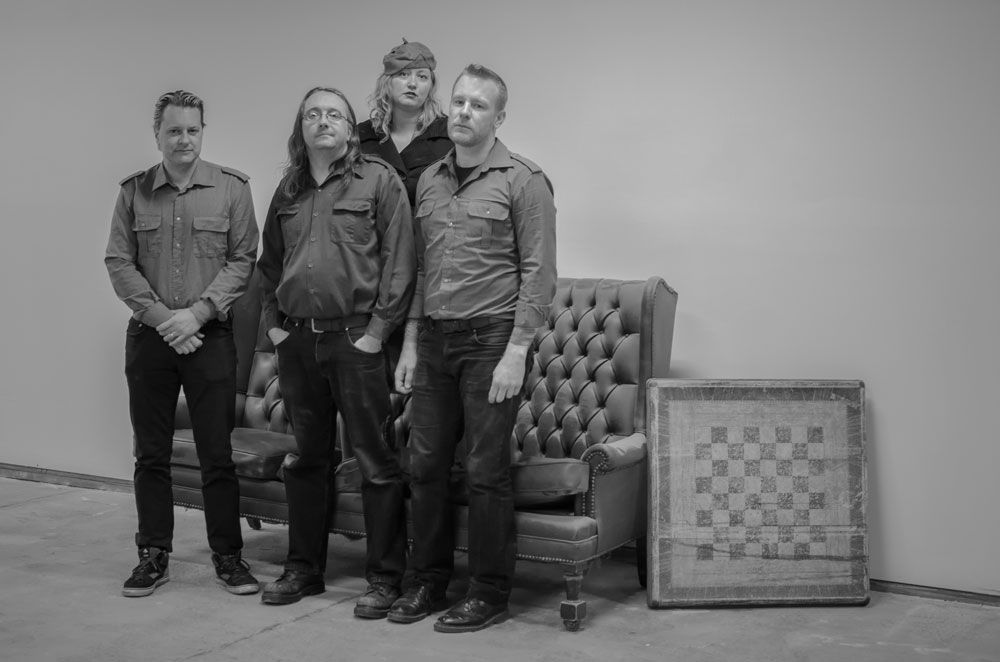 But with Orations, she's found a more accessible vehicle for her dark poetry and vocal swoop. Her voice and lyrics jibed well with what Paul Morin (guitars), Jason Draper (bass,) and Steve Sojka (drums) already had brewing when she joined the band, and the resulting chemistry is undeniable. Orations' five song debut glimpses early Cocteau Twins and a host of other gothically-tinged, post-punk references, but there's enough personality coming through to qualify the quartet as more than a mere revivalist shtick.
"When I started writing for Orations, I was going through a divorce and it was really a therapeutic process for me," Collins said. "I brought six finished songs to our first practice, and the musical style—which they'd already been working on for a year—felt very natural to me. This is the kind of music I was listening to at 11 years old, alone in my room… studying lyrics, writing them out, exploring and adoring. Because of that familiarity, I'm able to push myself a little further. When I sing, it's like I'm envisioning scenes from a movie of my life, trying to be in the moment, because you're not always all there—that's something you have to learn to channel."
Collins does more with her voice in the span of three minutes than what many of her peers accomplish in an entire album because she lets the narrative lead the way. Rather than attempting to box her vocal performance into a rigid pop-song pattern, she takes liberties as the story dictates. The results are more expressive and satisfying. But that's not to say it's all a harrowing tour through her personal nightmares; there are pleasing pockets of contrast throughout the Orations EP that help balance dark and light.
"I don't like when things are all one color; that in itself is depressing to me," she said. "Whenever you're telling a story, it can't all be one way—there's always more than one side.  So there needs to be different colors weaving in and out at all times. Maybe there's a little synesthesia going on; sometimes I'll see a color when I'm singing. Regardless, that's how I express it—in terms of shapes and colors. I took guitar lessons as a kid and some music theory and ended up having to ignore it all since it interfered with my ability to express things naturally. Songs have architecture, and while buildings and structures have to be precise, everything going on inside of them does not."
Orations, Soul Butchers and Alpha Hopper at Mohawk Place, Friday, January 30, 8 PM. $5.