Local
Veterans Respond: DC to Buffalo
by
/ Jan. 25, 2017 12am EST
More than a decade after Hamburg native and Navy veteran Matt Crane returned to Western New York from the war in Iraq, he had a wife and two young kids, a house in South Buffalo, a steady job, and an ever-growing reputation as a musician, artist, and actor. 
Still, there was a void. The sense of honor and purpose that led him to enlist just two days before 9/11 remained unfulfilled: "Operation Iraqi Freedom" has since been exposed as a fallacy, he feels, and America appears to have become more divided since.
Crane is just one of countless discharged warriors who, after being deployed essentially to defend the fossil fuel industry, are now back home scarred by the experience and searching for purpose.  
"I felt like a neglected tool in the garage," he said. "In Iraq, we were sent to fight and die for oil profits and nothing more. Since my discharge, watching the powers at large in this country successfully drive us apart as neighbors and friends has been extraordinarily difficult."
Restoring Honor
Enter Standing Rock. 
Much closer to home than the Middle East, Crane was following reports of the Standing Rock Sioux Tribe in North and South Dakota defending their land and water from Energy Transfer Partners' proposed Dakota Access Pipeline. On November 20, when live videos showed police deploying tear gas and water cannons on protestors in sub-freezing temperatures, Crane and thousands of fellow veterans felt the call of duty. 
"I witnessed inhumane treatment," he said of the videos. "Treatments that would be highly illegal in combat zones abroad. Actions that, in the military, would get a soldier court-martialed for violations of human rights and rules of engagement. After President Obama did nothing to address this blatant abuse, I knew it was now an obligation of mine as a veteran and warrior for my people to continue my oath of service to the American public."
The same feelings were swelling in Thorndale, Texas native Mark Sanderson, a Purple Heart recipient for wounds suffered in a Baghdad firefight during "the surge" of 2007, part of his 10 years of service in the Army. "I read an article sometime in October about a couple of veterans who had went to Standing Rock and said that never had they got such a sense of service to the American people," he said. "From that moment on, I knew I had to find a way to get there. I planned solo trips many times but knew that culturally it wouldn't be good for me to show up alone, just a strange pale face, so I waited till the time was right. 
"I read a Task & Purpose article right before Thanksgiving that covered the Veterans Stand for Standing Rock movement," Sanderson continued. "They were calling for veterans to go to Standing Rock en masse to stand with the water protectors. I knew that this was my time to go so I emailed my resume and service record to the organizers, and three days later I was organizing the national movement to get the veterans signing up actually mobilized to Standing Rock."
Sanderson and Crane connected through this effort, as Crane initially offered to organize Western New York veterans and within 24 hours had mobilized all of New York, New Jersey, and Pennsylvania. Two days after that, he picked up Sanderson from the Bismarck airport and they headed for Standing Rock in a whiteout.
"We arrived in camp at dark during a blizzard that would make any true Buffalonian blush," said Crane. "The scene upon my arrival was chaos and unity. Vehicles were spun out all over camp. People everywhere running around with shovels and chains and buckets. Before we could even pull into camp, we had to jump out and start digging out vehicles. We then built a 50-foot snow fence while the blizzard raged through. We were already working side-by-side with strangers, working towards a common goal for the people's safety." 
Sanderson describes an immediate feeling of profound purpose. "Literally from that moment on, our entire trip was spent in the service of the people on the Oceti Sakowin camp," he recalled. "The people were very kind, welcoming and warm; I immediately felt at home." 
On December 4, the Army Corps of Engineers announced that it would not grant an easement for the pipeline to be drilled under Lake Oahe, and would undertake an environmental impact statement to look at possible alternative routes.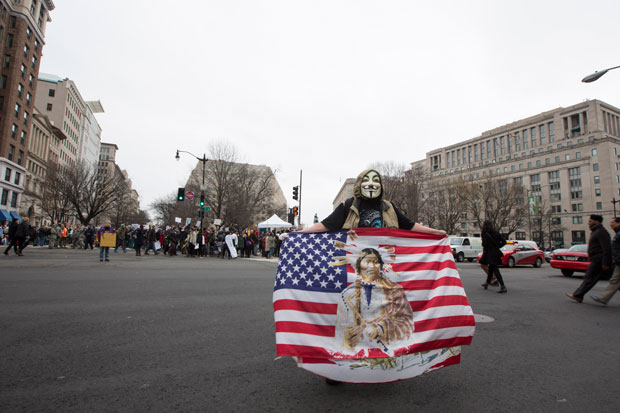 Photo by Nate Peracciny
Healing Through Service
Most of the thousands of veterans who mobilized in Standing Rock stayed for weeks or months; from the jump, Crane and Sanderson began discussing ways to sustain the effort in any way reasonable, and together with a handful of peers formed a group named VeteransRespond to continue on this path of healing through service. 
Crane convinced Sanderson that the next stop was Buffalo. 
"I knew we needed to have an event to tell the story of our time in Standing Rock and begin gathering support for VeteransRespond," said Crane. "Before I left, Ed Cardoni [executive director of Hallwalls Contemporary Arts Center] offered Asbury Hall for just that kind of event. As a member of Hallwalls with local nonprofit experience through Americorps, I knew Buffalo would welcome Mark and VeteransRespond, and the event proved to be a success. 
"Buffalonians have had to build from the ground up," Crane continued. "After plants closed and government officials abandoned the people, we've had to. Mark is from a conservative town in Texas—as much as we think it's conversative around here, from his perspective Buffalo is extremely progressive."
Sanderson explains it first-hand: "The outpouring of support we received from the local community just blew me away. Buffalo is a very awake, active city, and it seems like the perfect place to get VeteransRespond going."
Our Presence Is Our Purpose
With the momentum of the January 8 Asbury Hall event and the impending inauguration of President Donald Trump, the veterans saw an opportunity to serve in Washington, DC, where tensions were sure to be high amidst the full spectrum of free speech—the First Amendment right all military members take an oath to defend. Many of the same crew from Standing Rock stood ready to deploy to DC to offer any form of peaceful service necessary. 
"The extreme polarization was a concern for me," said Crane of the envisioned scenes in DC. "I have years of medical and first aid training, disaster response training. I had no expectation other than to be available and present. Should a situation arise, I could react. The first two responders of Boston Marathon bombing were Marine Corps vets."
Further evidence of the widespread support awaiting this nascent organization, Sanderson quickly secured for incoming veterans an entire house in Annapolis from Air Force veteran Kasey Wells, which became the homebase for some 20 people who first met at Standing Rock. From there, the crew moved to the heart of the Inauguration Day protests, where they stood ready to help anyone in need regardless of which side they stood on. 
"We're just here to help, to descalate the situation and make sure people have the medical attention they need," said fellow Texan, Army medic, and Afghanistan veteran Jessica Catlin, while taking a break to visit the American Veterans Disabled for Life Memorial near Capitol Hill. "It's an honor to be able to use what I learned in the military outside the military. Sometimes you feel almost lost when you leave, like you don't have a purpose. VeteransRespond has really filled that void for me, both here in Washington and in Standing Rock; to be able to use those skills outside the military and be peaceful about it is really an honor."
Despite a handful of agitators in the form of black bloc anarchists and local opportunists, the tens of thousands of protesters were predominantly peaceful; VeteransRespond members administered first aid for pepper spray and rubber bullet wounds, including a case of the latter in which they pulled a protester from a pack who'd been shot in the groin.
"Watching those agitators throwing bricks and things like that at the police officers was pretty intense," said Catlin. "It brought me back to my medical training, and it was almost too easy—I knew exactly what to do."
"While in the military they teach you that you render aid to anyone who needs it," added Catlin. "That was my mission. Being in a combat situation, you get those limits tested, and you want to help whoever needs it."
The next day's Women's March clearly brought far more people than the inauguration to the National Mall and surrounding streets, despite opposing reports from Trump and his administration under the ruse of "alternative facts." While VeteransRespond stood ready to give if needed at these events, they remained peaceful, and the DC police reported zero arrests. 
"I'm out here as a native of this land, a veteran of this country, and a woman and a mother to future generations," said New Mexico native and Navy veteran Brandee Paisano, who also stood with Catlin in Standing Rock and took part in the Buffalo event. "It's been pretty intense, but people have been able to express themselves freely."
For Sanderson—who throughout the events in DC maintained the mantra, "Our presence is our purpose"—the greatest takeaway from this weekend was the need for healing. "All veterans heal differently, and all are in their own stages of healing. It's a very damaged and complex community," he said. "On one hand, you have veterans who could barely participate in the Women's March due to anxiety about crowd sizes; on the other, we had a team of vets providing emergency medical aid in the middle of a riot. 
"All veterans heal differently, but healing through service to your community and your people is a great way to inspire veterans to get out of their comfort zone and try something different. Service to your community is also a great way to re-assimilate into your local community and to build friendships." 
Back to Buffalo and Beyond
Propelled by Crane and the response from Buffalo's activist community, Sanderson is planning to relocate his family—he's married with one baby and a second due in February—to Buffalo, which will be the national headquarters of VeteransRespond. As they seek 501c3 nonprofit status and establish satellite chapters as far as San Diego and Seattle, their next steps are to continue building a platform for veterans to heal through service work and to engage in underserved communities.
"Being in Standing Rock, serving the people who needed help so badly, that restored my honor and made me remember that a warrior is nothing more than a protector of his or her people," said Sanderson. "Ideally, VeteransRespond will serve as the gathering point for the 21st century, socially aware, environmentally active veteran."