Visual Arts
Charles Burchfield: The Ohio Years
by
/ Jan. 23, 2018 6pm EST
The current Charles Burchfield exhibit at the Burchfield Penney, The Ohio Years, 1893-1921, is a virtual portrait of the artist as a young man. It includes work from his Salem, Ohio, grammar school art class, marked with the grades he received from the art instructor (several 100s and some 98s), some remarkably accomplished work from his teen years to early 20s, including student work at the Cleveland School of Art, then from his year or so in the army, where he mostly painted camouflage, then from back in Salem for two years before he moved to Buffalo to take a job with the Birge wallpaper company.
A nature sketch from the young artist age about ten or eleven of a stand of cattails and a cardinal shows a sure hand with the cattails, some little difficulty with the cardinal. Not clear if the cardinal is perched on one of the cattails, or winging it past them.
Most of the teens and 20s works are versions of landscape, or occasional animal studies. A portrait drawing of a cat named Bedelia, surrounded by a few score dime-size sketches of the same feline in as many different poses. Another animal portrait of a puppy. And some sedulous imitations of storybook illustrations of a fox in a forest on the prowl for dinner.
If Burchfield hadn't become a nature painter, he might have become a nature writer. In a biographical note from a later period he related that after graduating high school, a bout of typhoid fever caused him to delay going to art school for a year. "However, during that year," he wrote, "unknown to me, I laid the foundation for my art career in my trips to the fields and woods. During that time I read John Burroughs and Thoreau (and wrote my journals in unconscious imitation of them). I needed that time at home in which to develop the contact with nature…" A sketchbook page from that time shows multiple versions of a violet flower, reminiscent of the multiple poses of the cat. Learning about nature and learning how to depict it.
And if he hadn't become a nature artist or nature writer, he might have become a blues singer—I mean, you don't have to be able to sing, but you have to have the sensibility. There's a desolation sense in many of the early landscapes, or townscapes—rural winter scenes of nature in a dormant state, small clusters of houses huddled against the cold, windows like eyes peering out, cautious, suspicious—that a few years later begins to connect to larger-scope elegiac themes and issues. The imperiled state of nature in confrontation with the new economic engine industrialism despoiling even rural Ohio. One of the works on show is called Wild Sunflowers and Coke Oven Smoke. The left half of the picture is an idyllic meadow scene, the right half something like the view in the old days from the Father Baker Bridge. The historical narrative genocide of the Native American original population of Ohio—and the rest of the United States—in the usurpation of their former habitat lands by newcomer European origin peoples. Somehow analogous to the industrialist destruction of the environment.
Toward the end of his art school period Burchfield projected an opera on American Indian themes—the opera never materialized, but some paintings and drawings for the project are on display—about which he writes in his journal, "the great tragedy of the Indian race being exterminated by the Europeans is to be symbolized by the greater tragedy of nature being lost and destroyed by commercialism."
The "greater tragedy" idea is debatable, but we know what he was getting at. Both are tragedies of epic proportion. And his aim was to tell the combined story in his artwork.
From the early going, he had an instinct for the best models to follow. Burroughs and Thoreau in his groundwork nature studies, ethnologist artist George Catlin in his Native Americans project. A scroll art experiment from his art school years influenced by scroll artwork by Ming Dynasty artist Xie Shichen he would have seen in the Cleveland Museum of Art. A hand-lettered invitation he devised for an Art Students League reception shows unmistakable influence of Arts and Crafts Movement founder and factotum William Morris.
The early years exhibit continues through March 24.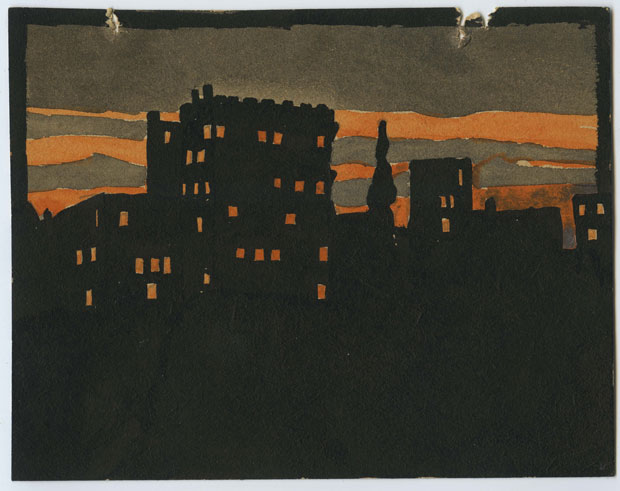 Charles Burchfield, Untitled (Orange Sky Over City Buildings), December 2, 1907.