Local
Story: Jaunt to Divided Island
by
/ Jan. 20, 2015 8pm EST
The narrow and long island in the fleet Niagara River between Canada and the US, but much closer to New York State and, more specifically, the neighborhood of Black Rock, will (most likely) have an official name change. Deyo'wenoguhdoh, as it was perhaps first named by resident Native Americans, means "divided" in the Seneca language, referring to a now-absent marshy area that ran through the center of the island.
Sponsored on January 20 by North District Common Councilman Joe Golombek, chair of the Community Development Committee, the resolution means that the island is no longer to be called Squaw Island. Signage at the island's entry points off of Niagara Street will be changed. Divided Island's southernmost tip lies in the Niagara District: It's divided in the gerrymandering sense, too.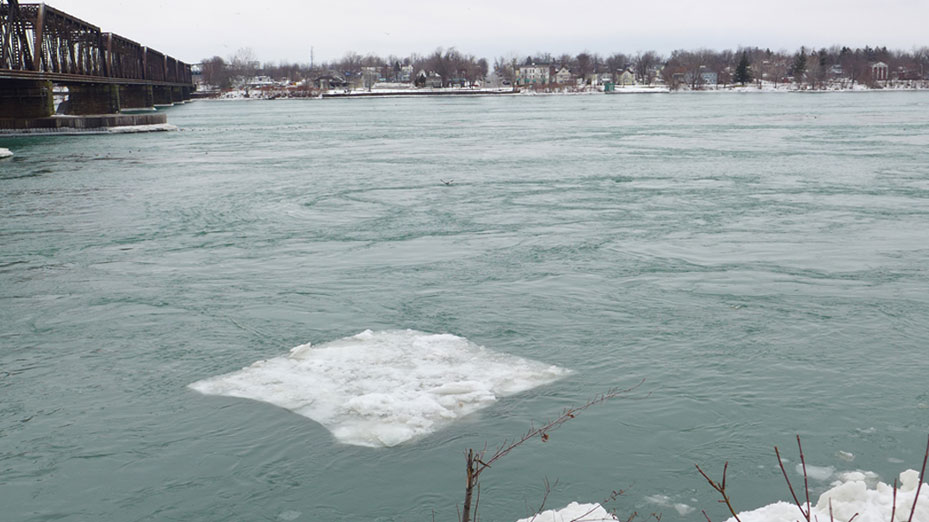 View of the International Bridge and Niagara River. 
In a feat of concision, an historic blue and gold metal marker placed by Black Rock Heritage Trail in 2011 gives the island's history in 86 words. The sign, visible up the driveway that leads to the one-lane metal bridge to the island at its center, sums up these 60 acres' various names, its change of ownership, and fiery activity there during the War of 1812.
The Public sought a quote by a local Native American on the matter and political implications of the word squaw, to better understand its cultural significance and impact. Online research yields divergent opinions on the word's derivation and its conversion into insult.
Cindra Shangreau, a member of the Osage Nation, largely seated in the American Midwest, and who lives in Eden, answers the squaw question: "I consider squaw a derogatory term. It is not something that I would ever refer to myself as, nor would any of my friends or family.  Although not as hateful as the term for a native bounty, as redskin is, it is ugly nonetheless. It recalls the racism associated with Euro-American men marrying native women and being called 'squaw men' with their wives being thought of as less than acceptable."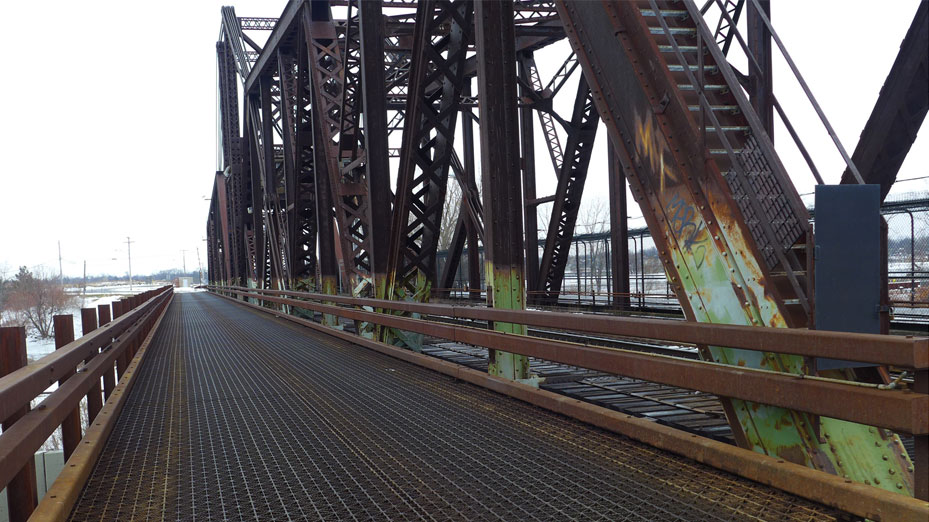 One-car bridge to Divided Island.
The Public visited the wintry site on January 18 to refresh impressions of the island which is two-thirds public parkland, and one-third water treatment zone. The island, visible from Interstate 190, is lovely in all seasons: Every day there are people walking dogs and following trails along Niagara River and Black Rock Channel.
Visiting Divided Island were Dawn Davis, Jason Deuro, and Anderson Davis, unaware of the island name controversy. Dawn and Anderson are experiencing their first Buffalo winter, moving to the area from Indiana. "It's really cold here, but I like that you guys don't stop, you keep going," says Dawn, wearing a new Buffalo Sabres knit cap. Anderson brought a bag of crackers to feed ducks that he'd heard would be present.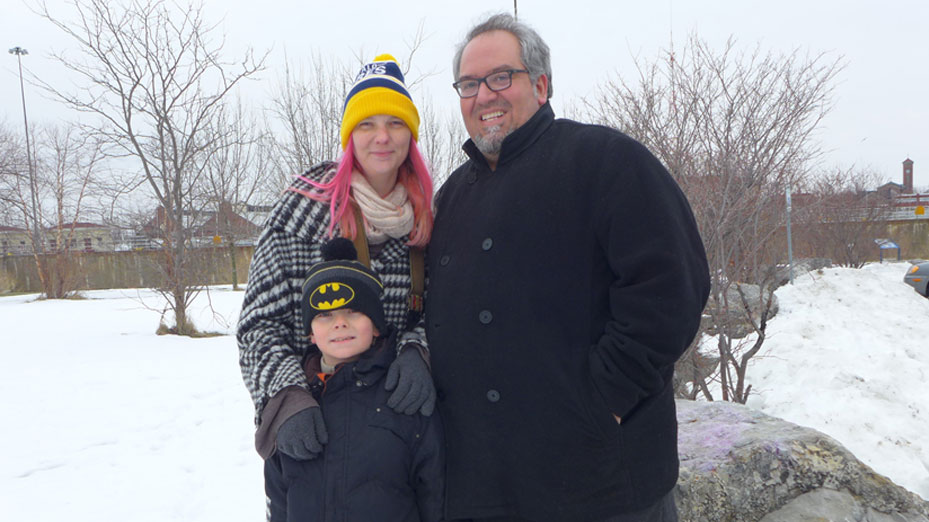 Dawn Davis, Jason Deuro, and Anderson Davis in front.
Leaving the island an agent was spotted in an idling Border Patrol vehicle; she looked rather unapproachable so she was not asked about her impressions of the island name change. Instead, this reporter parked and approached the gatehouse of the water treatment facility to speak to its guard on duty. "Do you call this a gatehouse?" "No," he said, "we call it a guard shack." Recently relocated from downstate, the guard would not go on record and was not aware that the island was an island, or had a name.