Visual Arts
Studio Hart: Peter Fowler, Barbara Hart, Dale Schwalenberg, Daniel Hart
by
/ Jan. 18, 2017 12am EST
Need a break from the chill winter weather? How about going sailing? The title of the current show at Studio Hart is Sail Away. Four artists—two painters, Peter Fowler and Barbara Hart, and two photographers, Dale Schwalenberg and Daniel Hart—with works about sailboats, seas, balmy days, and sunny skies. 
Both painters offer varieties of impressionism. Fowler in large-format oils on canvas, applied with a palette knife. Shimmering visions of sailboats at rest in placid harbor waters—like ghost ships sometimes—obscured by mists and distance or the sheer intensity of summer sunlight mid-day or afternoon. No weather threats. In one work, storm clouds loom in the distance to the left, but may well pass over. No effect of the potential system on the present scene of boats in quiet repose, masts perfectly vertical. And two kids at play or maybe fishing with poles from a dock in the lower left corner of the work. Another work shows four boats lined up like sentries guarding the harbor as evening approaches.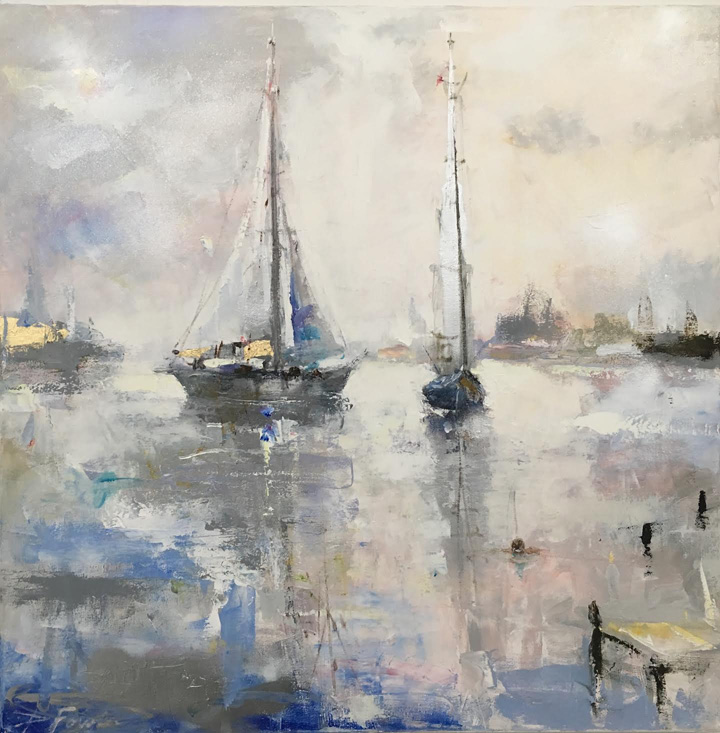 Artwork by Peter Fowler
Barbara Hart in smaller-scale brushy sketchy watercolors on paper. In a range from representational—a work called Regatta, consisting of foreground roiling waters and background line of sailboats largely concealed behind the foreground waves, just masts and sails visible, all similarly bent before the winds—to abstractions not so much depicting as evoking maritime subject matter. A piece called Focal Point with a mysterious ring circle high center, and around the edge pf the painting casual rectangle, a scatter of myriad tiny crosses, like markings on a maritime chart, so that the central circle suggests a chart feature as well, compass circle maybe. Looking closer, myriad more even tinier crosses—dots even—in and around the circle, while underneath the circle, a blurred image of a boat under sail. And last to appear, extremely fine vertical and horizontal crosshairs, centered not on the circle but the sailboat, but the vertical segment passing through the circle. Most ambiguous, most beautiful.
The photos by Schwalenberg and Daniel Hart have in common a shipboard photographic vantage point, looking out over lake or ocean waters. When Ishmael tells Pequod interim Captain Peleg one of the reasons he wants to ship on that whaler is "to see the world," Peleg asks him to step to the side of the ship and "take a peep over the starboard bow," and tell him what he sees. "Not much," Ishmael confesses. "Nothing but water; considerable horizon though, and there's a squall coming up, I think." 
What do Schwalenberg and Daniel Hart see? Besides water and considerable horizon. For Schwalenberg, glimpses of idyllic life, cruising about the Caribbean, it looks like. One photo showing a large island on the far horizon, again it looks like. Another showing no horizon at all, just a seamless misty blend of sea and sky in the distance. Another records entering into a port, some modest port infrastructure and a few boats at anchor, including a monster ugly cruise ship. Another photo is of a swim from anchorage in calm waters off a deserted tropical beach somewhere, swimsuits optional. 
Daniel Hart's photos are about magnificent skies—clear and cloudy—and inky blue waters, and the exquisite formal aesthetic cum technological beauty of sailing craft. Two spectacular sky at sundown pictures. In one, the setting sun a smudge of white light—a brilliance beyond the camera's capacity to capture it—surrounded by concentric more or less haloes of first bright green, then orange. In the other—the sun just set—a sky all lurid tentacles of yellow and orange, yielding to blue, yielding to black.
Daniel Hart's At the Race is like a literal version of Barbara Hart's metaphorical—so to speak—version Regatta. Five sailboats in a line, precisely similarly bent before the wind. 
The Sail Away exhibit continues through January 28.
 Sail Away 
 Studio Hart / 65 Allen Street, Buffalo / 536-8337