Music
Buffalo Students Create Birthday Music Video for Michelle Obama
by
/ Jan. 17, 2017 2pm EST
This week, a Buffalo based musician named Da'Von McCune released his first piece of music, a tribute to first lady Michelle Obama that comes on her birthday—the day after Martin Luther King Day, and in the final week of Barack Obama's presidency. The song, titled "Michelle Obama Ft. T Brizzy," a danceable hip hop track with a catchy hook about the first lady also comes as a refreshing reminder of the love and positivity that many people in Buffalo feel for the first family on the heels Carl Paladino's hate speech which was pointed at Michelle Obama, especially. The track is not a a reaction to Paladino per se, as McCune has been working on this personal project for a few years, inspired by what he says is "the grace and elegance by which [the first family has] held the office," but like many folks in Buffalo, McCune's reaction to Paladino's remarks was dramatic.
"I was going to Boston to be with my girlfriend and I was angry. I really didn't think of my project until later," he says, sitting at a table at his place of work, the Buffalo Center For Arts and Technology.
"They're about to leave and you can't let them leave in grace. And that's not us, that's not what Buffalo's about. We're about love and we can heal it. We can be that bandaid. We can show what this community is really about."
McCune, a Youth Coordinator at the Buffalo Center For Arts and Technology, or BCAT, a non for profit after school arts and training program for youth and adults, worked with his students to create the video for his song.
The 29-year-old musician teamed up with Chamus Hawk a.k.a Chae Hawk of Team Radio, a creative direction service that focuses on promoting positive lifestyles, to develop the project. One of Hawk's goals for the project is to bring Michelle Obama to Buffalo.
Together, the two decided on the idea to have students at the after school program shoot and edit the video, as well as create choreography.
"[Chae Hawk] said well ya'll make videos, why not work with the kids? I was like, 'ok, let's see how we do this.' I'm kind of cautious about my work/life balance, and putting the kids first when I come here—they're first. So I don't want my personal life to overshadow them," says McCune. "We went back and forth about it and I found some kids that are serious, and I talked to each of them individually and now here we are," he said excitedly, when we met a week before the video's release.

Inside of BCAT students have access to professional grade equipment—from a small music studio, to video editing software.
Chief Executive Officer Amber Dixon and Chief Operations Officer Stacey Watson are proud of the facility and the resources that they're able to provide for their students.
"We built intentionally a facility that looks world class, feels world class, looks like an art gallery and that the kids and adults know is theirs," says Watson.
This film editing lab is where students students Trayvon Frisby, 17, and Bhakti Williams-Brown,16 edited the video for "Michelle Obama."
"It's a lot of work," says Williams Brown. "Trayvon has been doing the brunt of the work so far. He's been in here listening to the song every day and looking through tons of video clips," he says about the video, which the students worked on for about a month.
"You have to go through it step by step, so that's the whole planning process. Every time I've ever made a video, that's the most important part. If you aren't organized it's horrible," says Williams Brown.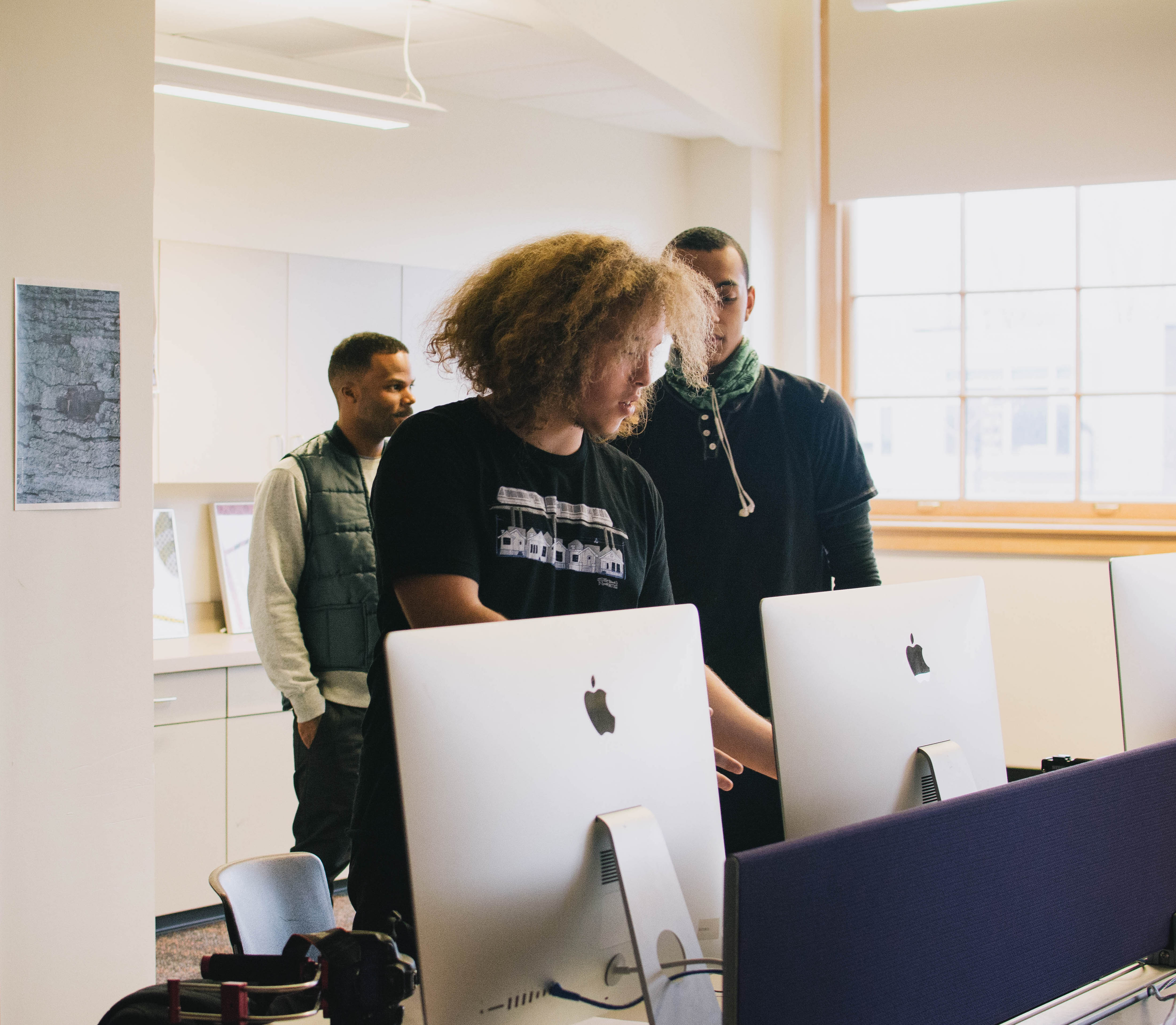 BCAT students Bhakti Williams-Brown (left) and Trayvon Frisby (right) working on their video. Photo by Christina Laing.
For the video, McCune and his students choreographed dance moves. When McCune was in college at the University at Buffalo, he danced with the Latin American Student association and also had some hip hop dancing experience. He also played football. For McCune, who was born and raised on the East Side of Buffalo, music has filled the spot that football once filled. Now in a masters program at UB—in addition to working full time as a youth coordinator at BCAT—he talks about the many great experiences he had playing UB football, which included being on the field the night that Barack Obama won the presidential election in 2008.
"In 2008, on that Tuesday, it was amazing. UB was the only football team playing in college. We were playing Miami of Ohio. We were blue, they were red. We were counting down the states through every quarter. We were going like "New York, yeah!" "Florida, yeah!" "California, yeah!' and then 'UB wins the game! Barack Obama is the first black president!' It was an amazing night."
That's when McCune's admiration for the Obamas began.
"The biggest thing is the grace and elegance by which they've held the office," he says with a smile. "That elegance and [Michelle Obama's] strength to raise her daughters under that spotlight, under such scrutiny, and to also carve out her own niche…" he says before pausing.
"I was listening to President Obama's farewell speech and he says she didn't want the role but she went and made it her own. I think growing up in the black community, when an African American woman has power, there are so many phrases—bossy, stuck up—and to be able to navigate that and to empower her husband as he navigates being the first African American president, that is amazing to me. And the fun that they have together—the fist bumps, the dancing, the lyrics, the rapping with Missy Elliott. Wherever it goes, it's the whole balance."
McCune's inspiration for the song came in waves. Of course, Obama's election victory was the beginning. But the idea really started to take shape when he first heard the beat, written by a hip hop producer and Buffalo ex-pat Theronn Calvin a.k.a. Clyde Strokes. He immediately liked the vibe of the track and wanted to rap on it, he said.
"I'm positive. When I was in college I partied a lot but I also grew up in church, so I always had an inner conflict within myself. [Michelle Obama] was the perfect example, the perfect role model to base a song off of and give me that peace within myself while I dance and while I have fun," he says.
The artwork for the single was created by a 16-year-old BCAT student named Desanay Nalls. She says she designed the piece to show exactly what Michelle Obama represents to her. "She strives for all women, young and old, of any color; to become, now or in the near future—an individual, inspiring, and beautiful."
McCune, whose work at BCAT involves working with the kids and their schools to monitor their school attendance, their grades, and even their personal lives to a degree, says that he feels blessed in his own life, and that's what keeps him positive in his music. He's proud to say that has both parents, as well as an older brother and younger sister. All of the siblings have, or are studying to have, masters degrees in their given fields.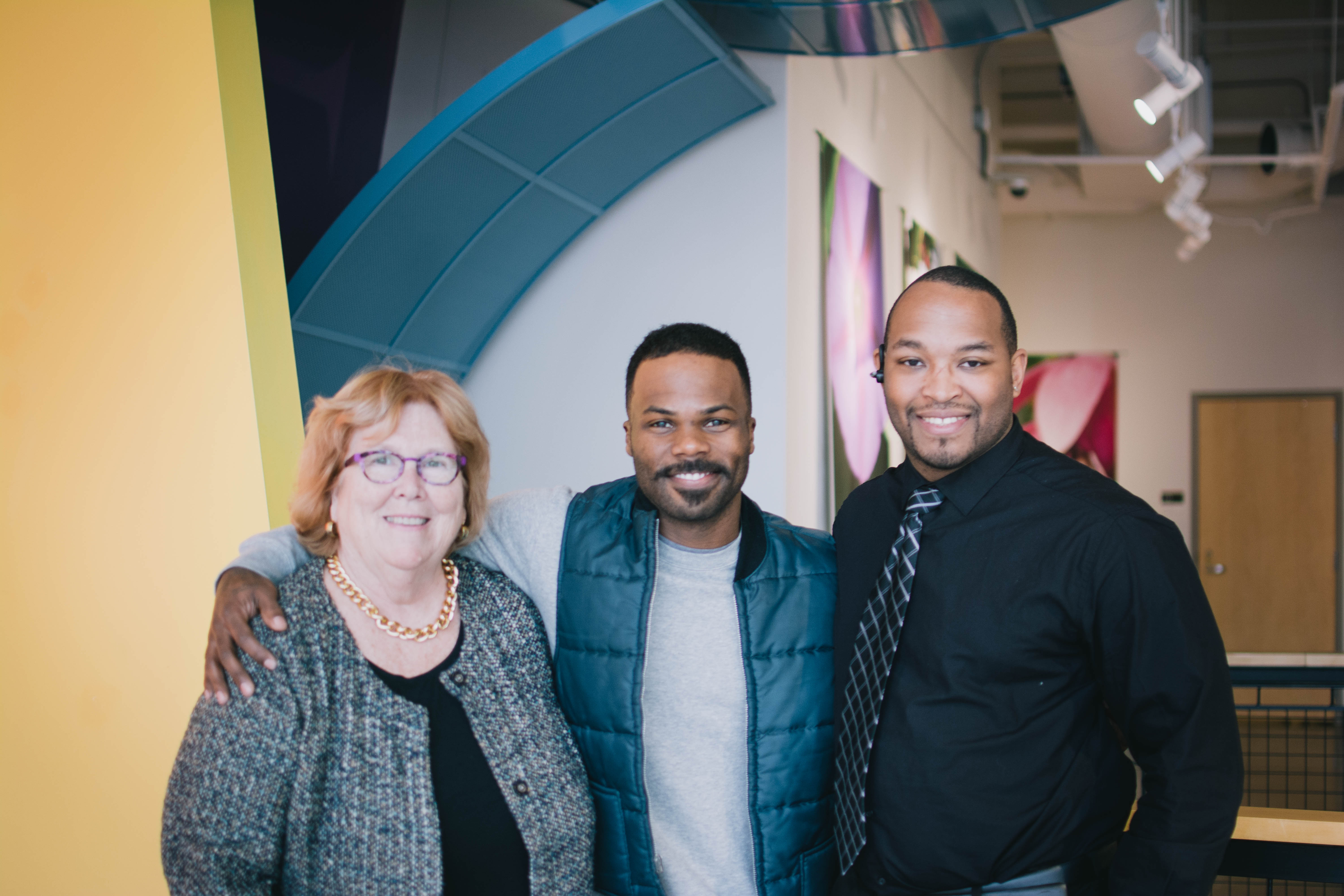 Left to right: BCAT CEO Amber Dixon, Chae Hawk, and Da'Von McCune. Photo by Christina Laing.
At the same time, he has, of course, faced challenges. His father and brother have both been diagnosed with bi-polar disorder he says, and for this reason, he feels obligated to use this opportunity to send a message.
"If I can shine a light on that as well and tell people that it's all right to get a psychologist. It's all right. As I grew up, it was kinda like you don't talk about that. I know a lot of people that come from lower incomes, and espeically in the African American community, we're not big on mental health and seeing a psychologist. My family has been through that and lived it and it's been a struggle. I just want people to know that they're not alone, you're not crazy, and you can find people. There are organizations out there that can help."
For the Michelle Obama project, the team has created a website, designed by local designer Christina Laing, on which folks can find the video and a birthday letter from McCune to Michelle Obama.
When McCune sits down to think about the impact he hopes this song and video will have, he can't help but hope that it somehow reaches the first lady herself.
"The best possible scenario is that, god willing with some contacts that we've been able to acquire, that it gets into her hands on her birthday and hopefully she takes it seriously and checks it out," he says. "Hopefully it puts a smile on her face. And hopefully her idea of the love that she can get from Buffalo changes."