Local
Buffalove Will Tear Us Apart
by
/ Jan. 13, 2016 12am EST
No one knows who coined Buffalove, but several people with Western New York ties have claimed to own the feel-good neologism at the center of the region's comeback narrative.
A battle over federal trademark registration pits a Hamburg artist behind the bison-emblazoned T-shirts sold at Wegmans against a Lewiston do-gooder who organized a community fundraising campaign for a four-year-old cancer patient. Understanding how two community-minded people could come to butt heads over Buffalove requires a dive into the word's etymology, a lesson in intellectual property and an analysis of United States Patent and Trademark Office documents dating back to 2007, when a Cartoon Network voiceover artist made the first attempt to trademark "Buffalove."
Linguistically, Buffalove is as versatile as its components: Buffalo, which functions as a proper noun denoting a place, an improper noun for the bovid creature, and a lesser-used verb meaning "to bamboozle," and love, which takes both noun and verb forms. One can Buffalove something (transitive verb), spread the Buffalove (noun), hang out with their favorite Buffaloves (noun), go to Buffalove (noun), or express, earnestly or ironically, Buffalove! or #Buffalove (interjection).
For Jim Sheehan, the definition of Buffalove is straightforward. "It's actually a term of endearment. That's really what it is. It's saying love and it's related to Buffalo. Buffalove."
Up until they received a forceful cease-and-desist letter, Sheehan and his wife, Stacey Sheehan, sold theBuffaLoveshirt-branded tops as part of a social media-promoted fundraising effort. Stacey's father's death from cancer motivated the couple to find a way to financially support families that have been affected by accidents or illness. They ruminated on their mission until Jim hatched a plan to focus community fundraisers on individual families, aiming to help four a year.
"What's the one thing that brings people together? We're the City of Good Neighbors," Stacey Sheehan said. "And how is that represented? And that's how he arrived at theBuffaLoveshirt."
This past spring, the Sheehans launched their first crowdfunding and T-shirt sales campaign to benefit the Serra family, whose daughter Maya has battled neuroblastoma for more than three years. They made the rounds with local news stations, community papers, and the Buffalo News. WGRZ's Melissa Holmes dubbed Jim Sheehan a "good neighbor."
Months later, worried about the ramifications of telling their story, they were reluctant to speak with the media. The Sheehans had not anticipated that their modification of the community catchphrase would drag them into a legal dispute with BuffaLove Apparel over the right to use "theBuffaLoveshirt" commercially.
"I don't know who the first person was who ever said the word Buffalove," Sheehan said. "We're not claiming it's us. We're just claiming that we wanted to use the battle cry the same way the Bills do, the Sabres do, and the way everybody else does: to rally our community."
TheBuffaLoveshirt was intended to be more than an item of clothing. The Sheehans drew inspiration from the "Fuck Cancer" online community's model. F C Cancer Foundation promotes crowdfunding websites for cancer patients and sells merch adorned with a skull-and-crossbones logo and the provocative slogan "Fuck Cancer." The shirts and accessories, Sheehan explained, are a way to bring the online community into the real world so that people who recognize the shirt on strangers know they have shared an experience. The Sheehans' take on T-shirt-centric community-building just has a more wholesome name.
"That is what this was supposed to be, so when you walked into Tops and you saw someone wearing theBuffaLoveshirt, that was supposed to represent that they too care about their community and they too care about this philosophy of helping neighbors. This shirt was supposed to be a sort of uniform," Sheehan said.
The mashed-up, irregularly capitalized word theBuffaLoveshirt "just made sense in a digital way to reflect a digital business," Sheehan said. The Sheehans said they knew that Buffalove was a widely used term so, when they went through the process of incorporating and registering a trademark with the federal government, they decided to register "theBuffaLoveshirt."
"[Jim] came up with theBuffaLoveshirt because he didn't want to own all things Buffalove," Sheehan said. "He didn't want to take away from any existing projects, but he wanted it to be specifically a T-shirt that showed the heart." The image on the front of theBuffaLoveshirt is a buffalo silhouette inside a red heart, under which is printed "theBuffaLoveshirt." "It was incorporated into his design."
That design and the trademark registration certificate would ultimately put them out of business. On June 18, 2015, just after the conclusion of their first fundraising drive, the Sheehans received a cease-and-desist letter from an attorney representing BuffaLove Apparel owner Patty Watson demanding payment for damages and immediate action. 
In interviews during the campaign, the Sheehans had stated they wanted to raise $7,500.
"Basically, she wanted everything and more. She wanted $8,500 to cover her legal cost for threatening to sue us. She wanted us to close the incorporation. She wanted us to dissolve the company, to shut down the website, give her the domain, give her everything, everything, including the money for a little four-year-old cancer patient that had already been given to her family," Sheehan said.

Buffalove will keep us together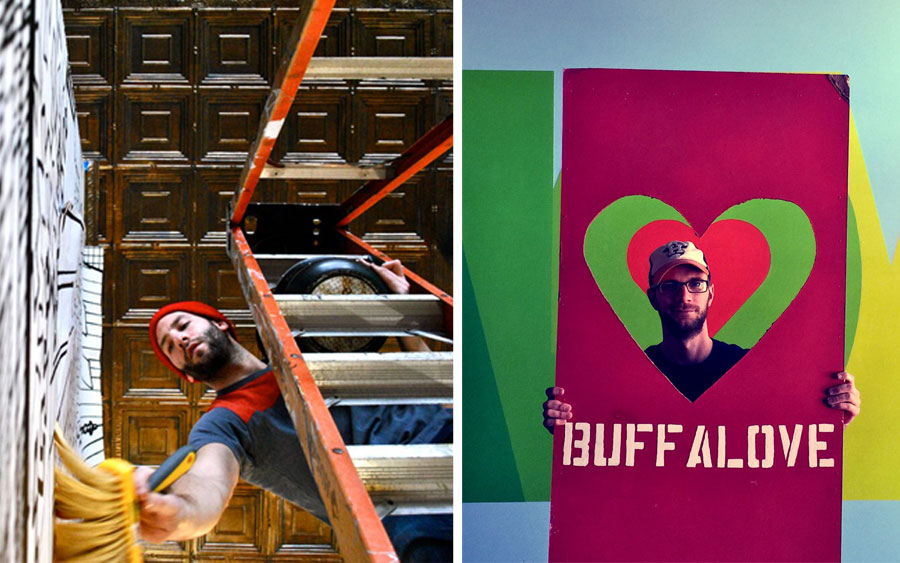 Casey Milbrand and Jason Clement of The Pop In.
The exact origin of the portmanteau "Buffalove" is a mystery. In 2000, a heart-speckled, fiberglass bison with the moniker "Buffalove" gazed upon Elmwood Avenue as part of the Herd About Buffalo public art project. An uptick in Buffalove usage can be traced back to at least the mid-aughts. A now-defunct dating website circa 2004 took the name Buffalove.net, and, if an anonymous commenter on a January 2007 Buffalo Rising post is to be believed, Buffalove has been in circulation since the 1980s. However, in the last decade, the proliferation of social media fueled the explosion of Buffalove.
If Buffalove alienates some people, and it does, consider the early adopters, all of whom comprise populations that elicit antagonism, fairly or otherwise. Schoolgirls, civic boosters, and sports fans were vocal proponents of Buffaloving their Buffaloves in Buffalove. Facebook photo albums and statuses, MySpace pages, AIM away messages, message board posts, tweets, Instagrams, and blogs helped spread the Buffalove near and far.
The hive-mind history of Buffalove includes memories of University at Buffalo students (almost always women and often in Uggs) who used the cute word with abandon from 2007ish and onward. Buffalove's early feminine connotations earned it an effete or grating reputation to some. That isn't the first time a verbal trend associated with a young, female population was at first derided only to gain mass appeal and ultimately commercial value.
Perhaps the most prolific Buffalove hashtagger is Bernice Radle, a historic preservationist who formed her property development company under the name Buffalove Development LLC in 2012. She can't remember when exactly she first heard of Buffalove, but by the summer of 2007, when she returned to Western New York from California, where she had lived for three years, it was in her vocabulary.
"Literally the week I moved back, I was like, I am going to Buffalove the hell out of Buffalo," she said.
Buffalove is a catchy word, and Radle, a student of comparative civic boosterism, points out that Pueblo, Colorado, and Wheeling, West Virginia, have borrowed the construction to coin the terms Pueblove and Wheelove, respectively. The alliteration of Bernice and Buffalove was a good enough reason for Radle to use the combination as her username on blogs and other digital platforms.
"People have associated me with the term Buffalove forever, but I did not make it up and I would never claim that," she said.
Urban Dictionary offers three definitions of Buffalove, of which the earliest, from 2010, captures the negative connotations of the term.
"I remember going to the Urban Dictionary for Buffalove," Radle said. "It was suburban girls who talk about Tim Hortons and their love for the Buffalo Bills when they're away. They say 'Buffalove!' and it sounds very flighty, very annoying. It was an annoying Buffalo term. It was at one time."
Radle embraced the slogan as "a DIY, grassroots approach to civic pride." She sees Buffalo residents now in their 20s and 30s as the heirs to civic booster movements of the previous three decades. (In those years, this story might have been about "Buffalo Talking Proud.") Younger people—millennials, if you will—opting to move to or stay in the city represent a shift in city dynamics and demographics.
"We were the second wave of people who came in 2005 to 2008 when no one believed in Buffalo. We were using the term Buffalove, and we helped push the pride in our city," Radle said. "And so I think, for me, seeing a generation of people from Buffalo who say, 'This city rocks, let's Buffalove the shit out of this city,' it started to pay off. It really started to build an energy."
This cohort is responsible for new arts and cultural events and organizing around historic preservation issues. However, even Radle's updated definition of Buffalove is polarizing. Radle-led efforts to "heartbomb" vacant buildings by affixing handmade hearts, often made of construction paper, to exteriors around Valentine's Day have whipped up as much skepticism as celebration locally. (Other preservation groups nationally have initiated their own heartbombing campaigns.) 
The value of Buffalove to a condemned home is debatable, but the dividends it has paid out to Radle are irrefutable. In addition to naming her small, residential development company Buffalove, she has picked up an appointment to the city's Zoning Board of Appeals and an HGTV mini-series that chronicled the restoration of a historic home. Buffalove is so important a part of Radle's personal and professional brands that she registered the trademark "Buffalove Development" with New York's Department of State in 2014.
For Casey Milbrand, Buffalove has likewise provided an avenue to career opportunities and civic engagement. Milbrand grew up in the city, and said, "Growing up here, it was not very positive. You go to high school. Everyone is rushing to get out of here."
When he was an adolescent, he said, with self-deprecation, that he imagined a triumphant return to Buffalo: "One day, I'm going to come back and bring my ideas back here."
An architect by training, Milbrand's return to Buffalo was more pragmatic than bombastic, but, along with preservationist Jason Clement, he did bring his ideas back, and they opened the Pop In on Grant Street this past June. Milbrand and Clement, who ultimately arrived in Buffalo from Louisiana via Washington, DC, met at the 2011 National Trust for Historic Preservation conference, which was held in Buffalo.
"I never thought I was going to meet someone who loves Buffalo as much as I did," Milbrand said. "We fell in love because of how much we both love Buffalo. It sounds cheesy, but this happens with a lot of people."
Inside the Pop In, an entire wall is devoted to Milbrand's AutoCAD-designed Buffalove mural, and Clement's giant red frame with the word Buffalove stenciled below a heart-shaped cut-out—a one-of-a-kind piece made for the preservation conference—rests against a wall. T-shirts featuring the Buffalove mural design can be purchased from the Pop In's Etsy shop.
A storefront selling basically nothing but Buffalove is a concept ripe for ridicule. The stereotype of the upper-class, fussy hipster transforming poorer neighborhoods into aesthetic oases deaf to social problems reared its head in the comments sections of write-ups previewing the Pop In.
"Someone said, look at these trust-fund babies," Milbrand said, adding that he has student debt and that for months the Pop In lost money. His family has roots on the West Side, and to accusations that what he calls his "passion project" is "gentrification," Milbrand said, "I just think people need to educate themselves about the word gentrification."
"The Pop In is meant to enhance what's here" on Grant Street and the West Side, he said.
The Pop In has found its niche as an event space for community meetings, art installations, pop-up dinner parties, wedding photo shoots, and fitness classes. Milbrand's work with the Pop In has led him to artistic gigs and formal involvement in civic life. As the new president of the Grant Ferry Neighborhood Association, he can take his big ideas from the storefront to the streets.
"This storefront has become my business card," he said. "This is doing more for me than I ever imagined, and I really did move back to Buffalo and create my own job for myself, which I feel like you can't do in a lot of places."
In addition to city lovers and students, sports fans, especially those flung across the country by the economic diaspora that gutted Buffalo, latched onto Buffalove long before brands did. Jeff Malchoff was living in Dallas when Buffalove entered his life. He, his future wife, and their friends, including a witty voiceover artist named Michaela Dietz, frequented a Bills backers bar around 2006. The expat effect cannot be overstated when quantifying the reach of Buffalo pride and explaining the sheer size of the Buffalo swag industry.
Dietz had never been to Buffalo at that point, but she embraced the backers-bar environment, liked the pun Buffalove, and took it a step further.
"She kind of came up with the phrase herself," Malchoff said. "She's really funny, really hysterical, really creative. She'd always say it: Feel the Buffalove."
Dietz grew up in Cooperstown, where football loyalties are split between New York's Jets and Giants. She wasn't that into football, but she became an enthusiastic Buffalo fan.
"Everyone who was [in Dallas] who was from Buffalo was so friendly, so nice," she said. Dietz has paid just one visit to Buffalo, and she used the word "inspiring" to describe her pilgrimage to Ralph Wilson Stadium. She attended a late-season loss to the Giants yet emerged a Bills convert.
"For me, Buffalove is a state of mind. It's exactly what you're feeling when you're freezing cold. It's sleeting. You're in the stadium. You're watching the Bills play, but you don't care. The same goes for the Sabres," she said. "It's this undying love for your city, for your team. It's the pride."
When Malchoff married his wife, Liz, in October 2007, Dietz and a graphic designer friend created a batch of custom T-shirts for everyone who attended the wedding as a surprise gift. On the front of the shirt is the catchphrase "Feel the Buff-a-love" and a red buffalo silhouette; on the back is printed Jeff and Liz's wedding date as well as the now-defunct web address feelthebuffalove.com. Photos from the reception show smiling, elegant guests in formalwear with the cotton crewneck T-shirts pulled over their dresses and ties.
Encouraged by the enthusiasm that met the shirts, Malchoff, Dietz and the designer, Billy Tuttle, registered an LLC in Texas, created additional designs, and starting selling their merch to the public, using MySpace and Facebook pages to promote their collection. The most recognizable design features "Feel the Buffalove" with "Buffalove" repeated five times in a spectrum of colors. Both Dietz and Malchoff independently cited the time in 2009 when Bills quarterback Trent Edwards appeared on SportsCenter wearing a Feel the Buffalove tee as the business's best moment.
Feel the Buffalove was a side business for the trio that was often working remotely with suppliers and vendors in Buffalo. Malchoff and Tuttle now live in Western New York and Dietz is in Los Angeles. Still, they consulted with an attorney, paid taxes, and took steps to set up their business properly, which included filing a trademark registration application with the USPTO.
Dietz's applications to register "Feel the Buffalove" and "Buffalove" were filed on October 23, 2007 and December 26, 2007, and abandoned on September 11, 2008. The applications cost $650 to file, and Dietz decided not to contest trademark encroachment opposition brought by Buffalo David Britton, the clothing company.
"It was going to cost money to hire a lawyer and go through everything, and we were making so little money at the time," she said. Still, Feel the Buffalove decided to forge ahead with their T-shirt sales because the business partners felt the clothing brand's opposition was overreaching and, as Dietz said, "Buffalove is a very distinctive thing. It is very different from Buffalo Jeans."
"No one actually owns [Buffalove], and if anything we've had it in use in commerce and in public, and I didn't feel like I was encroaching on Buffalo Jeans," she said. "So I felt like it was fair game to use that."
Since 2007, four people with Western New York ties have filed applications with the USPTO to register Buffalove or a related phrase as their trademark: Dietz applied to register "Buffalove" and "Feel the Buffalove" on December 26, 2007 and October 23, 2007, respectively; Jim Sheehan of thebuffaloveshirt, Inc., applied to register "theBuffaLoveshirt" on September 4, 2014; Cody Conway applied to register "Buffalove Music Festival" on April 19, 2015; and Patty Watson of BuffaLove Apparel and Patty's People Pictures LLC applied to register "Buffalove" for use with apparel and photography on June 23, 2015 and June 22, 2015 respectively. Three other trademark applications pertain to Buffalo wing restaurant promotions in Ohio, dog treats in Texas, and a retail store in Colorado.
Buffalove has evolved from colloquial expression to ubiquitous slogan appearing on clothes, artwork, and even the entryway mosaic of the Walden Galleria's Lululemon store. Professional sports teams and businesses use the word alongside their own proprietary marketing materials to connect with customers. As this shift has taken place, who, if anyone, owns and controls Buffalove has come into question.
Buffalove is a battlefield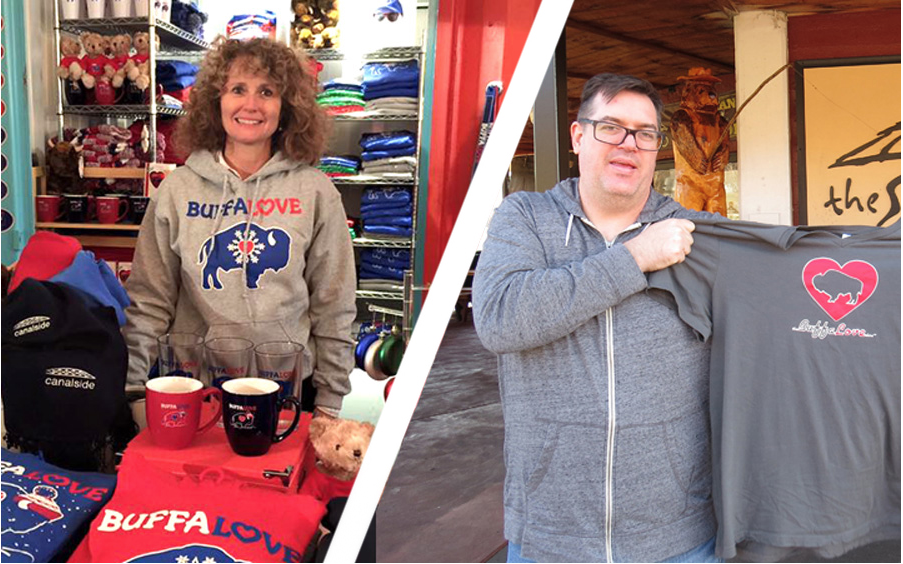 Patty Watson of BuffaLove Apparel and Jim Sheehan of theBuffaLoveshirt.
 
Patty Watson is effusive when she talks about Buffalo, Canalside, community events, and her artistic medium of choice: humans in color-coordinated shirts arranged into shapes and photographed from above. Watson calls her art form "people pictures," and her efforts bring together hundreds whose bodies form logos and patriotic symbols. Her tone turns circumspect, however, when talking about her intellectual property holdings. Like others interviewed for this story, legal argot is a new language for her and she is emphatic that she wants to generate positive news about Buffalo and her brand.
Watson's patriotism shines in her flagship Buffalove design: a blue buffalo's profile featuring a bright red heart and a white horn. A stylized font spells out Buffalove, with a heart standing in for the "o," on the souvenirs she sells at Wegmans, Canalside, and the Buffalo Niagara International Airport.
The terrorist attacks of September 11, 2001, first inspired Watson to create people pictures of national symbols and words like "heroes" and "America." "I was so offended that our country was insulted in such a big way" on 9/11, she said. Her people pictures often bring her into Southtowns school districts near her home, and she emphasizes to students the impact war has on veterans. Watson donates proceeds and extra T-shirts from people-picture events to veterans groups including WNY Heroes and the Bob Woodruff Foundation. 
Watson's striking images have brought her opportunities to create "living logos" for groups including the NFL and Stand Up to Cancer. Two people-picture events have been the result of her collaboration with Canalside. The first, "The Buffalo Lunch Bunch," brought downtown office workers to the grassy lawn at Canalside and formed them into Watson's blue buffalo design on June 13, 2014. The second, "Human Buffalove #2," was a weekend gathering that produced a buffalo striped and starred like the American flag on Flag Day, June 14, 2015.
"I really love Buffalo. I travel a lot, and I always feel like I'm advocating for Buffalo and trying to say the positivities about Buffalo," Watson said. "We get a bad rap sometimes on our weather, and I'm trying to say, look, look, we're a lot more than weather."
Watson said she designed the red, white, and blue buffalo for a possible people picture that would have been shot in conjunction with an episode of Extreme Makeover: Home Edition that was filmed in Buffalo in November 2009. The shoot didn't end up working out, but she "tucked away" the design for future use. As for Buffalove, she can't remember the first time she heard the word. "It had to be at least six months before my project" at Canalside in June 2014, she said.
Watson's definition of Buffalove is printed on the tags affixed to her T-shirts, hoodies and other products: "BuffaLove was created to show our pride and celebrate the revitalization of Buffalo, NY. Help share your Buffalo spirit with those you love."
Watson's business expanded as demand for the T-shirt designed for the first Canalside photo grew. Proceeds from merchandise sales, unlike from events, are not donated, but Watson said civic pride, not profit, motivates her. She said does not know how many Buffalove products she has sold.
"It's not about making money. It's about spreading positivity," she said. "When I'm down at Canalside, I'm having more fun talking. All day long, I talk to people who are visiting from all over about the reason they're here, and they love coming back. It's exciting to hear that these people are proud of the city again."
Watson's Buffalove trademark applications, like those of Dietz and Sheehan, cover what the USPTO calls a "standard character mark," which is one "without claim to any particular font style, size, or color." Registration of a standard character mark provides broader rights than a stylized or design mark.
"Over the years, it's been highly suggested to me, trademark your photos, trademark this, trademark your shirts that you make, and I never did because I just felt like, 'Oh my God, it's complicated. I don't know how, and I don't have the money to spend on it,' " Watson said. "And then this came along, and I feel like this time it was really good, and it's worthy of protecting."
Watson said she wants to protect herself but not to stifle creativity. "I want the positivity to continue, and whether it's the Buffalove festival or Buffalove zoo fest or Buffalove art fest or whatever, that's all positivity. Why would I not want to do that? Why not everyone enjoy?"
If finalized and registered, Watson's federal trademarks will make it easier for her to enforce exclusive commercial use of Buffalove for baby bodysuits, shirts, sweatshirts, T-shirts, mounted and unmounted photographs, photographic prints, posters, and stickers, per the applications. The photography application has cleared the final stage of the application process, which is a 30-day public opposition period that began November 10. About 11 weeks from that date, the USPTO should issue a certificate of registration to Watson. The apparel application is in limbo because of the conflict with theBuffaLoveshirt.
When explaining her trademark, Watson describes the Buffalove designs on her products and their tags as not just decorations but also indicators that her company is the source of Buffalove goods, an important distinction for the USPTO.
"Be careful how you say this, because I don't want to have negative controversy," Watson said. "My brand is Buffalove, so when the shirts are tagged at Wegmans, it's branded as Buffalove. Therefore, someone else can't use the brand Buffalove. They can decorate something with the word Buffalove, but they can't have the brand.
"When you brand something, go through the efforts to trademark it and register it, it's very, very expensive, and it's complicated," she said. "It's hours and hours into building what that logo looks like, and hours and hours to build our reputation for it, such as doing that people picture, such as going on the news and talking about it. There are so many hours that went into the project. I can't even tell you the amount of time."
"So for someone to come along and have a product that looks exactly like mine, I would feel like that's crossing a line because it took me so long to build that, and I don't want someone to just have that," she continued, and theBuffaLoveshirt "crossed the line."
Watson said her problem with theBuffaLoveshirt is that she believes Sheehan "built his off of mine, off of my reputation, of what we did," she said. "He's doing something truly admirable with trying to…" She trailed off. "I probably shouldn't talk about this. Just change the word! Just change something to make it not look like what I already have established. I wouldn't want to do him any harm."
On the trademark application for theBuffaLoveshirt, the first use in commerce date is listed as July 14, 2014, which is around when Stacey Sheehan said she and her husband struck a deal with a Lewiston restaurateur to sponsor the first fundraising campaign. This date is just over a month after the first Buffalove people picture, which is the first use in commerce date Watson's photography application cites. The Sheehans said they had never heard of Watson before a letter from her attorney arrived via email.
Stacey Sheehan rejects claims that her husband's design is a derivative of Watson's. "When we looked at hers, we saw two things in common," she said. "Yeah, your T-shirt has a buffalo and a heart on it. Okay, our T-shirt has a buffalo and a heart on it. They were different fonts, different colors. One was a heart within a buffalo; one was a buffalo within a heart."
The design concept is an accessible one, Sheehan said. "If I need to come up with something that represents Buffalo and a heart, what should it be? Oh, a buffalo and a heart."
Watson said she's been lenient about businesses whose designs are "pretty darn close" to hers. Only Jim Sheehan, who received his trademark certificate weeks before Watson's applications were filed, was a problem.
"I would never say, 'Oh, my God, you used this word.' I wouldn't do that to anybody. There was one guy that crossed the line, and I'm out of it. Let the lawyer handle it," she said. 
Watson insists she's not litigious. "I just don't want you to think that I'm out there and I'm sue happy or anything," Watson said. "I'm not whatsoever. It's just a matter of, I got the trademark to protect my specific logo."
Buffalove don't cost a thing (but lawyers do)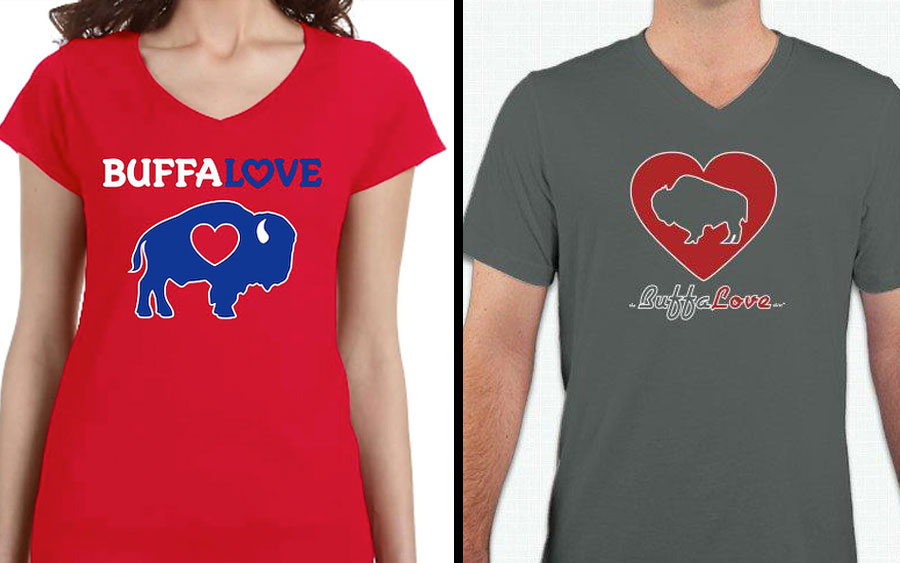 BuffaLove Apparel / theBuffaLoveshirt.
The humble graphic T-shirt presents a surprising number of challenges to both trademark registration applicants and the examining attorneys at the USPTO who determine whether a mark meets all the requirements for nationwide registration and, thus, warrants the ® symbol that only active federal trademark holders can use. USPTO examiners have considered the following factors that could affect the Buffalove applicants who stated they use Buffalove for apparel (Dietz, Sheehan, and Watson): likelihood of consumer confusion, whether the trademark is geographically descriptive and whether the mark as presented on clothing is merely ornamental. Also potentially relevant may be whether Buffalove is a slogan and who has priority; that is, who first used the mark commercially.
Companies selling goods or services can apply to register trademarks, which can be words, phrases, symbols, images, or even sounds, colors, or smells. (The Mac start-up chime and Tiffany blue are examples of such non-conventional trademarks.) The purpose of a trademark, however, isn't to allow companies to scoop up images and words and make them proprietary. A trademark is a consumer protection.
"The legal purpose is really to allow consumers to depend on a particular name so when they see that name they know it's attached to a particular business," Mark Bartholomew, a SUNY Buffalo Law School professor who specializes in intellectual property, said.
Holding a trademark confers advantages including the legal presumption that the holder is the owner of the mark and has exclusive right to certain commercial uses. Registered marks are listed in a publicly accessible federal database, which discourages others from using the mark. Application fees start at $225 per trademark per usage class and include no refund or guarantee of registration. However, trademark rights are derived from use in commerce and not registration. Common law trademark exists for goods and services providers who are actively using a mark in commerce and meeting certain requirements.
"You don't have to actually get federal trademark registration to be able to sue someone for using a mark that's abusive to your own," Bartholomew explained. "So, if I start a business and I satisfied the requirements for something to be trademarkable, I don't have to get that federal trademark registration."
A trademark identifies and distinguishes a good's source, and it must not be just a decoration. Prominent ornamentation is built into the very nature of a graphic T-shirt. In order for an applicant to register words or an image on a T-shirt or other clothing item as a trademark, he must demonstrate that the consumer uses it to determine the product's origin. The USPTO suggests that tags, labels, packaging, sales display photos or web pages showing the trademark in a commercial context may prove that a mark is not merely ornamental.
About three months after thebuffaloveshirt, Inc., applied to register "theBuffaLoveshirt," the USPTO sent an initial refusal to Jim Sheehan requesting clarification on which "accessories" the trademark would cover and additional documentation showing theBuffaLoveshirt functioning as a trademark and not just as a decorative feature of a shirt. Such correspondence is not uncommon, even for attorney-prepared applications. Sheehan, who prepared his own application, fulfilled the examiner's requests and was eventually issued a trademark registration certificate on June 2, 2015.
Watson's attorney-prepared applications show order forms and tags for her Buffalove merchandise, and thus preempt a refusal on the grounds that the applied-for mark is merely a decoration.
Not all marks can be registered with the federal government. For example, the USPTO bars registration of any obscene or scandalous trademark. Fuck Cancer, the organization the theBuffaLoveshirt emulates, was denied trademark registration on these grounds. In addition, not all trademarks have the same strength or distinctiveness, and as a result may not qualify for federal registration.
Marks range in strength from generic to descriptive to suggestive to fanciful or arbitrary; the stronger a mark, the easier it is to register and maintain. Consider coffee brands. "Coffee" is simply generic. "New England Coffee," an active trademark, is descriptive. Because the mark uses a geographic term, the registrant had to overcome an initial refusal by showing that through "substantially exclusive and continuous use" New England Coffee had acquired secondary meaning. That is, a consumer would not think New England Coffee is just coffee from a region of the country, but instead coffee from a specific company. A suggestive mark for a coffee company might be "Second Cup." "Starbucks," a literary character's name adapted for a coffee company, is a strong, fanciful trademark. "Microsoft," a made-up term, and "Apple," a completely arbitrary word to describe an electronics company, are widely considered among the world's strongest trademarks.
To the file for theBuffaLoveshirt's application, its assigned examiner added a note that she had searched Google, theBuffaLoveshirt's twitter account and thebuffaloveshirt.com for geographic significance. Geographic significance may make a mark descriptive.  However, no refusal on the basis of geographic descriptiveness has been made to any Buffalove trademark application.
Still, Buffalove's use suggests at least a vernacular geographic significance. Spoken and written instances of Buffalove as a place name have occurred for years, and even Snapchat uses Buffalove (along with informal place names like The 716 and Elmwood Village) as a geofilter. Bloggers, businesses and Instagrammers use #Buffalove interchangeably with #Buffalo to connect with potential audiences. If Buffalove becomes a registered trademark, non-commercial use would likely continue uninterrupted, but the prevalent geographic use of Buffalove as a nickname for Buffalo may indicate it is a weak trademark and rights could be challenging to enforce.
"In general, courts and the Patent and Trademark Office will be more skeptical of marks that involve geographic areas, states, regions of states or cities, for good reason, right?" Bartholomew said. "You can imagine how we don't want one person locking up a term that refers to geography. We want all sorts of business to be able to use it because we see how it could be valuable to the business."
Buffalove is probably descriptive, Bartholomew said, adding with law professor circumspection, that "someone else might argue differently." For descriptive marks, "You not only have to be first, you also have to be first to have the consuming public identify that as coming from your business."
An additional concern for Buffalove trademark applicants may be that the term functions as a slogan in western New York. A wide swath of the population uses Buffalove to tap into optimism about the rust belt city's civic assets and future. In addition to civic boosters, sports fans and the social media community in Buffalo, the term has been formally embraced by Visit Buffalo Niagara, the regional tourism board, for multiple campaigns including this year's "Summer of Buffalove" contest.
Several cases demonstrate the approaches the USPTO takes to slogans. Simple phrases like "Just Do It." (Nike) and "I'm Lovin' It" (McDonald's) have been successfully registered as trademarks. Slogans that popularly emerge following major events, such as "Black Lives Matter" or "Boston Strong" have been denied trademark protection. The USPTO has issued many refusals on the grounds that a mark "merely conveys an informational social, political, religious, or similar kind of message" and does not "function as a trademark to indicate the source of applicant's goods and to identify and distinguish them from others."
An oft-repeated explanation in the refusals the USPTO sends out sums up how ubiquity affects trademarkability: "The more commonly a term or slogan is used in everyday speech, the less likely the public will use it to identify only one source and the less likely the term or slogan will be recognized by purchasers as a trademark or service mark."
"The problem with the slogan," Bartholomew said, "is when it's out there in the ether and everyone is using it, it's hard for you to identify it as coming from you."
Pegula Sports & Entertainment owns the trademark and servicemark for "One Buffalo," a phrase the Pegula family introduced in 2014. Because the slogan originated with the Bills and Sabres owners, consumers are likely to identify goods and services bearing the mark as originating from PSE.
When someone applies to register a trademark with the USPTO, the applicant must specify the contexts in which the mark is used. A trademark holder will not have exclusive right to use a word in all contexts. Bartholomew points to Delta Air Lines and Delta Faucet as trademarks that harmoniously coexist because there is little risk a consumer will confuse the providers of travel services and faucets.
The USPTO did not find any problems with Watson's Buffalove photography trademark application. On the other hand, it was due to likelihood of confusion that her application to register Buffalove as a trademark for selling apparel was refused on September 29, 2015. At that time, theBuffaLoveshirt was an active trademark. Watson's attorney, Steven Fox, suspended the application on September 29, pending the outcome of the cancellation proceeding he had already initiated against thebuffaloveshirt, Inc., at the Trademark Trial and Appeal Board on August 24, 2015.
The USPTO does not do a side-by-comparison to determine whether a consumer is likely to be confused by competing trademarks, but rather depends on expectations about an ordinary consumer's impressions. That designs on theBuffaLoveshirt's and BuffaLove Apparel's products are not identical did not affect the examiner who determined, "the parties' marks are similar in appearance, sound, connotation, and overall common commercial impression in that they each contain the wording BUFFALOVE. Furthermore, since both marks are being used on and/or in connection with 'shirts', purchasers could reasonably believe that the parties' goods and services come from the same common source."
Buffalove business is booming. In Erie County, business certificates have been filed for Buffalove and Buffalovely. At the state level, Buffalove Deli LLC, Buffalove Development LLC, Buffalove Holdings LLC, Buffalovebirds LLC, Buffalovebox LLC, and thebuffaloveshirt Inc. are registered with the Department of State. (Patty's People Pictures LLC is Watson's legal organization.) Delis, T-shirts and real estate development companies are vastly different industries, but that does not mean confusion hasn't already occurred for business owners. Radle said her Buffalove Development mail has been misdirected to the Pop In, and that potential customers have contacted her seeking out Watson's T-shirts.
Both for laymen and legal professionals, trademark issues are complex. Business owners interviewed for this story demonstrated a range of comfort and competence discussing their intellectual property assets and rights. Copyright and trademark are occasionally confused in everyday speech and, in fact, there is some gray area. A trademark, which distinguishes the source of a good, is different from copyright, which covers creative works, though companies or individuals may find it appropriate to register both trademarks and copyrights to protect their intellectual property.
"Copyright springs into being as long as you do something original and it's fixed in a tangible means of expression," Bartholomew said. "Write it down, and it's original, it's copyrightable."
In trademark disputes, the party that is legally in the right is often left undetermined. Many small businesses abandon their applications or acquiesce to the demands of a cease-and-desist letter. 
"A lot goes on in the shadow of the law," Bartholomew said. "Hiring trademark lawyers is expensive, especially for small businesses. There's a pretty robust set of doctrines that protect speech and alternative uses and protect slogans that are built up from within communities instead of by a particular business, but a lot of times those doctrines are not invoked because it's expensive or getting a cease-and-desist letter from a big company is scary."
After the Sheehans received the letter from Watson's attorney, Stacey Sheehan said, they sat down and cried. "We sat here for some time, angry, upset, sad, because I'm pretty sure this goes against everything that has anything to do with being the City of Good Neighbors," she said.
The Sheehans consulted with an attorney and decided that there was no value in fighting Watson. They stopped using theBuffaLoveshirt, but would not agree to pay the requested $8,500 in damages to Watson.
The Sheehans did not contest Watson's petition for cancellation. The petition alleges that because of mistakes and misrepresentations in theBuffaLoveshirt trademark application; the merely ornamental use of theBuffaLoveshirt by thebuffaloshirt, Inc.; the mutilation of the mark by printing "the" and "shirt" in smaller font than "BuffaLove;" and Watson's earlier use of "Buffalove," the registration should be cancelled. With no opposition from the Sheehans, on December 4, 2015, the USPTO commissioner officially cancelled the trademark for theBuffaLoveshirt. This clears the way for Watson's apparel application to proceed toward re-examination, publication, the public opposition period and official registration.
"We did nothing wrong, but we don't want to live under this veil of threats," Sheehan said. "We're not a huge corporation. We're two people with a four-year-old son who just wanted to help our neighbors, so we couldn't get into a legal battle over this."
Because people have used Buffalove in commerce before even Watson in 2014, Sheehan said she ultimately felt it was wise to abandon theBuffaLoveshirt.
"Even if we fought this in court and paid all of the money it would cost to do this and won it, it would be completely irrelevant," Sheehan said. "Because all it would take is the person who attempted to use the word Buffalove or use a T-shirt design Buffalove before Patty, and we knew there were many of those people out there."
The earliest Buffalove trademark applicant, Dietz, abandoned her applications for "Buffalove" and "Feel the Buffalove" even though she and her business partners continued to use them in commerce. She described feeling dissatisfied with the trademarking process.
"I think it's actually bullshit," she said. "It's not transparent at all. It's actually pretty tricky to file it, to know how and what category to put it under. Is it just a logo? Is it just a phrase? Is there an image with the phrase?"
Buffalo David Britton's claims of encroachment angered Dietz, and if given a mulligan, she would do things differently. "Would I shell out some extra dough and consult an actual attorney to do this? Yeah, I definitely would," she said. 
Feel the Buffalove wound down operations in the last couple years as the business partners pursued other things. Malchoff said there's no plans to revive the brand, but to "never say never."
"It was a fun, entrepreneurial experience for us to dabble in a little bit," he said. "We had a lot of fun, we learned a lot. We just worked together quite a bit and learned about the industry."
Malchoff said he has "no objection to people using Buffalove. It's not trademarked. It's a great phrase, and I'm excited about it." So long as Feel the Buffalove's licensed designs aren't being sold, "It's all good."
In many cases, the legality of a trademark's registration and enforcement is beyond the point in the court of popular opinion. A trademark dispute surrounding the slogan "Keep Austin Weird" made national headlines after the man who claims to have coined the phrase unsuccessfully opposed the company that trademarked it. An emotional episode of Kitchen Nightmares chronicled the animosity directed toward Café Hon, a Baltimore restaurant, and its owner who inflamed emotions after trademarking the local term of endearment "hon." The episode ends awash in goodwill when the restaurateur agrees to give up her trademark.
"People rally around communities sometimes when they see overzealous trademark protection," Bartholomew said. "There's a term, trademark bullies, people trying to bully other people and not allow them to use certain speech. There can be a backlash."
What's Buffalove got to do with it?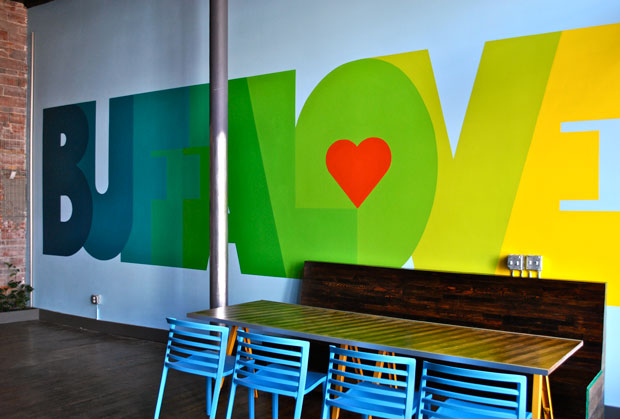 Casey Milbrand's "Buffalove" mural at the Pop In on Grant Street. Photo courtesy of The Pop In.
The chests of Buffalonians were the billboards upon which Buffalove was widely advertised, and so it's unsurprising that a graphic T-shirt would be a point of contention in the Buffalo booster business.
Extant webpages show Buffalove T-shirt designs dating back to the very beginning of 2007 for sale on CafePress, the online shop that churns out shirts, cups, totes and other accessories featuring user-generated graphics with relatively little financial commitment or risk. 
The Pop In's Milbrand started selling Buffalove T-shirts in June 2015 to offset the costs associated with opening the storefront. He said he understands that artists must protect their creations, but he urges caution for Watson.
"If she's trying to trademark her logo, go for it," he said. "But don't take over the word because that's going to be really hard to maintain, and it's a waste of energy. Buffalo is the City of Good Neighbors, and Buffalove is going to be used by many people in many ways."
Clement, Milbrand's partner at the Pop In, echoed that sentiment. "No one should ever own it, and there should never be one standardized expression of it," he said. "Buffalove belongs to Buffalo. It belongs to anyone who believes in it and even those who unexpectedly fall in love with it. And if that ever stops being the case, it will lose all of its value and all of its meaning."