Visual Arts
by
/ Jan. 13, 2015 11pm EST
Growing up in Toronto, John Massier remembers his impression of Buffalo being oddly formed by our three TV networks, legendary TV anchor Irv Weinstein, and long-gone local shows like Rocketship 7. "When I was a kid, your impression was that some part of Buffalo was constantly on fire. There's always a fire in Cheektowaga or somewhere and I realized over time that was because there are a lot of wooden houses here, more than Toronto. You get this strange sense of the place when you are close to it, but far away." 
Over the course of his 15-year tenure as visual arts curator at Hallwalls, John has overseen a tremendous amount of programming, spanning regional, national, and international artists. Due to their close proximity, it's easy to let appreciation of our major assets slip. Examples abound: Niagara Falls, the Albright-Knox Gallery, the Darwin Martin House, and our Art Deco masterpiece, City Hall. Hallwalls is unquestionably on this list. It was founded in 1974 by present-day luminaries—among them Cindy Sherman, Charlie Clough, and Robert Longo—while art students at Buff State. Hallwalls today enjoys a national and international reputation as a presenter of avant-garde visual art, music, performance artists, film screenings, and literary events. Few cities anywhere can boast of having a place as cutting-edge. After the iconic Kitchen in New York, Hallwalls is perhaps next in the chronology of like-minded art centers that strive to discover emerging talent and give them a space to present, create, or perform rather than build permanent collections. Numerous major artists had an early career boost at Hallwalls. That fact does not escape the current generation of artists who recognize the importance of being asked to participate there and waste no time is saying yes.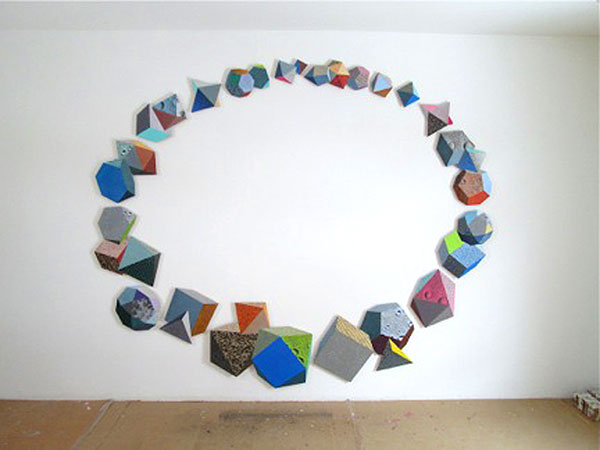 Peter Stephens — Elements, 2014 — Inkjet transfer, acrylic, oil on wood, dimensions
Massier has been effective in guiding Hallwalls' trajectory over the last decade and a half. Early on, he calmly took the reins of the chaotic Artists & Models Affair in all its logistical complexity and launched the crazy, haphazard art event to new heights. He demonstrated astute networking with his co-founding of the popular Science & Art Cabaret series with UB and the Buffalo Museum of Science. He's been instrumental in fostering other popular events on the Buffalo arts calendar such as the live drawing rally and auction, a quirky one-night fundraiser—(John prefers to call it a "rent party"—that takes place in mid-winter and mid-summer. It brings dozens of local artists together, each creating a new work in under an hour as a gallery full of eager yet discerning bidders looks on. The next incarnation, A Midwinter's Draw, takes place on Wednesday, February 25. 
Massier has brought many visiting artists to Hallwalls and marked their reactions to Buffalo. "It's far better [than its reputation]" Massier says, "and people see it immediately when they're here. I think they see it in the community of artists and at their openings. They're often really impressed and gratified at how many people show up. The artist is coming here from afar and I was often their lone contact. Then at their opening, everybody talks to them, asks them about their work, engages them. Some of these artists come from bigger cities where they don't get that as frequently because there's a little bit more of a reserve and there's something about a generosity of spirit that exists here that people recognize and feel very quickly."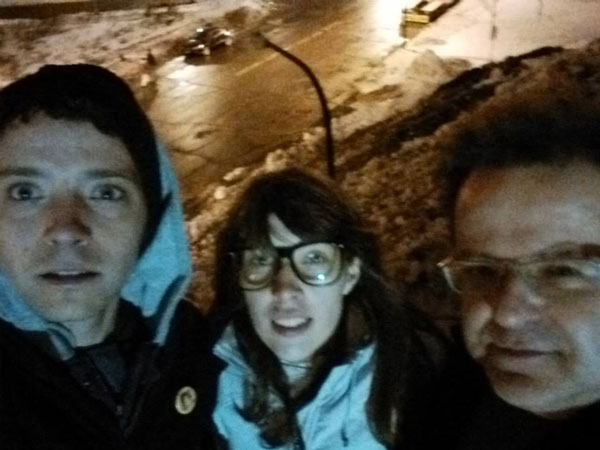 Co-curators Kyle Butler, Rebecca Wing, & John Massier.
Massier has primarily focused on solo exhibitions for artists. "I think those are the most important opportunities for the artists themselves and the best opportunity for the audience to get into their work," he says. But in 2015 Hallwalls will depart from the solo show approach. This Friday evening, January 16 at 8pm, Amid/In WNY Part One, a group exhibition featuring 13 regional artists, opens at Hallwalls. This is the first of a five-part series to be presented that Massier is co-curating with his keen-eyed assistant Rebecca Wing and rising artist Kyle Butler. The name is a riff on Beyond/In WNY, the major biennial that has been held a trio of times in recent years.
"It's not a critique of it," Massier says. "It's not meant to be any expansion of it. But conceptually, Amid is sort of the antithesis of Beyond. Right? beyond, amid. I just wanted to do something that was fast, loose, low-fi, and sort of spontaneous. I didn't want to resort to calls for submissions. I didn't want to over think it. I didn't want to give us too much time. I wanted us to go to studios and see what people are making now and decide what we want to show. We consulted with each other to cobble together a list of artists whose work we were interested in investigating at this time. Between November 11 and December 9, 2014, 45 separate studio trolling visits were undertaken for the first part of the project. Artists and their work was discussed before, during, between, and after our visits. Amid/In WNY will be—with the exception of the summer members' exhibition, its own kind of casual survey—the only 2015 project in Hallwalls' gallery schedule. Four additional exhibitions will premiere in March, May, September, and November 2015. We have no idea what these remaining exhibitions will contain. They will be similarly culled from an ongoing process of studio trolling, conversation and lunch." 
I asked John for some examples of interesting surprises or discoveries in the course of their studio visits.
"You're always surprised because you never know what someone is going to show you when you walk into their personal space," he replied. "We went to visit Marie-Claire Bozant because we knew her drawings, and here's this pile of sweaters on a piece of furniture with one pair of shoes underneath. That's just in her bedroom. She isn't thinking like, 'Oh, that's a work of art.' We walk out of the studio visit and we're going, 'Yeah, that sweater pile!' Because it reflected very closely the work that she does. We told her we want that pile of sweaters, the shoes, and that piece of furniture.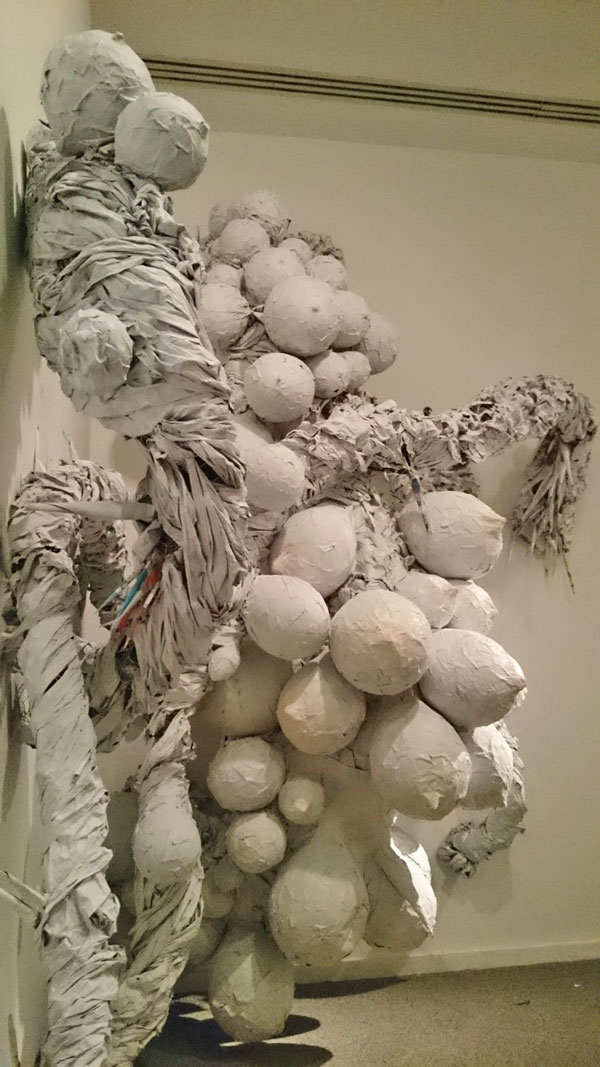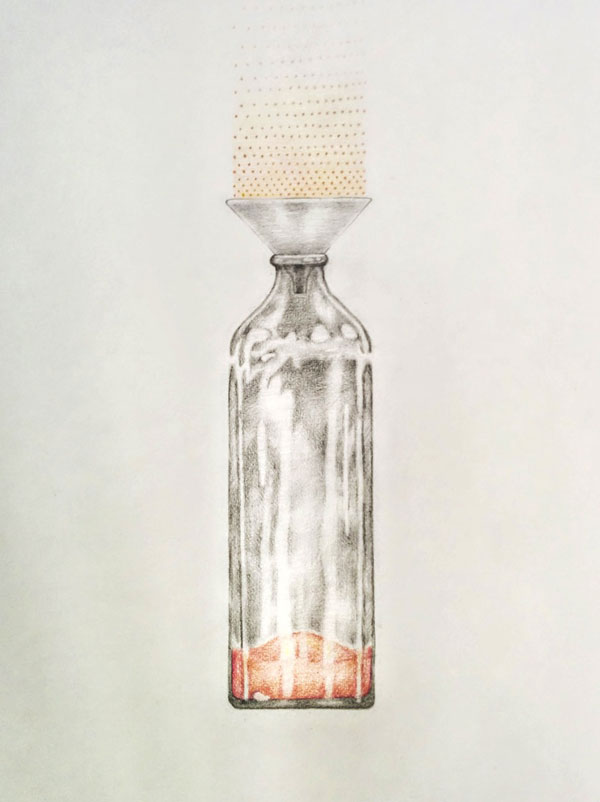 (Left) Tommy Nguyen — Come Get Your Fill and Be Stronger, (Right) Kyle Butler — Studio Dust (a year's worth)
"The very first visit we had was with Marc Tomko. Marc is a very compulsive artist that works on accumulated images and objects and ideas. Compulsive is not an unfair word to describe his practice because it is kind of an aggregate of things. At one point we're like, 'Oh, what's this bottle over here?' He had this oversized bottle in the other room and it had this dust in it and Marc said, 'Oh, I sweep up the studio floor and I funnel the dust into the bottle.' We walked out of that studio visit and we said, 'That bottle, we have to have that bottle,' because on the one hand it perfectly and concisely exemplified his practice. It was beautiful. It had sparkly bits in it and was a poetic metaphor for our ongoing experience as we continued on after that very first studio visit. We kept calling it his bottle of pixie dust. A couple weeks later we were doing other studio visits and we were still talking about that bottle here and there and Rebecca reminded us that I had described Marc's bottle as being a symbol of our process because it's like we're sweeping up the floor, doing all these studio visits and sweeping up ideas and putting them in a funnel and then we're getting this little pile of pixie dust at the end and that's sort of what the process was for us. So the bottle became like our symbol, our mascot in a weird way, an icon for the process.
"When it came to the point to make our poster and invite, I told my co-curator, Kyle Butler, he should redraw Marc's bottle, do a drawing of that bottle just from memory because it had been a month since we saw it. So he said, 'Yeah, I can do that.' Well, it didn't look exactly like that. That's now Kyle's hazy beautiful dream of the memory of that thing that we saw. His drawing was much nicer than what I expected. I just thought it would be a simple line drawing, but it's a really beautiful painting."
Rebecca Wing meticulously hand lettered the informational text on the poster, turning it into a collaborative work that all three curators see as symbolizing their journey so far.
"We went to visit Kurt Von Voetsch and afterwards," Massier continues. "We were talking about this one particular drawing which is going to be in the show. And in regards to that drawing, Kyle remarked, 'Kurt said he was trying to draw the soul.' I mean who says that? What kind of an artist in his studio says, 'I don't know, I wonder what it would be like to draw the soul?' Sometimes it's that crazy kind of thing.
"We wanted to include a sound artist out in Rochester, Martin Freeman, because he's really someone that operates more in the live music scene, but the way that he builds his equipment and the elements he uses in it, it's a completely artistic practice. He was very excited about being included in the gallery scenario and is doing a new sculptural work for it. We haven't seen it yet, but the audio is activated when the viewer puts a certain element in their mouth. Apparently it's localized around themselves and nobody else can hear it."
I asked John if they found themselves choosing work based on how it would exhibit with other work or if they avoided that approach in favor of selecting each work on its own merits.
"Well, it's both because all the work that we've included, you have to love it in and of itself, right? You have to and we do. At the same time, from the beginning we knew we were doing a group show so we're also semi-consciously or even consciously developing relationship dynamics in our selections. We'll see something and go, 'That would work good with this other piece we saw and if we're loving them both then why not have them both.' It's up to the audience to see if they agree." 
An artistic pile of sweaters? A big bottle of pixie dust? putting 'sounds' in your mouth? A drawing of the soul? Amid/In WNY Part One looms iconoclastically before us.