Visual Arts
At the Burchfield Penney: Here
by
/ Jan. 10, 2017 10pm EST
The big exhibit at the Burchfield Penney is called Here, and introductory wall copy talks about "the culture of the New Buffalo." Sounds like it's going to be about the current touted—in general, but especially by the politicians and developers—Buffalo renaissance. But no. About something more real and interesting. The ferment the current culture and renaissance grew out of. About people more than construction development. 
Some paintings, a few sculptures, but mostly photos, from news photos to art photos to the kind of snapshots a generation later nobody knows who is in the picture unless somebody took the trouble—which wasn't necessary at the time, everybody knew—to write the name or names on the back. A segment of the exhibit consists of a few boxes of such snapshots or school picture-day photos—without names on the back—and visitors are asked to comment on the photos, on the person or persons depicted. Some funny comments: "I wish I could give the guy on the right my number…he's a total hunk." Some serious: "This photo—like all the rest in the box—suggests that people of color do not live in Western New York." 
True enough about the photos in the boxes. Overwhelmingly—the day I visited—of white subjects. But untrue of the rest of the exhibit, which attempts to indicate—or at least not ignore—the contributions of people of color to the ferment.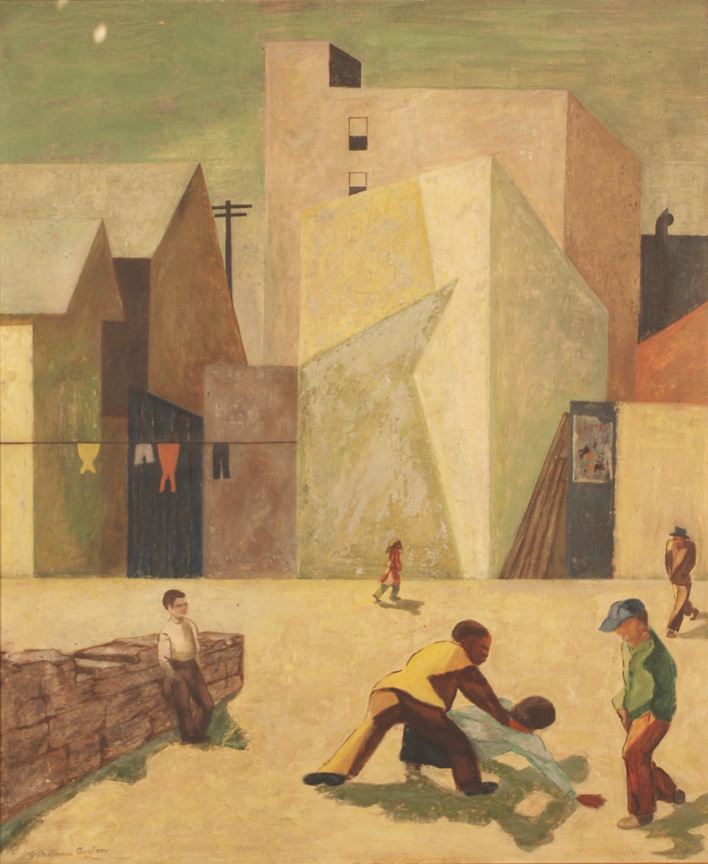 Wilhelmina Godfrey (1914-1994), City Playground, 1949-50.
Right next to the pictures for comment, some photos by Milton Rogovin. A little black girl from his "East Side" series. A family in old country garb from his "Yemeni" series. Four photos of two black men—old buddies—in various informal settings and poses. And a sequence about a possibly Puerto Rican family over the years, the decades. Members come and go. 
Plus several long bench vitrines of pictures—albeit without captions—from the black community Challenger newspaper. 
The lion's share of the captioned and attributed photos are by a handful of professional photographers. Former Courier-Express photographers Mickey Osterreicher and Paul Pasquarello. Freelance photographer Brendan Bannon. And David Moog.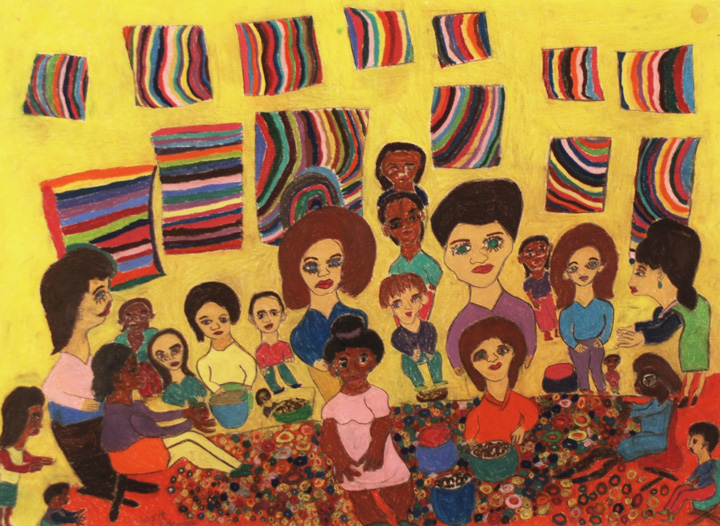 Bridgette Robinson (b. 1963), Cookie Table at the Art Show, c. 1985.
Some Mickey Osterreicher fire scene photos and sports photos from happier sports times. The Braves' elegant, efficient scorer Bob McAdoo and the Pistons' stalwart Bob Lanier in a tangle on the Aud floor, the referee leaping high to avoid getting tangled with them, and simultaneously calling a jump ball. The Sabres' Gil Perrault on the ice against the Canadiens. A posed photo of OJ Simpson and son Jordan, then about six or seven. OJ holding the ball as if for a place kick by Jordan, lining up to drill it through the uprights. 
Brendan Bannon's tower perspective urban high school athletic field panorama entitled Refugee Soccer Team at International Prep / Grover Cleveland High School; one of his lakeshore arctic tundra photos; and some darkness and shadows portraits of age and experience, from odd perspectives, and radically cropped. 
Paul Pasquarello's magnificent portrait of an unnamed Native American unconcernedly approaching the end of the trail, chomping his cigar, called simply Tuscarora. The equivalent of one of anthropologist photographer Edward S. Curtis' iconic historical photos of American Indians.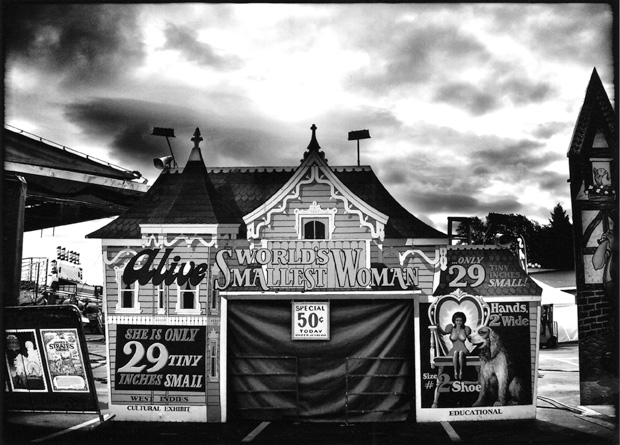 Jeffrey T. Barnes, Untitled, 2013
About 50 photos here and there around the gallery from David Moog's Artists Seen documentary project at the Burchfield Penney. Including David Schulz looking maleficent. Nancy Parisi looking noir seditious. Shirley Sarmiento perseverant, with great dignity. 
Some other notable photos along the way. Patricia Laymon Bazelon's grain elevators and railroad track along Ganson Street. Fred Scruton's mutual support sense red brick Segunda Iglesia Evangelica Pentecostal "Sion" and contiguous Sam's Happy Hour gin mill in baby blue. Mark Bizub's photo of the Darwin Martin House before the lengthy restoration project as incipient ruins. 
The Challenger photos depict various community events and celebrations, and numerous great and famous figures, presumably on visits to Buffalo. Eddie Murphy and Rick James, Jessie Jackson, Martin Luther King. And an urban blank wall with crude graffiti letters spelling out "White Power" and "Rise." 
The exhibit pièce de résistance is Mickey Osterreicher's photo of Bobby Jackson, the black young man who on October 22, 1976, either leapt or fell—or maybe was pushed—from the observation deck of City Hall, and mid-fall was impaled on the building main flagpole, where he remained for hours while firemen worked to cut and lower the pole in order to remove his corpse. The photo shows corpse and blood-stained shambles of American flag before the pole could be cut and lowered. This photo was never published, in the Courier or anywhere else. 
Adjacent wall copy notes that "to this day, Jackson's family still attempts to understand what led to his death. Some people assert that it was not a suicide but an accident or an act of foul play. At this point we will never know the truth." (From what I have heard and read of the matter over the years, I think he was pushed.)
"Here" continues through February 26.
 Here! 
 Burchfield Penney Art Center /  1300 Elmwood Ave, Buffalo / 878-6011