Local
Health Clinic Added to Refugee Services Campus on West Side
by
/ Jan. 6, 2016 1pm EST
Catholic Charities of Buffalo unveiled a new health care clinic on the West Side Wednesday morning that further builds on their campus of refugee and immigrant services at the intersection of Herkimer and Albany Streets. 
Though not slated to open officially for several weeks, Catholic Charities chose the venue to backdrop the launch of their 2016 Appeal, with a fundraising goal $100,000 above last year's at $11 million. "I wish I could report the need for our services has diminished, but unfortunately that's not the case," Monsignor David S. Slubecky read from a statement, going on to say that in 2015 Catholic Charities provided assistance to "nearly 132,000 individuals." 
Part of the Appeal's mission is in places like Nativity campus, where the former school, rectory, and now the church have been the subjects of adaptive re-use to help newly settled populations—the vast majority of which are non-Catholic—acclimate to life in America. Diocesan director Sister Mary McCarrick pointed out that 90 percent of the refugee and immigrant population they serve reside on the West Side. McCarrick also pointed out that after 12 months, 95 percent of newly settled folks have found work by utilizing English language classes, case management, and employment counseling that will now by joined by health and dental services on site.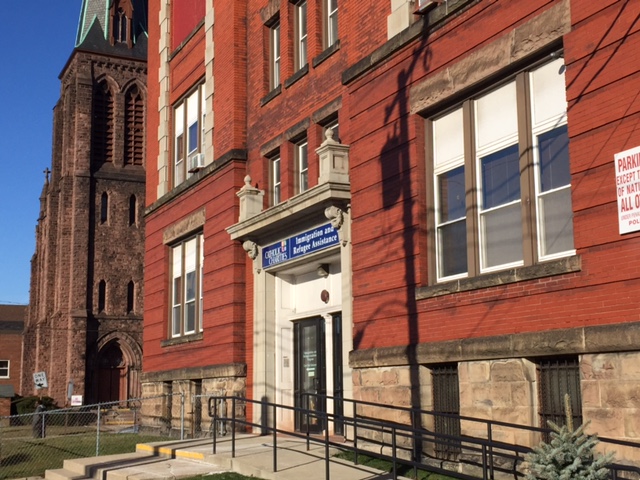 The school in foreground, used primarily for English language instruction in partnership with Buffalo Public Schools, and the church in the background where the health clinic will be located. 
"The completion of the health care center is the realization of a dream, and the final piece in the development of a comprehensive, one-stop service center for refugees settling in Buffalo," CEO Dennis Walczyk wrote in a prepared statement. 
Resettlement director Ann H. Brittain has been working with this population since 1984, and said that her agency has been placing individuals and families on the West Side since before she was hired in 1984. The ability to add the clinic to their menu is particularly meaningful after her 30 years: "This is the village, this is the home," she said. 
Just the day before the news conference in Nativity Church, news anchor Katie Couric was a few short blocks away at the West Side Bazaar, a small business incubator for the international community. "I have to say it was a very moving experience for me to see so much multiculturalism in Buffalo, and to see that so many refugees and immigrants have been embraced and are finding a lot of solidarity and comfort and are able to share their cultures with longtime Buffalo residents, and how it is really transforming the West Side in a way that is extremely positive," she told the Buffalo News. "I think at a time when there is so much negativity about immigrants and about refugees, Buffalo should really be proud of the way they have welcomed and embraced immigrant communities, as far as I can tell," Couric added.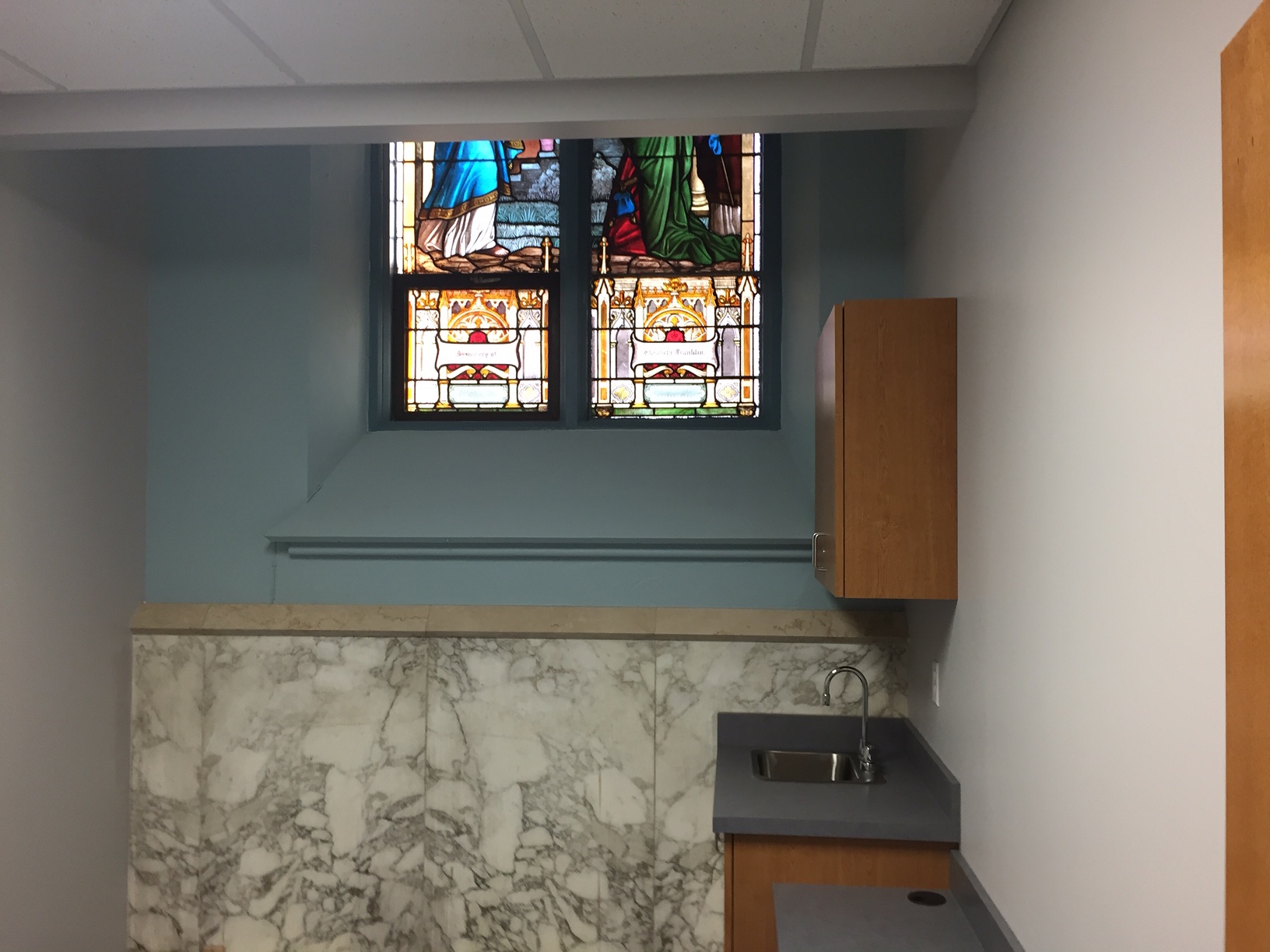 An exam room
Yet a key theme of the Wednesday's unveiling was about the needs of the community and how Buffalo's recent economic growth has not been equitable. "We're not seeing the resurgence reaching down into the lower levels of society," Sister Mary said, citing Buffalo's chilling statistics: over 30 percent in poverty, well over 50 percent of children also in poverty. "There's always so many more needs than they are people to serve them," she said.
From the beginning, Catholic Charities officials say they were in conversation with the neighborhood's other health clinic that specializes in servicing newly settled and mutli-lingual community: Jericho Road on Barton Street. "They were were thrilled to have us," Brittain said, citing the huge demand in what she said the federal government has recognized as a "medically underserved area." 
Though Sister Mary takes heart in efforts taken to combat gentrification and stabilize neighborhoods in the Fruit Belt and West Side and crediting the housing and employment agency PUSH, she sees a larger need with fewer ways to make ends meet. In the last five years, the diocese, which covers all eight counties of Western New York, has lost 100,000 registered members, 30,000 of them to deaths.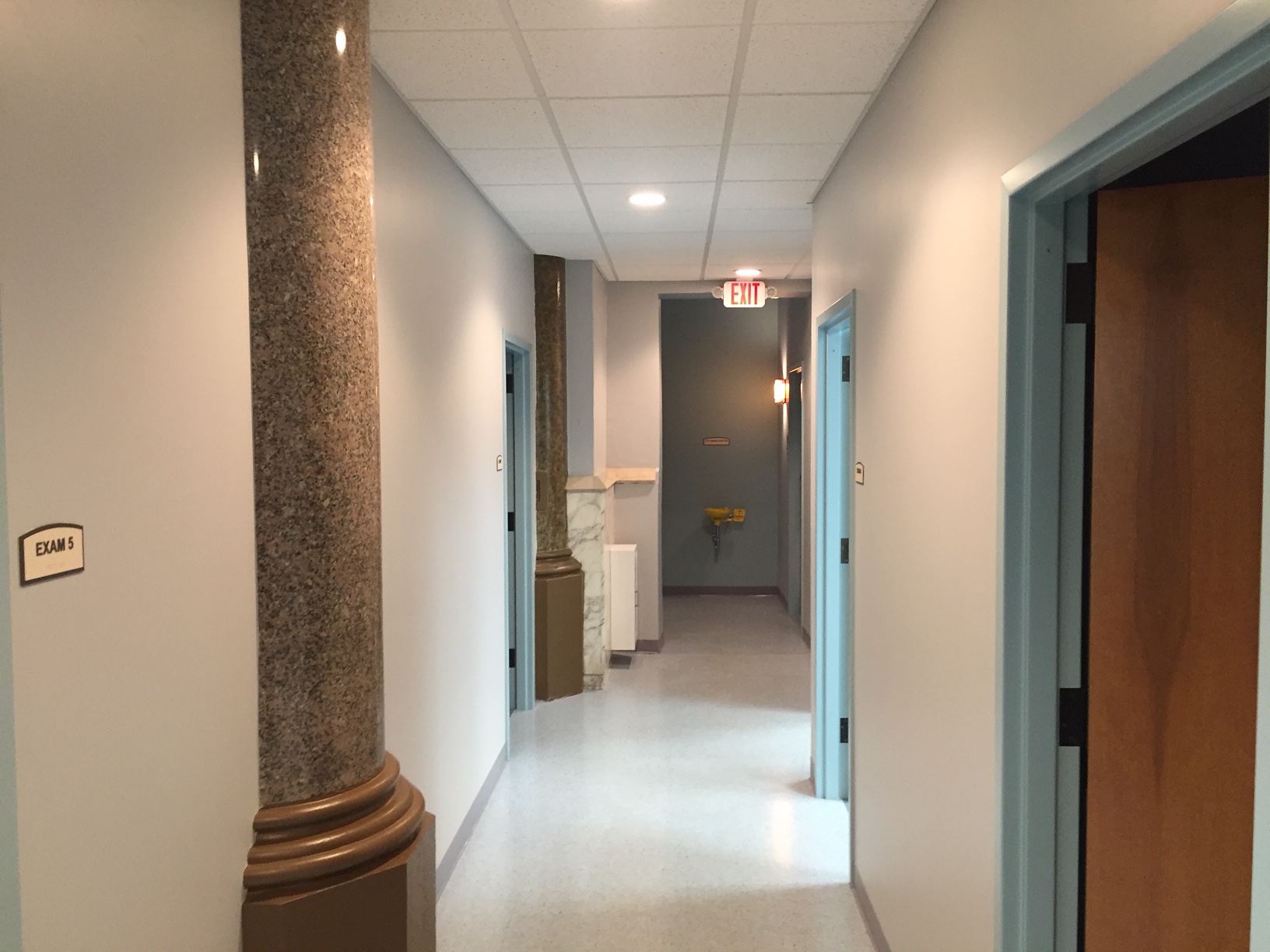 The floor plan of the church has been divided into wings with one holding exam rooms for dental and medical patients, while the other has space for case management and employment counseling. Both wings are joined by a large community room which is connected to the adjacent rectory that hosts administrative offices for the campus. 
Although the clinic will specialize in serving the international community, officials stressed it will be open to the community at large as well. 
While most of the building has been reused, there remains one key element that needs a future. The organ is still intact and operational…