Local
Looking Backward: Franklin & Tupper, 1948
by
/ Jan. 5, 2016 11pm EST
Franklin Street, at the intersection of West Tupper Street, was part of a dense residential neighborhood on the cusp of downtown. In this photograph taken in 1948, signs are visible for Laughlin's, the Franklin Pharmacy, the Radio Doctor, and Peter O'Neill's—Iroquois beer and ale advertised in the window. The Bachelor, a four-story apartment building designed by Green & Wicks and built in 1886, occupies the southeast corner, pictured on the left. The Bachelor, rented only to gentlemen bachelors, was originally advertised with the motto, "When a man's single he lives at his ease." The building contained 12 apartments, a ground-floor shop, and a resident janitor who cooked breakfast for the men. The main hall, lighted by a skylight, is the center of the building and still occupied by an original wood staircase, swinging doors for a long-gone freight elevator intact.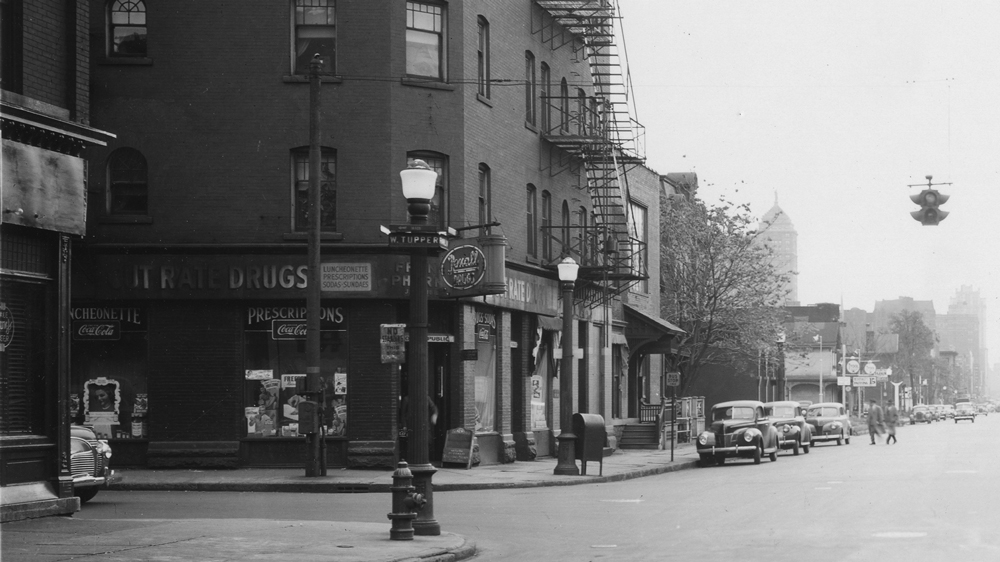 Today, the Bachelor is one of few buildings that exists from this 1948 photograph. It is a historic gem, exactly the kind of building that downtown needs to continue its revitalization—but is now threatened. Ellicott Development has submitted plans to the City of Buffalo to raze the Bachelor for a parking ramp and rooftop hotel. The Preservation Board takes up the demolition request this Thursday.
---
Image courtesy of The Buffalo History Museum. Used by permission.