Local
by
/ Jan. 3, 2018 2pm EST
On December 29, former Delaware District Councilman Michael J. LoCurto died at age 46. He'd been battling illness his entire life.
I first met Mike when I began regularly covering Buffalo's Common Council in 2006, the year he was appointed to fill the Delaware District seat vacated by Marc Coppola. Mike seldom spoke from the floor of Council Chambers, but when he did he was always on the right side of an issue or a debate, always a problem-solver, always practical and reasonable. I occasionally poked fun in columns at his penchant for symbolic resolutions—condemning atrocities in Darfur, for example—and privately for his incredible Buffalo Italian guy accent. But I loved hearing that voice when he called on the phone to let me know what was happening on the Council or to correct me when I got something wrong, as he always did, every time I got something wrong.
He was the linchpin in the Council majority that checked Mayor Byron Brown for several years. One of that majority's proudest, most principled moments was standing up to the Brown administration—and to withering pressure from developer Carl Paladino and Larry Quinn, then chair of the Erie Canal Harbor Development Corporation, and their allies in the business community—all of whom wanted the Council to approve transferring the Webster Block to ECHDC, ostensibly as a step toward HSBC building a new headquarters there. The bank would flee Western New York if the Council didn't cede the valuable city-owned property to ECHDC, Quinn and Paladino claimed, and Brown's administration and his allied Council members parroted that claim. It was nonsense, and LoCurto and the rest of the Council majority knew it: The Webster Block made not a whit of difference to HSBC's plans; ECHDC was simply trying to consolidate its control of parcels on the Inner Harbor. And the majority was not about to give away valuable public property to serve a lie.
The fight came down to a late-night negotiating session in City Hall. The Brown administration sent messengers—mostly the two Peters, Savage and Cutler—between the mayor's office and the 13th floor, where the majority conferred in Council President Dave Franczyk's office. Members of the majority took turns standing outside Franczyk's office, so as to avoid their conferences constituting a public meeting to which journalists could demand access. When it was Mike's turn to stand outside with us reporters, he looked at me and rolled his eyes, visibly uncomfortable: He loathed the subterfuge. He hated anything about the job that smacked of hypocrisy.
But he saw the humor in it, too. And there he was again, on the right side of an issue—and, in the end, winning.
Not too long ago, my partner and I were talking about how great it would be to create a conference aimed at recruiting and developing candidates for local political offices. How to work within parties, how to work outside them; how to build community, how to serve diverse constituencies. We imagined a panel discussion the topic of which would be how to engage the system as an elected official without compromising one's principles. Who would we invite to sit on that panel? After much thought, we settled on a panel of one: Mike LoCurto.
We didn't know that at that moment he was fighting the illness that would take his life. He'd survived against the odds for so long that it no longer occurred to me they might catch up with him. His loss keeps growing on me.
In the last few days, we gathered some remembrances of Mike. A few follow; feel free to add yours in the comments or to send them to me: geoff@dailypublic.com. We'll keep publishing them. —GEOFF KELLY
WHITNEY ARLENE CRISPELL, friend and colleague
I was fortunate to know Michael LoCurto as a Buffalo Common Councilmember and as a close, personal friend. We met on Mike's Council campaign in 2006, and a year later I began working for one of his colleagues in City Hall, David Rivera. We collaborated on many efforts over the years, and the lessons I learned from him are profound. He was deeply rooted by his progressive values, and to see him make decisions and take action based on those values was inspiring and affirming. It's been beautiful to see so many reflect on Mike's life this week, and to see that his legacy in our community is one tied to justice, equality, and perseverance.
Mike's rich and accomplished public life was matched by his full and lively personal life. He maintained many friendships, and he was blessed with the ability to make everyone he interacted with feel special and valued. He was a prolific texter and often had a calendar full of coffee, lunch, and theater dates. He nurtured and preserved inside jokes within his friendships, mastered the funny one-liner, and encouraged absurd references and humor. One day a few years back he started emailing me the strange crime reports published in Buffalo News with a short, humorous take on each situation. The last one I got was just a few weeks ago. To another friend, he started inexplicably forwarding every order confirmation email he got from LL Bean. Those are classic examples of Mike LoCurto absurdity, and I'm going to miss being surprised and delighted by his humor.
Mike's Italian family was everything to him. His parents, Joan and Dennis, were his biggest fans and his tireless advocates. His sister Tina, his many cousins, and his aunts and uncles all adored him. When my husband Sean and I worked on Mike's political campaigns and fundraisers, we were always astounded by the loyalty (not to mention the sheer number) of Feroleto and LoCurto family members who volunteered to help their Michael.
I'm not sure I ever met a more passionate or voracious consumer of art and media. He loved novels, live theater, television series, comic books, visual art, music and most of all, film. Michael's coffee table was always stacked with new books. He loved Michael Chabon and Colson Whitehead. His favorite characters were Don Draper and Spiderman. Mike enjoyed live theater and attended shows locally and when traveling. He saw Philip Seymour Hoffman on Broadway in Death of a Salesman. He went to Stratford as well as many plays in Niagara-on-the-Lake. I'm not sure how many times Mike saw Bruce Springsteen in concert but it was probably over 10. Mike kept a list of all the movies he watched in a notebook, and he kept ticket stubs from every movie he saw in the theater for at least the past decade, probably longer.
Mike did have health issues, which stemmed from a hereditary anemia, and he had three organ transplants during his life. I never heard him complain about any of the setbacks he faced while we were friends, even towards the end when he faced them more frequently. I will never understand how he managed to go through what he did and still remain the most decent person I know. All week I keep returning to this line, which Mike quoted from time to time, as an answer: "For the ones who had a notion, a notion deep inside, That it ain't no sin to be glad you're alive."
JUSTIN AZZARELLA, colleague and graduate school  classmate
I had the pleasure of attending grad school and working in the planning field with Mike LoCurto for many years. Mike was the most genuine, intelligent and caring friend you could ask for. I remember when I was still in grad school—and in the process of coming out to classmates and friends—Mike asked me and my then boyfriend to go on a double date with him and his girlfriend to a Sabres game. His actions helped me accept and "normalize" who I was at a time when I was still putting on a brave face outwardly but hating myself on the inside for being gay. Mike was hilariously funny with corny jokes and random quotes from classic movies. He always downplayed his health and chose instead to live for the day and plan for the future. I'm so honored to have called him my Council member, our Deputy Director of Environment & Planning for Erie County and most importantly, my dear friend. Mike, you will be so very missed.
SAM HOYT, friend and former employer
If I enjoyed any degree of success as an elected official it was because I had the good sense to surround myself with the smartest, hardest-working, and most compassionate staff. Michael LoCurto was the best example of that. He was all of the above but he brought with him an extra credential: He was the funniest man I knew. When there was an opening in my office, close friends like Sean Cooney, Whitney Arlene Crispell, Marc Panepinto, Jeremy C Toth, John Maggiore, Julie Elizabeth, and others encouraged me to hire Michael LoCurto. I did and he became a star in the office and, by far, the most popular guy there. He left me to run for City Council where he served with distinction as the Delaware District Councilman for 10 years. Later, he went to work for Erie County. (You are a good man, Mark Poloncarz.) Rest in peace my friend. I know it won't be long before you track down Frank Sinatra. You guys will become fast friends. Straighten him out on his politics if need be. Much love, "Hizzy."
ROSEMARY LOCURTO-ARNONE, cousin
Michael was my very first cousin. We spent our childhood together and remained close throughout his life. Michael was so full of love as a child. Cutest baby ever!! He was always smiling and laughing…a comedian from birth!!! He loved to dress up in suits, wear hats and enjoyed just about anything. Always the life of the party with his quiet sense of humor.  As he matured he became an avid reader and was drawn to public service always pushing for the underdog. He accepted EVERYONE with open arms and an open heart. Oh, if the world was full of Michaels every problem would fall away.
He never once complained to me about his struggles. Our time together focused on anything but! Even throughout the numerous times in the hospital or trips to Pittsburgh not a negative word. I waited for the opportunity to reassure him if and when a complaint would come but it never did. Instead there was just this smile and grace that took my breath away.  His work is done here but I have a feeling he will continue bestowing miracles throughout the universe. Although Michael LoCurto was our miracle there are others that need to be mentioned. His beautiful family, Uncle Dennis, Aunt Joni & Tina for the selfless sacrifices they made their entire lives. They continue to amaze and show us the true meaning of love and family. Michael left us all a better person. How to pay tribute to such an incredible human? By living as he did and making the best of each day but most importantly accepting, serving, giving and loving…
AARON BARTLEY, friend and colleague
We loved everything about you, Mike. Scholar, working class hero, foodie, film buff, friend. You showed us what it looks like to be a true progressive in elected office, and you never stopped being you. Seems like yesterday that you were a "big kid" bounding through the high school hallways. I will cherish the memories.
JASON HURLEY, friend and former staffer:
Mike was one of the strongest people who inspired everyone around him. He gave me my first job in government, and was always there whenever I needed advice or guidance. He always motivated me to go back to school, to make sure I was looking out for others, and to keep fighting the good fight. Without his friendship and support, I wouldn't have accomplished half as much as I have. Buffalo has lost a great one who was dedicated to his family, friends, and community. RIP, friend.
MARK POLONCARZ, employer and friend:
I am deeply saddened to learn of the passing of Michael LoCurto. Mike served honorably and with great skill and integrity as deputy commissioner of Erie County's Department of Environment and Planning until he could no longer do so due to his illness. An urban planner by training, Mike brought to the position the eye of a highly educated professional, but also the understanding of the public's needs due to his decade of service on the Buffalo Common Council representing the city's Delaware District.
Mike was passionate about public service and brought that passion to work every day he served in my administration. However, Mike LoCurto was more than a member of my administration, he was also a friend. While he could be very serious and cared deeply for our community, he had a great sense of humor and could put any person at ease. It is that seriousness mixed with humor that made him the great leader he was for Buffalo and Erie County.
My thoughts and deepest condolences are extended to Mike's parents, Dennis and Joan Feroleto LoCurto, his sister Tina, the rest of his family as well as his many friends. He will be greatly missed by his colleagues in Erie County government and our community is worse off today due to his passing.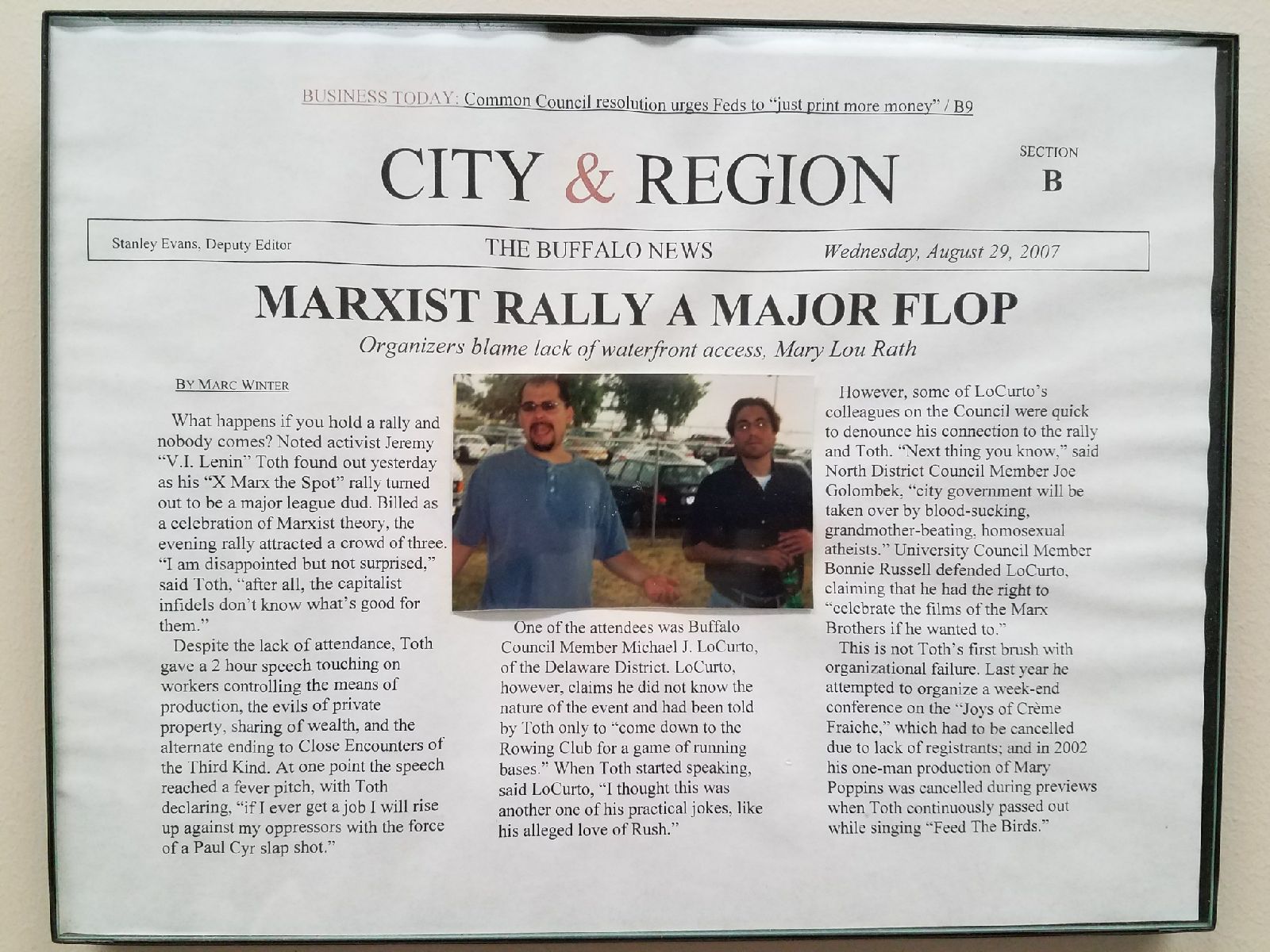 JEREMY TOTH, friend and colleague:
Mike and I went to high school together but we were in different classes ('89 and '88). Our friendship really began in 1999 when he walked into my campaign HQ and spent most of that summer there. Several years later I had a hand in getting him his first real job, with Sam Hoyt, and then, a few years later, getting Mike the party's endorsement for councilmember. So many others can comment and explain his public life better than I can. Our friendship really was separate from his public life. In fact, other than decrying the policies of various national Republican figures, we rarely talked politics or policy. What we did do, endlessly, relentlessly and without mercy was make fun of people. Mike saw hypocrisy and self righteous arrogance the way most people see colors. But we would also make fun of friends, colleagues, family members, and anyone else we happened to think of during our Sunday breakfasts at Kostas. Most importantly, we made fun of ourselves with the same merciless style. In 2007, Mike wrote this fake news story, framed it, and gave it to me. It hangs in my office alongside a few other cherished items.
---
A funeral service for Mike LoCurto takes place Thursday, January 4 at 10am at St. Margaret's Roman Catholic Church, 1395 Hertel Avenue.