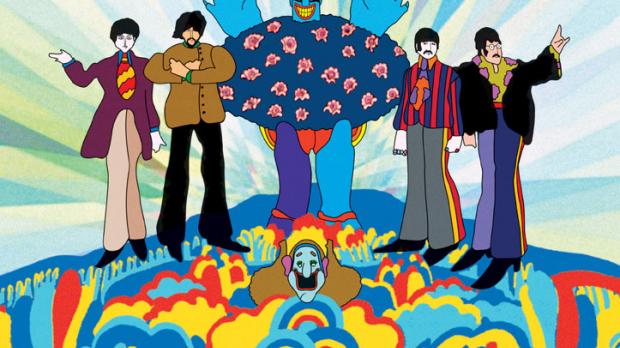 Sing-along Yellow Submarine
As an expression of the joyous whimsicality and unfettered imagination that went into the music of The Beatles, the 1968 animated film Yellow Submarine couldn't have been any better if the band had actually had anything to do with it. The origins of the project may not have been lofty: the band was under a contractual obligation to provide a third film, but had so disliked the process of working on Help! (1965) that they agreed to an animated showcase that would illustrate some of their songs and not require any direct involvement. That the project was to be headed by the producers of the animated "The Beatles" television show, which they uniformly loathed, led them to an attitude of "cash the checks and ignore the bloody thing." But to their surprise, they loved the result, so much so that they filmed a live segment for the movie's conclusion.
Before they started work, producer Al Brodax and director George Dunning, a Toronto-born animator, had been treated by George Martin to an advance listening of the "Sergeant Pepper's Lonely Hearts Club Band" album and were so blown away that they were inspired to create a visual equivalent. The result, using avant-garde and pop art techniques in animated form, was something entirely new to audiences who thought of the form on a continuum from minimal Hanna-Barbara product to hand-drawn Disney realism, equally delightful to children and adults. It's hard not to overstate the role of Yellow Submarine in the growth of animated film, even if it took many of those whom it influenced a few decades to start producing their own work.
After two sold out shows last week, Yellow Submarine returns for four more shows, on Wednesday July 18 and Sunday July 22, at 7 and 9:15 each night. These shows will feature the sing-along version of the film. Advance tickets are available at the Dipson Amherst box office and online at the Dipson theaters website.